Black Friday / Cyber Monday may be more subdued this year amid high inflation and economic uncertainty, but it's still going to be a time when eCommerce brands welcome a huge influx of new shoppers looking for a deal. And given that customer acquisition costs are skyrocketing, brands will want to hold onto those new customers. But how? 
We recently held a LinkedIn Live with two Amazing Women in eCommerce: Brittany Bentley, Co-Founder of mission-driven luxury brand Parker Clay, and Peyton Jones, Marketing Manager at Western lifestyle brand Savannah Sevens, about their top strategies going into BFCM, lessons learned from past years, and how to turn first-time shoppers into customers for life. Here are some of the top insights they shared.
---
Use personalization to boost customer retention
This year, customer retention is more important than ever for brands who want to get the most out of their marketing spend and boost loyalty and CLTV. And that means personalizing the experience for the customer.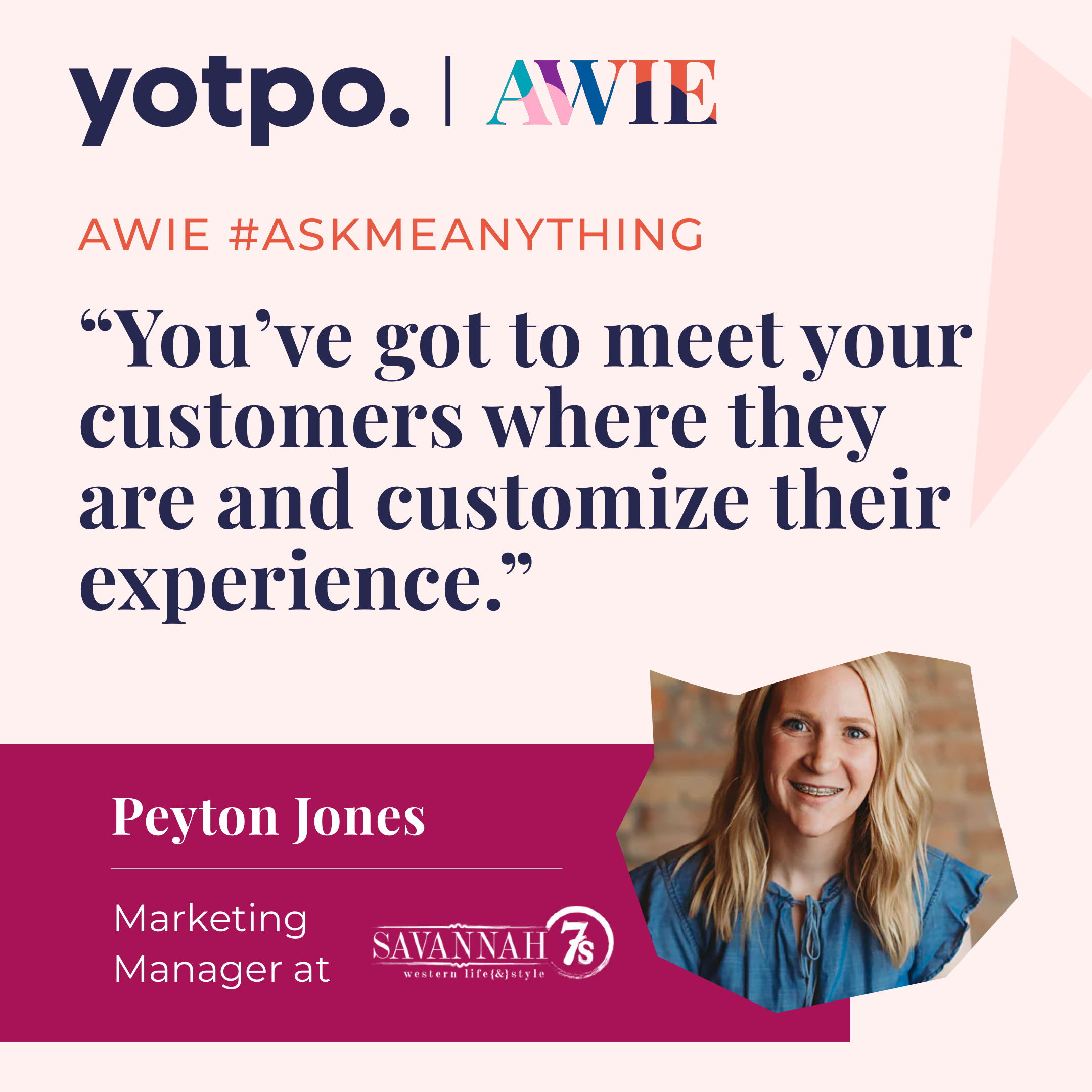 "Our main focus to drive customer retention is really working on our own marketing channels, as well as meeting the consumer where they are, as our mobile marketing continues to outperform all of their strategies that we're using," says Peyton.
"We're working to really customize that experience for the consumer and we're able to do so through a variety of synergies, our main one being Yotpo SMSBump and Yotpo Loyalty. With this, we're able to engage our customers in ways that don't always feel so sales-focused."
---
Focus on subscriber collection going into BFCM
Collecting SMS and email subscribers before BFCM is important if you want a receptive audience when you roll out your promotions. And there are many ways to do it, from the traditional to the more creative.
"Our main new subscriber channel is our welcome pop-up that we've been able to use, as well as our post-purchase pop-up to subscribe, to grow our subscriber base," says Brittany.
"And it's important to offer something that is of value to our customers — whether that's shipping updates, promotions, upcoming product launches, as well as impact updates. We also love to do giveaways with like-minded brands — we can get their SMS number as well as their email address and just create synergy with those two to reach more customers."
---
Think of BFCM as part of a year-long strategy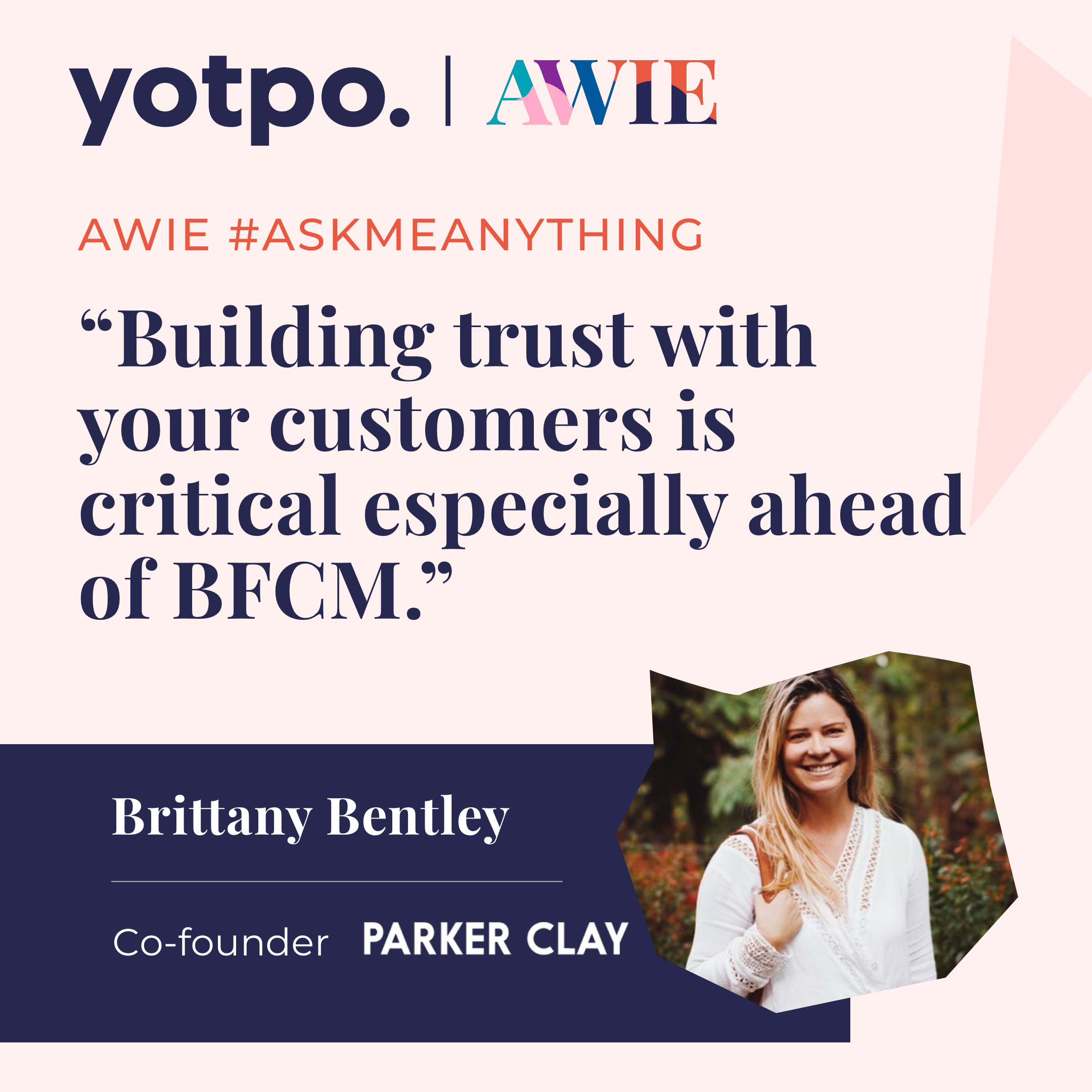 Black Friday / Cyber Monday is a great time to roll out deals and promotions, but if you want to build deeper relationships with your customers, think bigger.
"The rest of the year, we are including exclusive perks to drive people to want to join our lists," says Peyton. "And then that'll carry over through Black Friday and Cyber Monday. Consistency is really key in our SMS strategies — letting the customer know they're as special to us year-round as they are during Black Friday / Cyber Monday. And this really allows us to create a loyal customer, but also an aware customer because they know what to expect from us."
---
Use SMS flows to keep customers coming back
Automated SMS flows allow you to deliver personalized customer experiences based on real-time actions. And they can be set up for various stages of the customer journey to drive maximum engagement.
"Our SMS flows include loyalty point reminders, product reviews, and early access to product launches. I feel like that's really important to continue the journey. Not just share with the customer the promotions you're offering, but following up with services as well. Our VIPurpose — what we call our loyalty program — has the most engaged customers. So treating them as unique during that process and keeping them connected is definitely a priority for us."
"Right now we utilize transactional messages and really make the customer a part of their buying journey," says Peyton. "We send a message once their order has been placed, confirming that we've received it, we send shipping confirmations and then we also follow up  two days later just asking them, hey, how are you liking your order? That really customized experience makes the customer feel included in the service that we're providing to them. The great part of it is that it's all set up in the flow. So we set it up one time and it's taken care of for us."
---
Shorten the path to purchase
Yotpo recently launched Click-to-Buy, which shortens the path to purchase by allowing brands to deliver a curated cart experience via a text link. Parker Clay was an early adopter of the feature, and has leveraged it to boost sales.
"We recently had a very successful Click-to-Buy promotion featuring our bestselling Merkato tote in black," says Brittany. "And so just choosing that one specific product in that one color, we saw sales for this specific SKU up 5X during that time period compared to the average. And so it's a great way to focus on a specific product for a promotion or launch."
---
Learn from what worked — and didn't — in BFCMs past
Trying to do too much for BFCM can spell disaster for brands, especially small ones who don't have the resources for big, splashy promotions.
"One of the bigger learnings over many years is to just simplify a little bit more," says Brittany. "We tried to over-complicate things in the past years with something unique and exciting every single week of the holiday time period. I think it's just important to keep your message simple, to be clear about what the promotion is and straightforward. I think people appreciate that."
---
Communicate your brand values during BFCM
There's never a bad time to tell your customers what you stand for, but during Black Friday, when people may be shopping for gifts, it's a great strategy for getting the word out about your brand values to a new audience.
"A lot of that time period is people gifting others," says Brittany. "So we are including packaging cards that really share what our values are and what their impact is contributing to so that they can share that with the other people that they're gifting. We also have a lifetime guarantee and our products are ethically made. We try to incorporate that into our emails, our SMS, everything, so it's not just a promotional field during that time period."
---
Know your customers
The key to successful BFCM promotions? Getting to know your customers before the holidays roll around.
"It's important to really gauge what your customer is interested in throughout the year, because that's going to be what they're interested in during Black Friday / Cyber Monday," says Peyton. "If your customer is not interested in a promotion during a time where they're not being marketed to by other brands, they're definitely not going to be interested during BFCM. So I think just knowing who your customer is, knowing what they're looking for, and figuring out ways to be able to offer that is really important."
You can see the full recording here. And if you aren't yet a member of our AWIE Slack Community, come join the conversation with more than 1,600 Amazing Women in eCommerce!
---
Brands retain with SMS marketing, no matter the season
Black Friday Cyber Monday is the moment we're all planning for, but it's always worth it to have SMS in your marketing toolkit to engage and retain customers in an increasingly mobile-first world. Chat with an expert today to see where it fits into your retention strategy.
 
 We've got the retention solutions you need, at an exclusive price. Add Yotpo SMSBump, Loyalty, Reviews, or Visual UGC before BFCM and get $500 or more off annual plans here!