Our year-long accelerator program for Black-owned brands is back!
In 2021, Yotpo started a program with the intention of making the eCommerce industry more equitable. 
That initiative became Yotpo Grow, a year-long program designed to accelerate the growth of Black-owned brands we believe in — the brands of the future! And we're beyond ecstatic to introduce you to the newest lineup of businesses to join the program. 
Selected from 550 submissions, these eight Black-owned brands have exploded onto the market in the past several years (not an easy feat, all things COVID considered) and we're proud to be a partner in helping them grow faster and retain more customers.
---
We're offering even more this year
Brands in the program not only have free access to all of our products — Yotpo Loyalty, Yotpo Reviews, Yotpo SMSBump, and more — but also dedicated customer support strategists that help them succeed with these solutions. The brands are also exposed to marketing opportunities, events, workshops, growth strategies, and more! 
And we're not alone — we're excited to announce that in our second year of the program, we brought multiple partners along for the ride! Searchspring, LoopReturns, JustUno, Curio, and ShoppingGives have joined the initiative, allowing our Grow brands to use their products in tandem with Yotpo, growing more than just their retention marketing efforts. 
We're humbled to have these partnerships on board, and thrilled to present our newest Yotpo Grow class — the class of 2022. Congratulations, we can't wait to see where you grow! 
---
Meet the Brands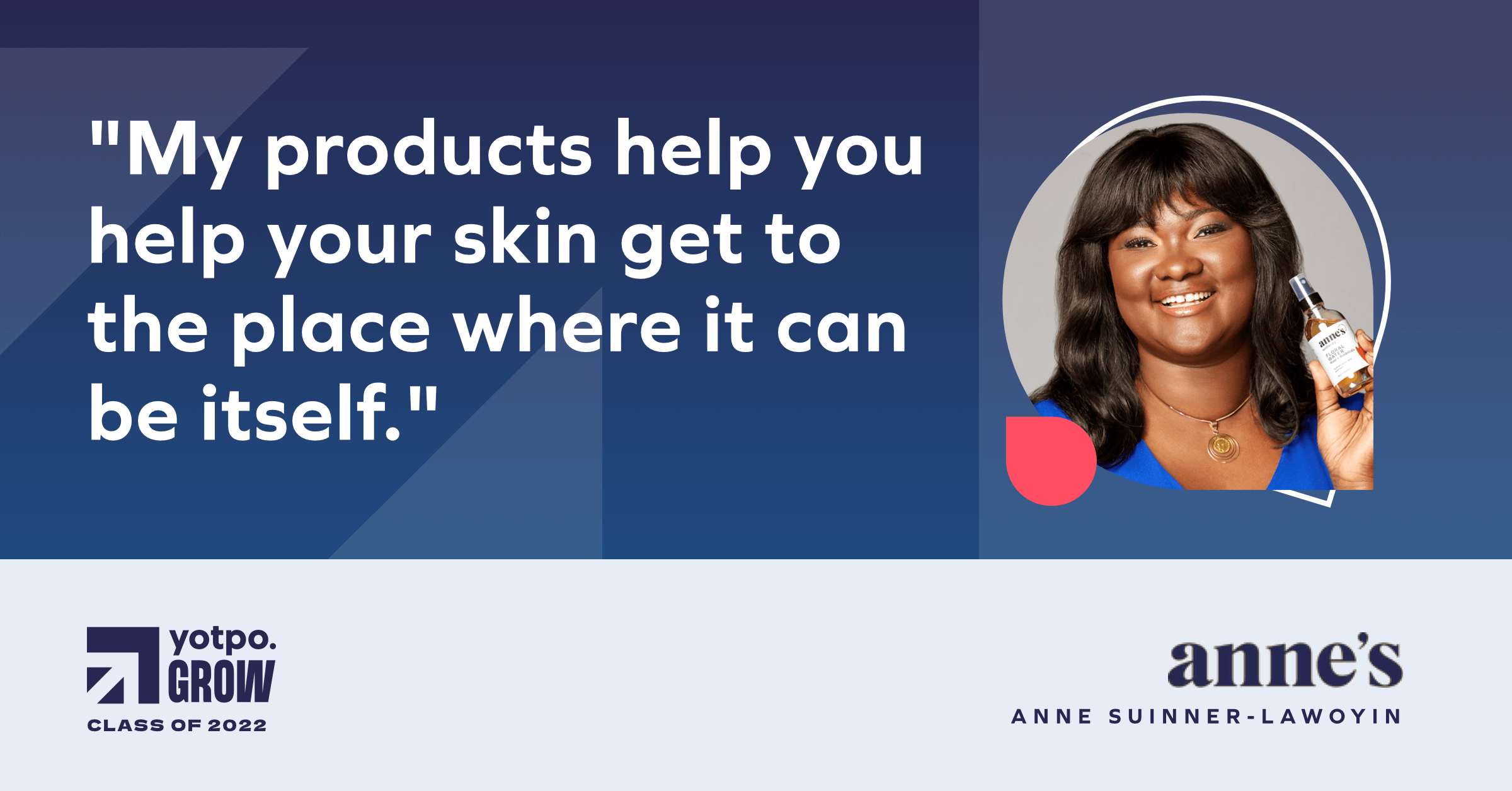 Founder Anne Suinner-Lawoyin saw a gap in skincare, and is building a clean-care, budget friendly empire. Anne's Apothecary is a plant-based portfolio of skincare products capturing the best of nature's sustainably derived ingredients to deliver gentle, effective skincare.
From hygiene to hype queen — the conscientious millennial can expect natural, sustainable brand values, with quality to match the luxury of big-box cosmetics, without breaking the bank. 
My products help you help your skin get to the place where it can be itself.
To help overcome the hurdles of brand awareness and marketing strategy, Anne's Apothecary is using the program to build a robust omni-channel social presence, and help build solid case studies and backing for future seeds of growth funding.
---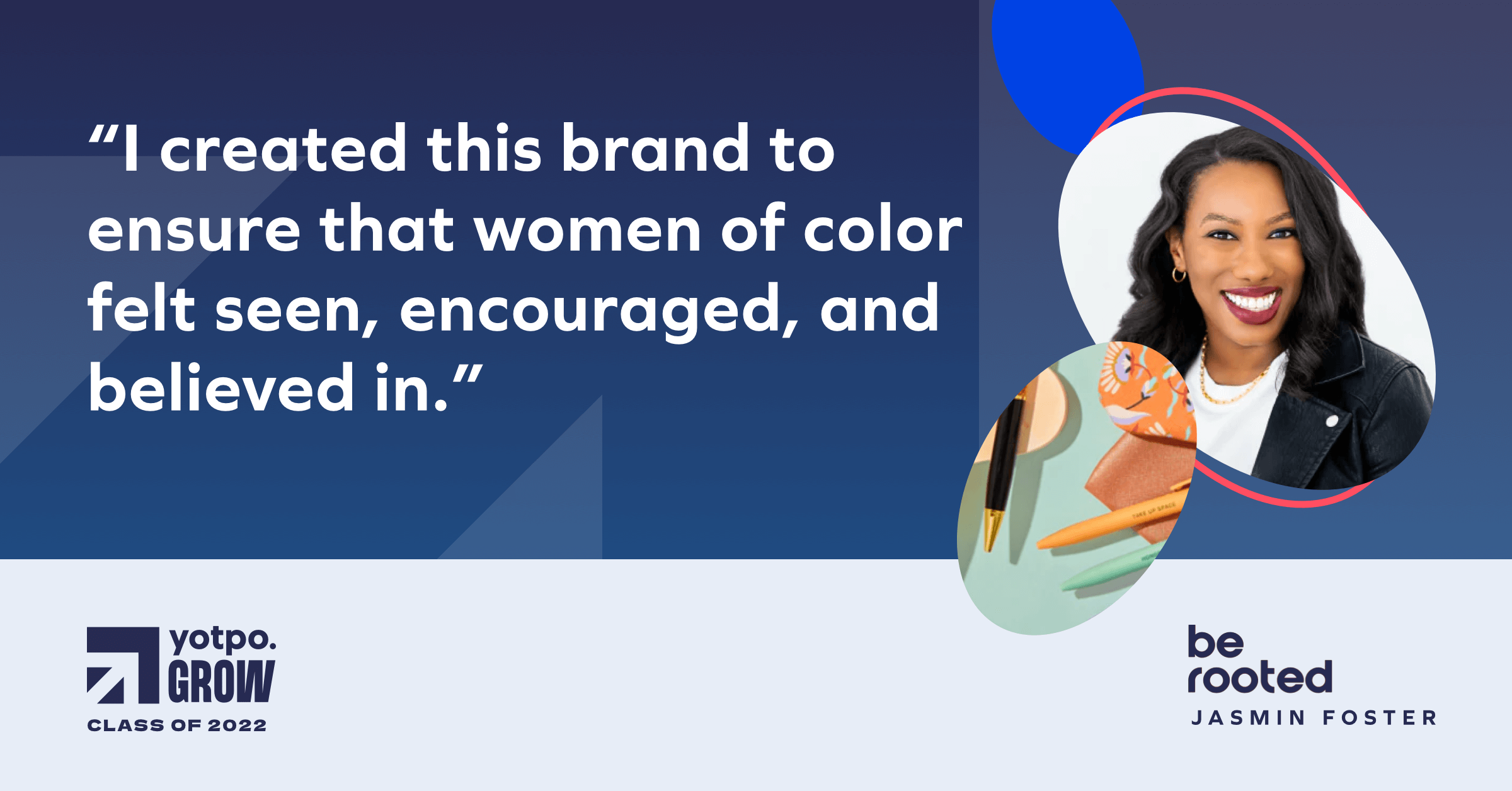 Jasmin Foster founded Be Rooted to create a space for women of color to see themselves in a place they hadn't been. This elevated and elegant stationary and gifting brand weaves culture into every design and message — Be Rooted inspires customers to explore their inner muse and celebrate the self.
Be Rooted is an inclusively designed stationery and gifting brand — we want our customers to know you belong here.
Growing a business is never easy — team expansion, brand awareness, acquisition and retention, funding, and scaling are everyday realities. Through the program, Be Rooted Co. is aiming to hone tactics around email marketing, SEO optimization, and growth marketing — for their current, and all future, stages of business development.
---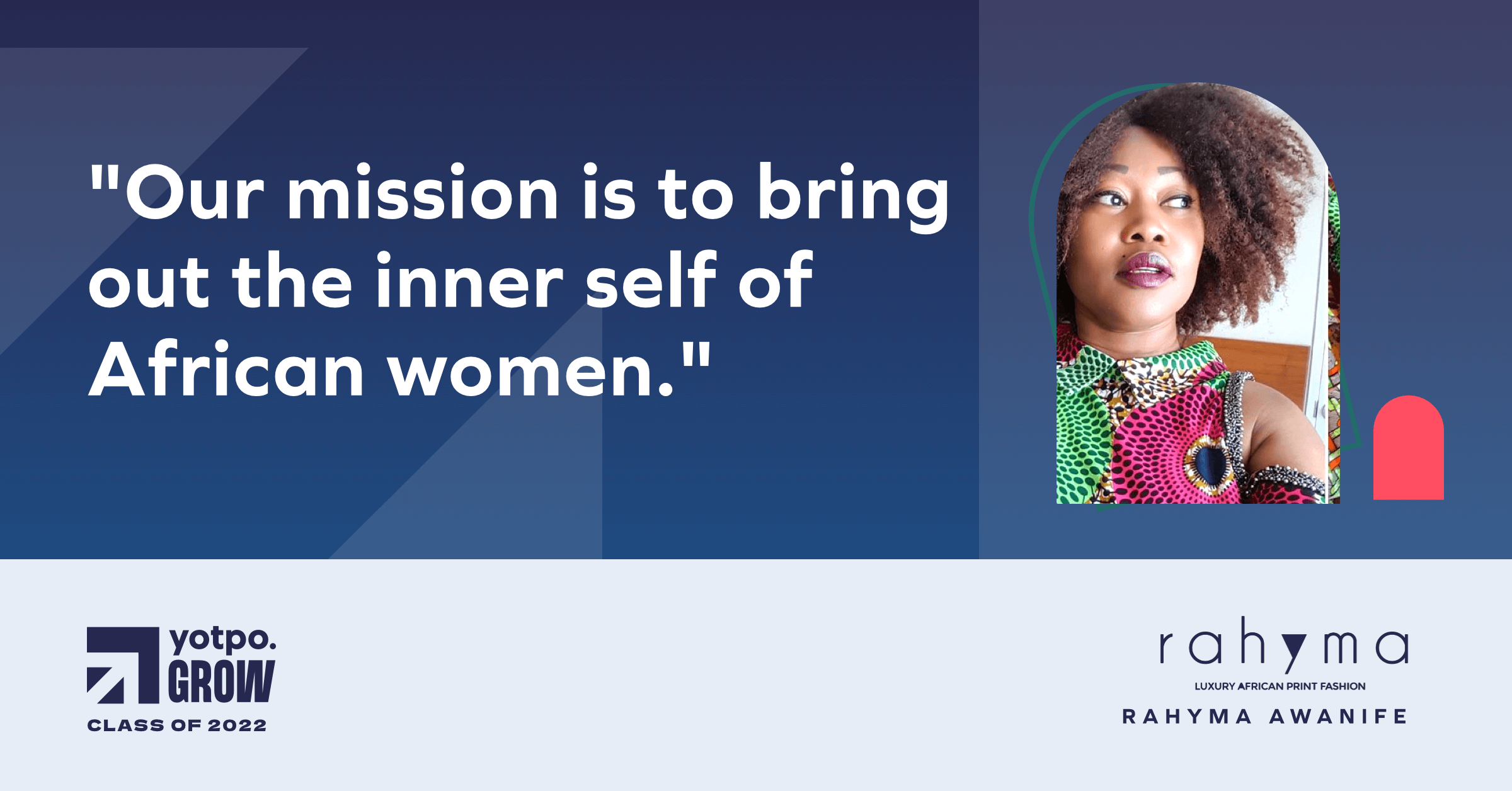 Rahyma is a luxury African-inspired clothing line owned by self-titled Rahyma Awanife, a Nigerian-born designer based in Canada.
Our mission is to bring out the inner self of African women. I work with African prints and creatively fuse African style into Western style to create stunning pieces.
Rahyma brings her own twist to the fashion world, specializing in eye-catching, one-of-a-kind clothing in bold prints — intentionally crafted for the woman that dares to stand out. Most fabrics are locally sourced across Africa, and produced in the southwest part of Nigeria by a small group of artisans paid living wages.
---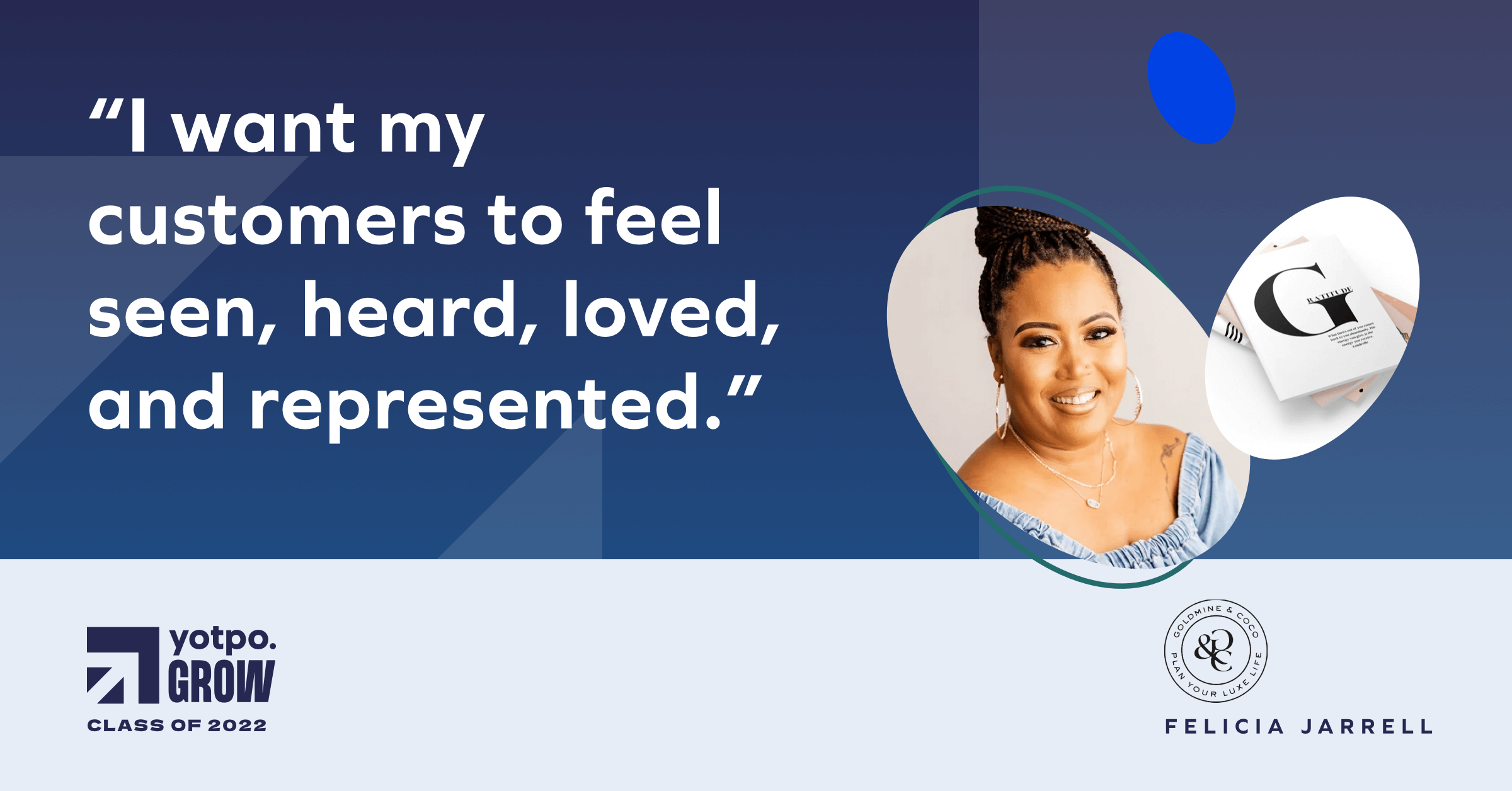 Founded by Felicia Jarrell in 2017, Goldmine & CoCo is a stationery and lifestyle brand designed to help change women's vision boards into their reality. Goldmine & CoCo sprinkle planners, accessories and apparel with Black Girl Magic so you can make a powerful statement and plan for success. 
I want my customers to know that I built the company, not by myself, but that we all did it together and that we're the reason that it continues to thrive. We're truly a community that loves and supports one another.
---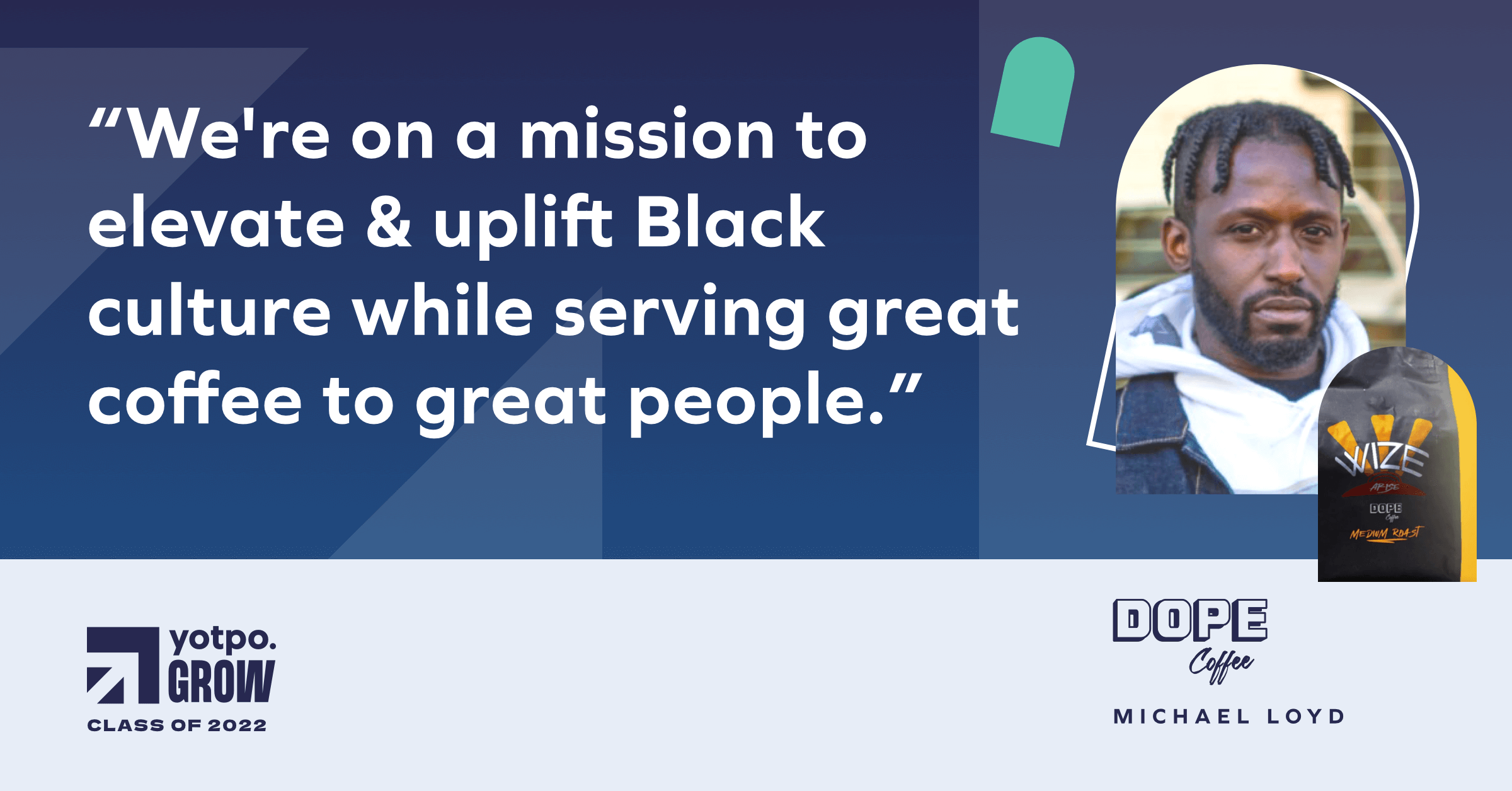 Real Dope Coffee Company has made a name for itself in the beverage business. Together, founders Michael, Michelle, and Stace Loyd have developed crowd-favorite products inspired by Black culture to reject the stereotypes surrounding premium coffee and the people who drink it. Dope Coffee does many things well, but at their core they are here to elevate, and uplift, Black culture while serving great coffee to great people.
One of the main goals of Dope Coffee is to provide Black entrepreneurs with the blueprint to starting a successful business — something we did not necessarily have at the beginning. We are not doing what everyone else is doing. We set our own bar, our own standards. We do not want to be anyone but ourselves.
A major mile marker for Dope Coffee is crossing the 100,000 threshold in Shopify and social subscribers. The Yotpo Grow program is helping them do just that, by focusing tech and eCommerce efforts into retargeting ad growth and optimization, and social media development.
---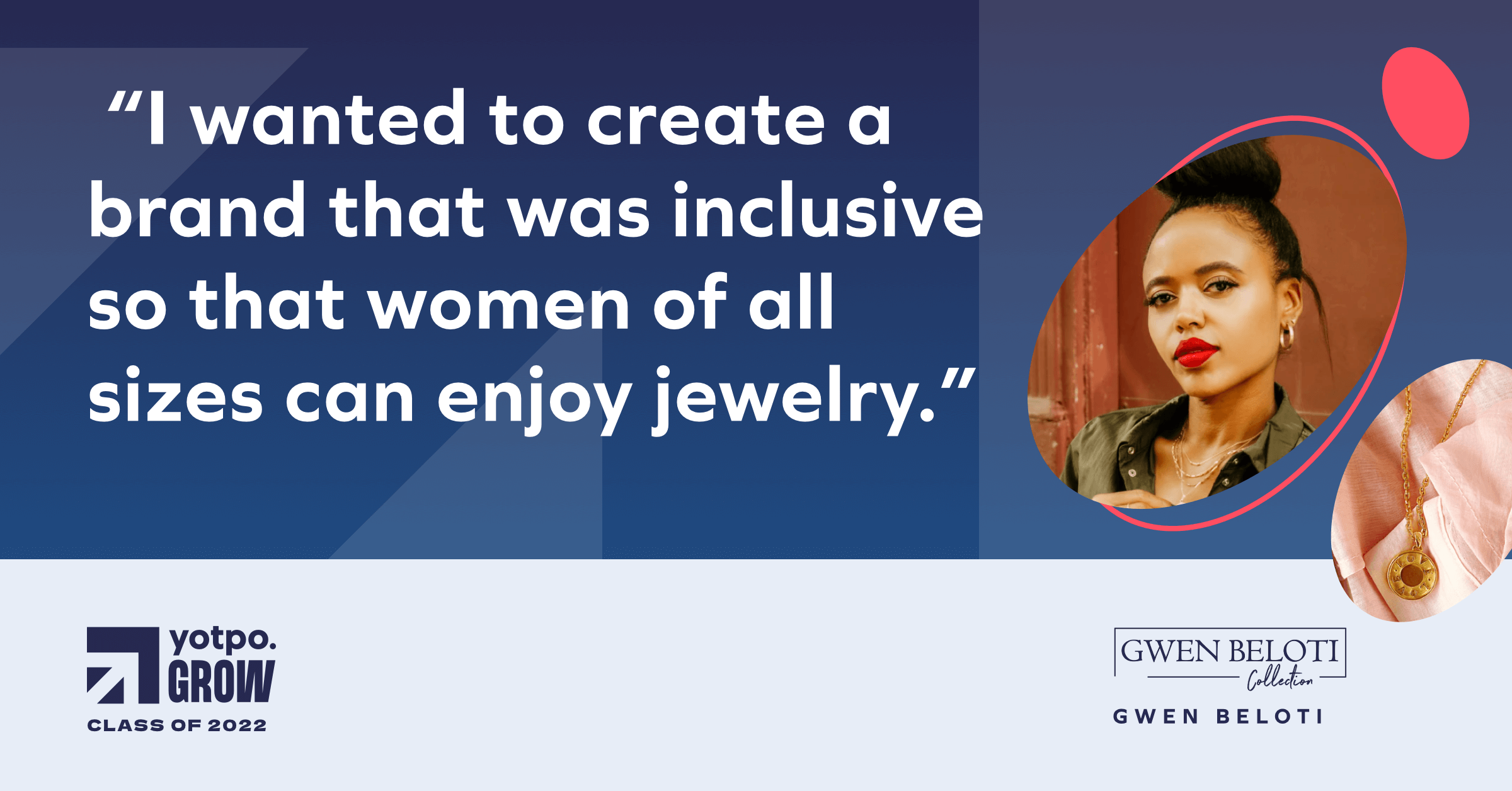 Gwen Beloti first launched their complete collection in 2019 with a mission to create accessible and luxe designed jewelry. They carry an assortment of golden jewels with styles offered in a range of sizes and lengths. 
Gwen stands in the midst of growing pains — brand awareness, consistent site traffic, funding and resources. Like many up and coming companies, they work diligently at the eCommerce "things": loyalty, collecting reviews, great customer service, regular socials, etc. Their goals inside the program are to translate this data into actionable traction and growth goals, expand SEO and social engagement, and explore what brand ambassadorship looks like.
It was really important for me to consider my own personal experience  both as a maker and business owner, as well as a shopper, and bring that to the forefront — particularly in this minimalist space.
---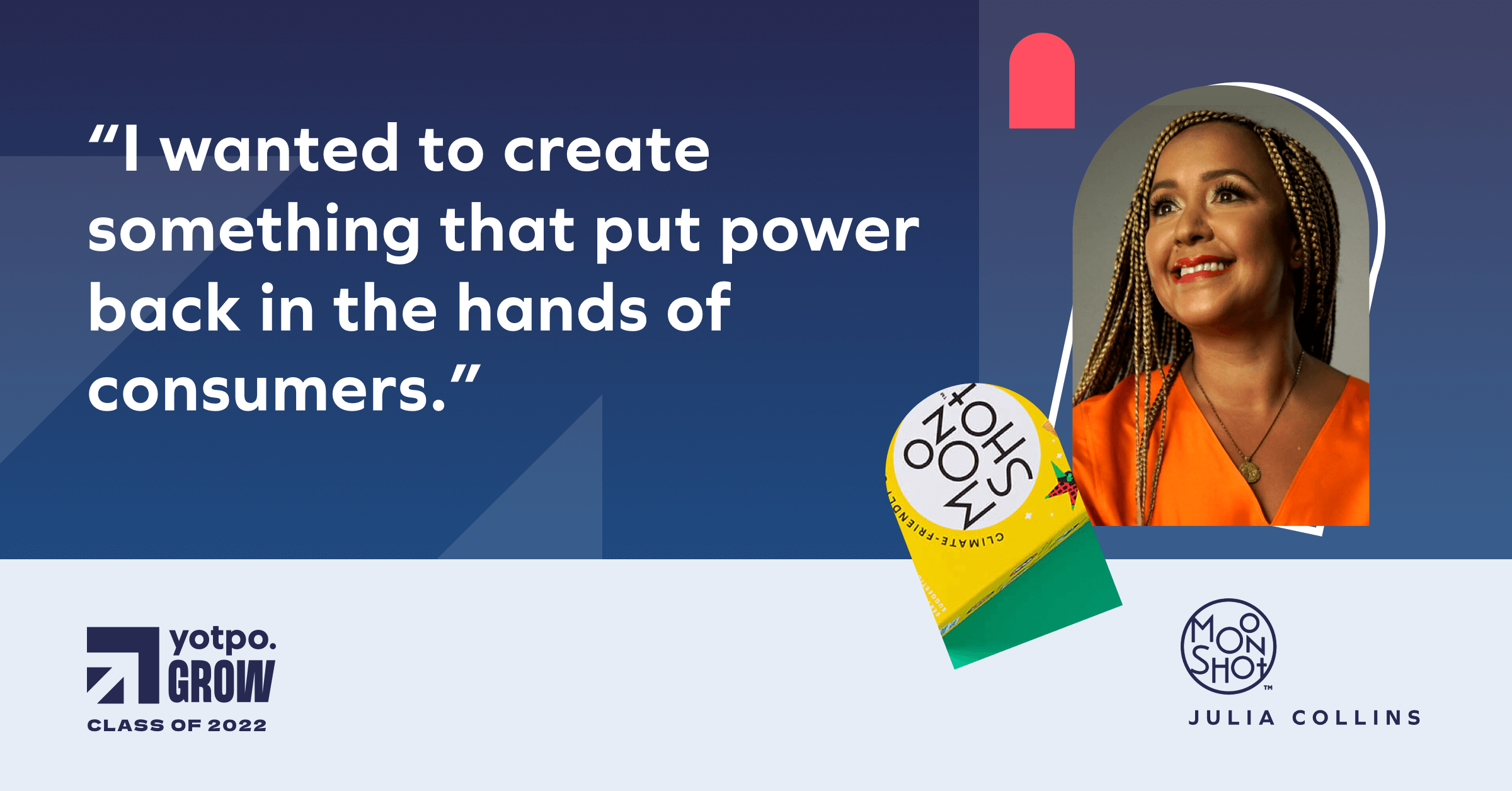 Proudly black and woman-owned, Moonshot Snacks is the first climate-friendly snack brand on a mission to tackle climate change and build a better food system, starting with their carbon neutral crackers. Founder, Julia Collins, took this climate friendly mission to a new level by building a platform called Planet FWD that allows other food companies to do the same. 
Climate change and sustainability can feel like such huge problems that you struggle to even know the first step you can take. So I thought, why don't I start with something small? Like making the choice of a different snack.
This woman-led powerhouse is constantly striving to hone their CLTV, brand awareness, and retail DTC partnerships (Target, Whole Foods, Sprouts, and more!). A major goal in their journey with Yotpo Grow is to expand their social media presence and increase order rates, and averages, through email marketing.
---
The Yuuma brand is described as a bold and unapologetic way of owning roles as mothers, without letting go of individuality. The goal of Yuuma is simple: provide fully functional bags and accessories designed to highlight each mother as an individual.
Like many new brands, conversion rates and ad spending are always a hurdle — especially in the face of growing brand awareness. Their goals, while a part of this class, is to mitigate this cost and resource for them by growing their subscribers, increasing ROI from SMS and email campaigns, expanding social media growth and presence, as well as optimizing their flow network.
I started this brand with the mindset to celebrate individuality within motherhood. In giving birth to our babies, we may find that we give birth to new possibilities within ourselves. Through our bag design, the YUUMA Collection gives moms the freedom to express themselves as women first with a beautiful fashion piece.
---
You can learn more about the Yotpo Grow program here. 
For inquiries or questions about Yotpo Grow contact: yotpogrow@yotpo.com