Yotpo Subscriptions was born out of the need for a better subscription solution. For too long, merchants have struggled with existing legacy options. And as we get ready to move into the next iteration of our own story, we're more committed than ever to delivering a subscription solution that drives retention. 
A standalone solution is no longer enough. There's so much to gain from connected solutions, and Yotpo's tools are made to work together in complete harmony. 
Everything about Yotpo Subscriptions was built based on customer and brand feedback: 
On the need for exceptional shopper experiences. Oftentimes legacy technology lacks flexibility and doesn't allow shoppers to control their own subscriptions, which can result in churn and negative sentiment. 
Yotpo Subscriptions is intuitively developed to help you create and manage your subscription program. Our dedicated customer service team is ready to guide you without delays or additional fees. And our migration experts have developed a bulletproof migration engine and white-gloved service that will have your brand up and running with zero interruptions to your business.
---
Reduce the barrier to entry with Prepaid Subscriptions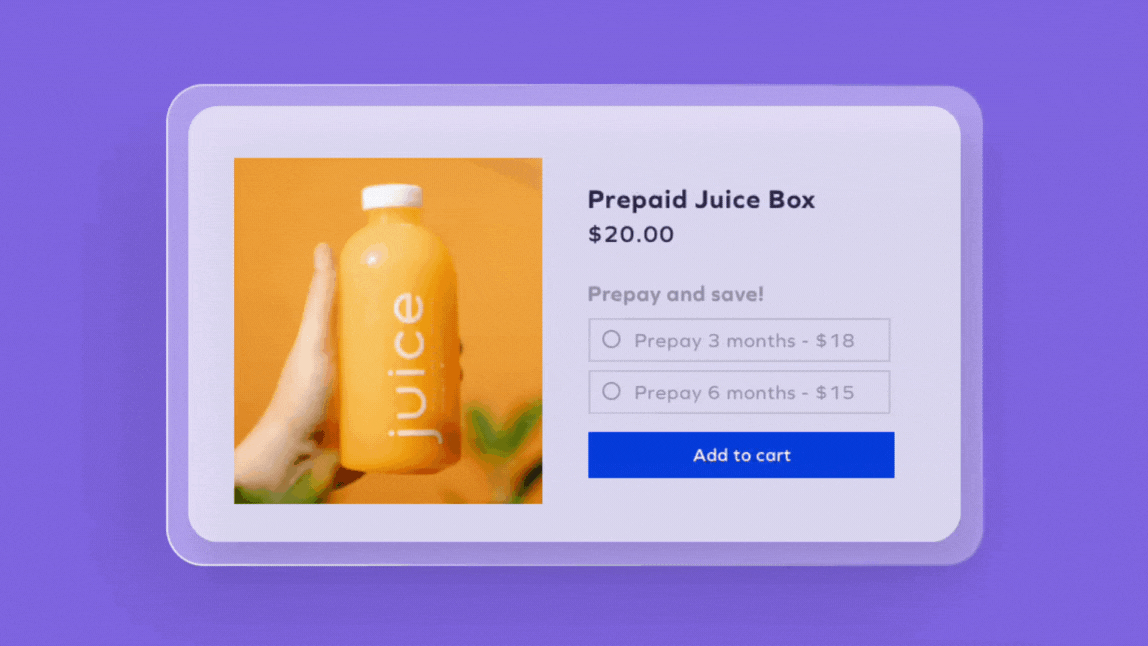 Prepaid subscription plans have emerged as an effective way for eCommerce stores to generate predictable revenue streams and increase customer loyalty.
This allows your shoppers to pay in advance for a set number of deliveries! It's great for locking in revenue in advance. And shoppers love this idea because they don't have to worry about recurring billings.
Increase subscribers with Yotpo SMS x Yotpo Subscriptions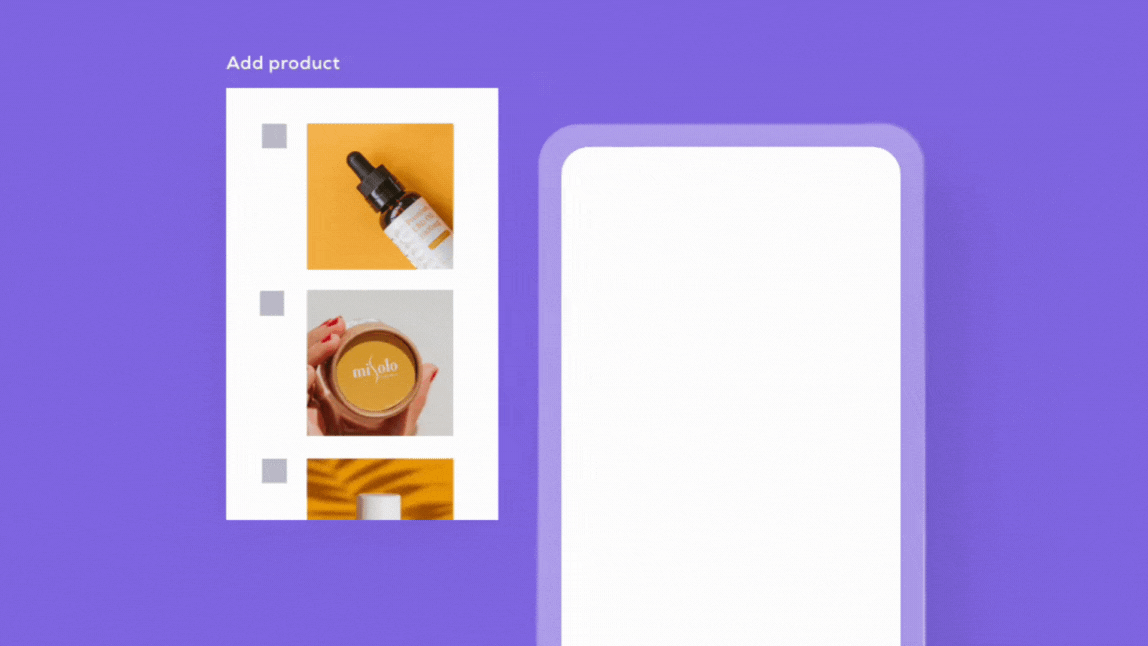 We paired Yotpo SMSBump with Yotpo Subscriptions to make increasing subscribers super easy. 
The
synergy allows you to turn boring transactional updates and messages into personalized touchpoints for your highest-value customers. 
Follow these steps to activate the synergy:
Inside your subscriptions admin select the product you want to promote and increase subscriptions for. We automatically display all the products that are already part of a subscription plan.
Click on the "Customize and send" button.
This will automatically take you to your Yotpo SMSBump admin where a campaign will be created. Here your audience will be pre-segmented and include all those SMS opted-in shoppers who are not yet subscribed to the specific product you selected.
In addition to creating the campaign and segmenting a list for you, we will also automatically provide amazing copy to get you started.
The message will include a link that takes shoppers to the chosen product page, with the subscription option already selected!
 
Subscribe, Reward, Redeem — all in one place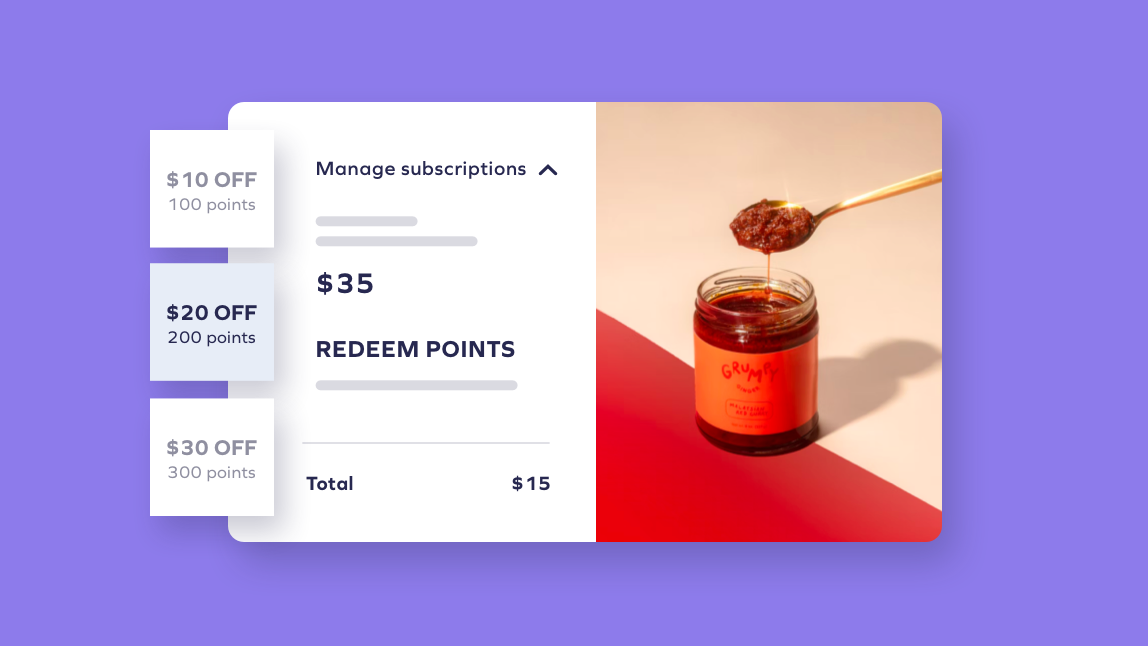 Incentivize your subscribers with loyalty rewards that can be redeemed directly from their subscription portal.
Combine Subscriptions with Yotpo Loyalty so you can continue to reach customers at critical moments in their journey.

An example of how this synergy works: 
As soon as your customer finishes checking out, they received both, email and SMS confirmations along with a passwordless link to their customer portal.  

They can choose if they want to manage their next delivery. 

They simply need to click on the passwordless login and access a beautiful portal that provides them with all the information and actions they need as a shopper. 

From here they can manage every aspect of the subscription. They have the ability to swap a product, skip an upcoming order, or change the payment method.
Now your customer can also redeem points in their Subscriptions portal. Yotpo gives you the ability to reward points for specific milestones, like staying subscribed for 3 months, 6 months, etc. With one click, you can apply available rewards on the customer's next subscription order, no need to look for lost emails or copy-paste any codes
"You have to be not only convincing, but also convenient. Yotpo really nails that with all of the SMS and Subscriptions features they continue to come out with to make sure that the customer buying experience is as convenient as possible." Alejandra Salomon, Director of Retention, DIME Beauty