The Marketer's Guide to Mobile Commerce is your all-in-one playbook to mobile commerce success, featuring recommendations from leaders in the industry on mobile optimization, top-performing mobile marketing strategies, and channels to invest in to drive revenue and retention.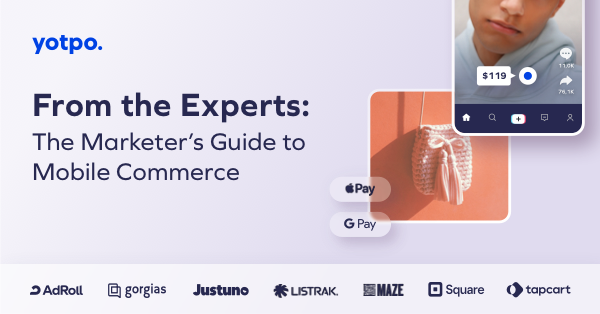 What's covered?
Developing a Mobile Commerce Strategy for Long-Term Growth

The opening chapter, courtesy of The Maze Group, serves as an introduction to mobile commerce and offers brands comprehensive advice on assessing and optimizing their mobile commerce strategy. It addresses:

What mobile commerce is and why mobile optimization matters

Top tricks for an optimized mobile experience

How to identify opportunities to improve the experience to keep consumers engaged, spending, and ultimately achieve long-term success in a mobile-first world

Becoming a Mobile-First Brand: Key Areas to Focus On to Stay Competitive

The second chapter dives deeper into some fundamental optimization strategies, including:

Creating personalized experiences that engage mobile consumers and bridge the gap between online and offline - Justuno

Mobile payments, from digital wallets to "Buy Now, Pay Later" services, that brands must offer in response to the rise in mobile shopping - Square

Customer support designed for the mobile consumer - Gorgias

The Mobile Channels Brands Need to Invest in

The third chapter highlights the most critical marketing channels brands need to succeed at engaging and driving revenue from mobile consumers, including:

Email - Listrak

SMS - Yotpo

Mobile apps - Tapcart

Mobile advertising - AdRoll

The Future of Mobile Commerce

The Maze Group wraps up with some closing predictions — What does the future of mobile commerce look like? What trends are we seeing now, and how will it continue to evolve? We give brands an idea of what they can expect.