It's no secret that product and site reviews are invaluable when growing your brand. In an increasingly competitive online landscape, brands are tasked with creating original user-friendly experiences to win new customers. On top of that, businesses must also focus on strategies that drive retention. 
To keep shoppers coming back time and time again, while simultaneously generating sustainable brand growth, brands are incorporating loyalty programs into their reviews strategy. Let's explore the value of integrating loyalty with your reviews strategy, and how combining the two can ultimately drive retention and accelerate brand growth.
Retention: The key to sustainable brand growth
New avenues within marketing eCommerce now center initiatives that improve customers' average order value (AOV), overall retention, and customer lifetime value (CLTV) by capitalizing on integrations between brand loyalty and reviews solutions. Simply, brands are driving retention with reviews — most notably — reviews from their most loyal customers. Retention strategies allow brands to achieve sustainable growth and increase ROI through combining reviews and loyalty solutions. 
The benefits of syncing loyalty & reviews strategies 
Similar to ratings and reviews, consumer loyalty is not new to eCommerce. Recent studies signal loyalty programs are gaining traction in the eCommerce space. This comes as no surprise, considering brand loyalty has existed and triumphed in commerce since its origin in the 1800s, according to Martech. 
In a 2022 study of 3,800 global consumers, Yotpo found that  64.7% of shoppers want to shop directly from brands they are loyal to. That coupled with a 161% higher conversion rate for shoppers that see user-generated content (UGC) and reviews on a brands' site, demonstrates the potential benefits brands can gain from leveraging both loyalty and reviews. 
Some of the most notable metrics brands are seeing improvement by building retention include: 
An increase in customers' AOV
Boosted CVR across products
Consumer behavior is driving retention strategies
Direct-to-consumer eCommerce brands understand that customer reviews are crucial when growing their business. According to Shopify, customers are 63% more likely to shop from brands with high-quality reviews. Likewise, the novelty of strategies that only focus on collecting reviews on search engines is stabilizing, and we are seeing an upward trend of collecting other forms of user-generated content through alternative channels. 
This trend is largely due to the rise of social media shopping integrations and trends surrounding mobile-first experiences, in which mobile devices accounted for 69% of retail site visits worldwide, according to Statista. Collecting and displaying ratings and reviews online is now standard practice across global eCommerce marketing strategies.
As a result, brands must see their reviews strategy as more than just a way to reduce customer acquisition costs (CAC). Relatedly, as our hyper-saturated online marketplace continues to flourish, reducing CAC is becoming even more challenging. According to Forbes, online customer acquisition costs have increased by an average of 60% over the past five years, suggesting brands should shift some of their focus toward generating sustainable growth.
3 ways brands build retention with Loyalty and Reviews
By incentivizing repeat purchases, generating more social proof, and enhancing community engagement via integrations between brand loyalty and reviews solutions, brands can successfully execute retention strategies. 
Let's explore how brands are leveraging their most engaged and loyal customers' feedback in exchange for perks, exclusive rewards, and other unique branded experiences to improve CLTV, AOV, CVR, and ultimately retention. 
1. Boosting CLTV by collecting more reviews 
Businesses can boost their CLTV by focusing on rewarding their happiest customers and leveraging customer data (e.g. product fit, quality, shipping, etc.) from reviews and visual-user-generated content (VUGC). By rewarding customers to leave thorough reviews and share VUGC, businesses can encourage community engagement and strengthen brand advocacy, ultimately boosting retention and CLTV.
Let's take UK-based health and wellness brand, The Turmeric Co., for example. They were able to boost their CLTV by 2X after just one year of combining Loyalty and Reviews.  The brand started by focusing on turning first-time shoppers into repeat customers and subsequently brand advocates through building a brand community.
The Turmeric Co. established a successful reviews strategy early on but wanted to ensure sustainable customer feedback and engagement. Their customer loyalty program, Turmeric Tokens, involves 11 unique ways to earn points, such as leaving reviews and signing up for subscriptions and newsletters. Launching this strategic customer loyalty program took their review collection to the next level and increased customer retention.
2. Maximizing repeat purchase rates and AOV with unified customer experiences
Just as online Loyalty programs are drivers of customer retention, hybrid loyalty solutions are also increasing in demand. Today, approximately 50% of consumers also want to engage with a brand's loyalty program via mobile device while shopping in-store. This suggests shoppers are searching for loyalty solutions that unify online and offline shopping and create a more user-friendly customer experience. 
Let's take a look at Ruohonjuuri, a Nordics-based retail chain and eCommerce store that specializes in health and wellness products. Ruohonjuuri grew their AOV, conversion rate (CVR), and repeat purchase rate by integrating their existing in-store rewards program with their online reviews strategy. The brand achieved this by focusing on recreating the feel of an in-store shopping experience online. The brand saw a 175% higher repeat purchase rate from loyalty redeemers compared to non-loyalty redeemers, simply by rewarding repeat online shoppers and loyal customers that provide product reviews with redeemable loyalty points.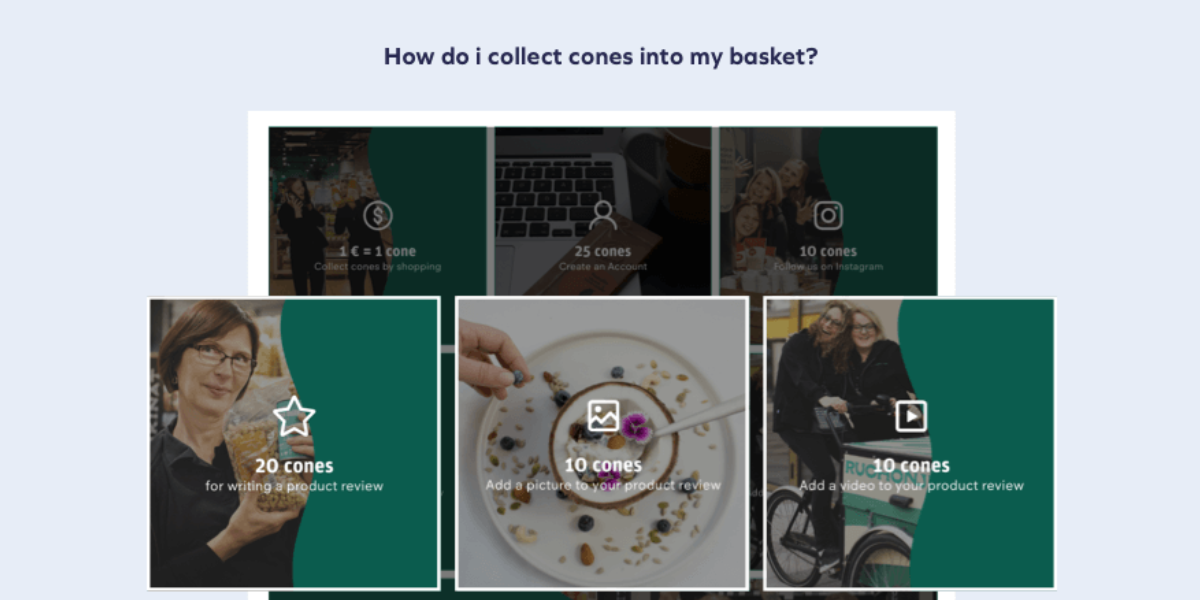 Another brand driving retention with unified customer experiences is Princess Polly. This fashion-forward clothing brand is known for its social media reach with a predominantly Gen-Z audience. They were able to create a more unified customer experience through onsite VUGC. Rewarding loyal customers to leave photo and video reviews with Yotpo Reviews helped the brand achieve a 112% increase in average order value. Combining Reviews and Loyalty not only grew their AOV but also boosted their repeat purchase rate to 66%, resulting in 15.4X ROI. 
3. Improving CVR with incentivized social proof 
In addition to ratings and reviews, brands are starting to realize the full potential that social proof and VUGC have on building retention through customer satisfaction. Instagram found that nearly 87% of shoppers that interact with social proof, including VUGC via social media, take an action in the consumer journey. Considering such a large majority of online consumer behavior on social media is affected by social proof, it's no doubt that brands who tap into social proof can drive retention and CVR. 
Revisiting Princess Polly, to differentiate itself online, the brand turned to social media to create a customer loyalty strategy that incentivized reviews by homing in on the wants of Gen-Z shoppers: a tiered loyalty program that features experiential rewards.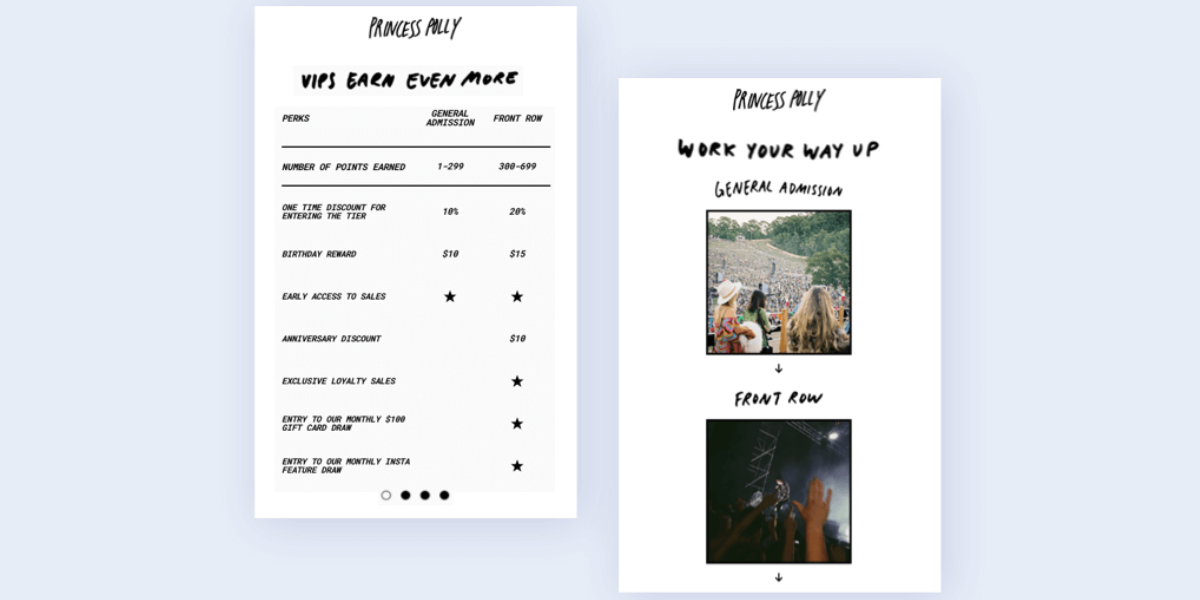 Princess Polly saw a 191% higher review conversion from loyalty customers than non-loyalty customers by successfully incentivizing reviews through their loyalty program. Additionally, the brand saw that loyalty members are 188% more likely to leave a photo with their review than non-loyalty shoppers. 
Turmeric Co. also saw similar results by combining their reviews strategy with Loyalty, boasting a 7% review conversion rate which is nearly double the current average CVR for most eCommerce brands. Founder of The Turmeric Co. even stated, "We love the synergy of rewarding customers for leaving reviews. It captures a review for the brand, and it pulls the customer into the retention piece, driving more engagement and creating a better shopper experience." 
Turning reviews into retention is easy with the right tech
Ultimately, as eCommerce continues to grow, brands are tasked with staying relevant and up-to-date in an exceedingly competitive online landscape. By leveraging existing loyalty customers' feedback and incentivizing brand engagement, brands can create emotional connections and sustain brand loyalty virtually. 
The potential benefits of creating a unified online customer experience and a sense of community in a digital space appear limitless. Nonetheless, one thing is for certain, turning reviews into retention doesn't have to be complicated — the integrations between Yotpo Reviews and Loyalty make it easy. To learn more about Yotpo's products request a demo today.