When done right, loyalty programs make customers emotionally and transactionally loyal to your brand. They offer clear value to first-time and repeat customers alike and recurring incentives for repeat purchases. In our 2022 State of Brand Loyalty, the majority of global shoppers said being loyal to a brand meant they "tend to buy from the same brand." Other popular answers included recommending the brand to others and being proud to be associated with the brand.
Loyalty keeps customers coming back for more, even in the face of new competitors, cheaper prices, and larger economic downturns. But, many brands struggle to understand what degree of success they'll see from a program, and when.
We gathered and analyzed data from a subset of global Yotpo customers across various industries and verticals to create insightful benchmarks for loyalty programs. These benchmarks span program ROI, repeat purchase rate, revenue per redeeming loyalty member, and more.
---
Within 90 days, on average, brands see:
8.5x ROI
A 164.4% increase in RPR among loyalty redeemers
An 88.5% increase in average revenue per customer when comparing loyalty redeemers versus non-redeemers
A 71.3% increase in purchases per customer when comparing loyalty redeemers versus non-redeemers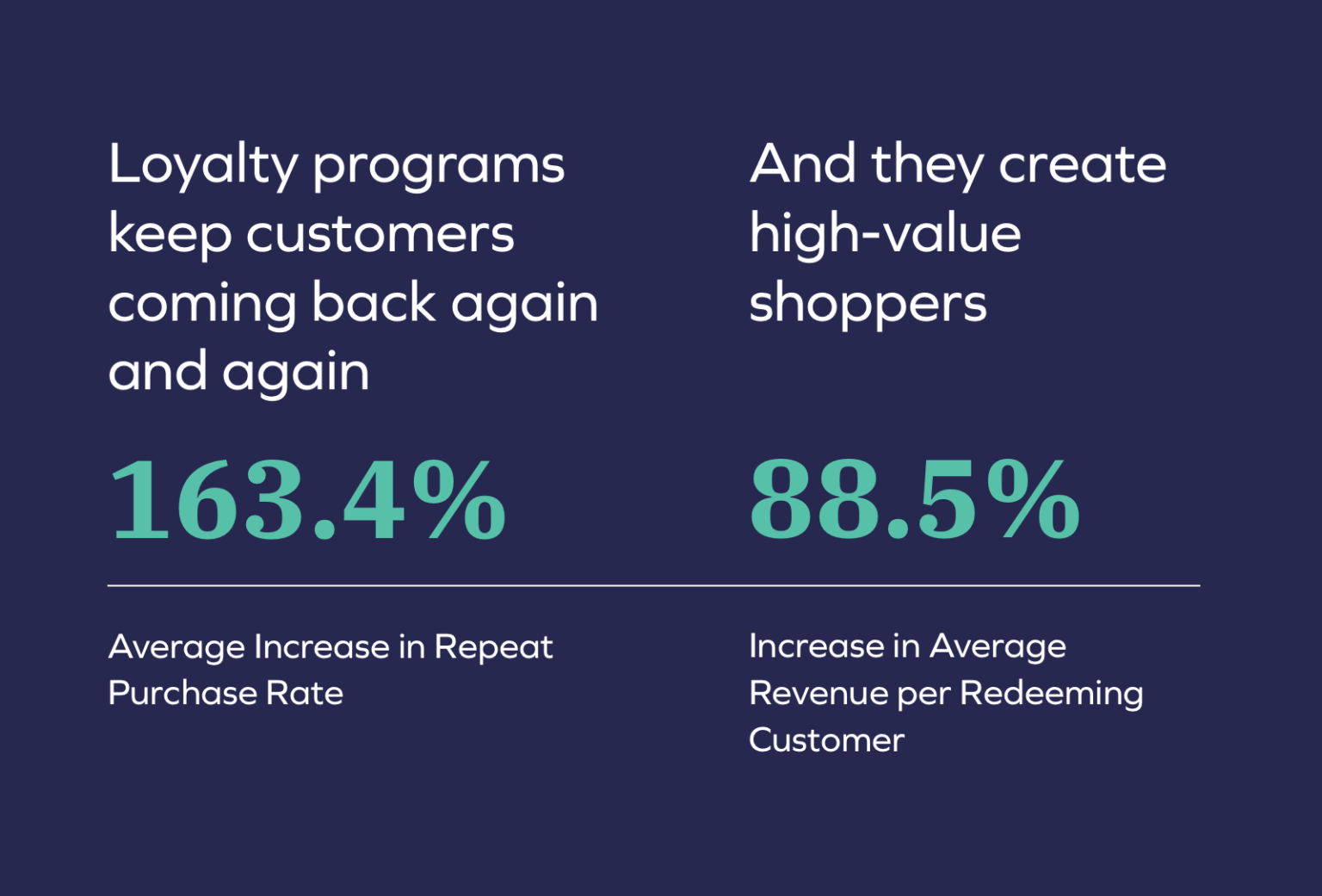 Loyalty program performance varies by industry, as beauty, fashion, and health brands face unique challenges. We created benchmarks and recommendations for each vertical to reflect this.
---
Beauty 💅
On average, beauty brands see a 66.3% increase in revenue per redeeming customer within 90 days.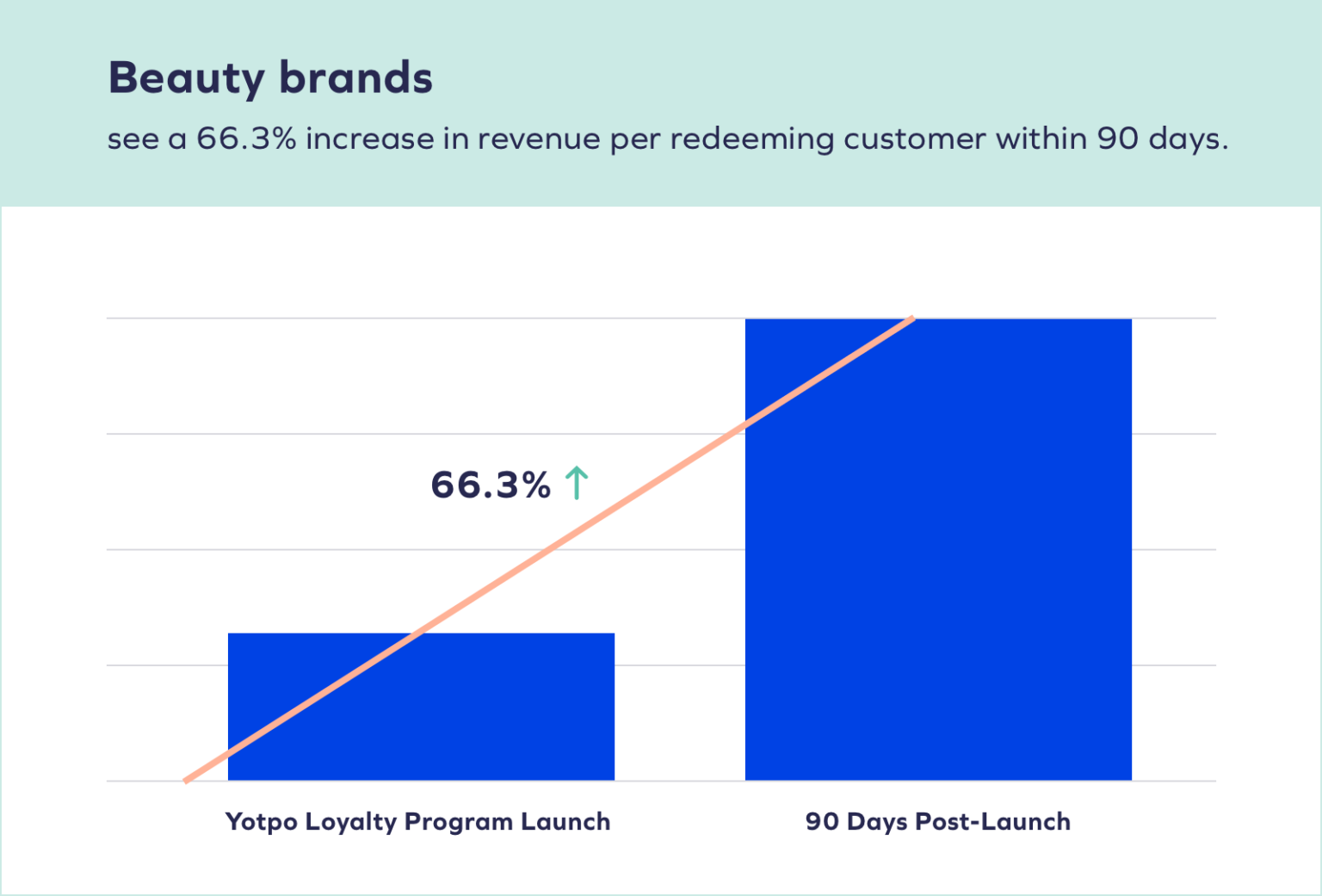 Beauty products are consumables; consumers run out, and they'll need to make repeat purchases. But, beauty brands often struggle with AOV. Consumers make the same purchases and nothing more. A good loyalty program can boost AOV and incentivize cross-category product adoption.
💡 Our Recommendations
Offering rewards like free shipping or free products with a minimum purchase will incentivize members to buy bigger sizes of their preferred products or new products altogether. To maximize product adoption, make sure that you have strong cross-sells that include personalized recommendations. Many brands also find success in offering free products as a reward. These samples are a great way to also push excessive inventory and boost new product adoption.
Targeted promotional campaigns, like double- or triple-point days, help increase program participation rates. One of the biggest indicators of a program's success is a high program participation rate. You want shoppers to be actively engaging with your program, redeeming perks, and earning points.
---
Apparel & Accessories 🧢
Apparel & Accessory brands see, on average, a 50.2% increase in revenue per redeeming customer within 90 days.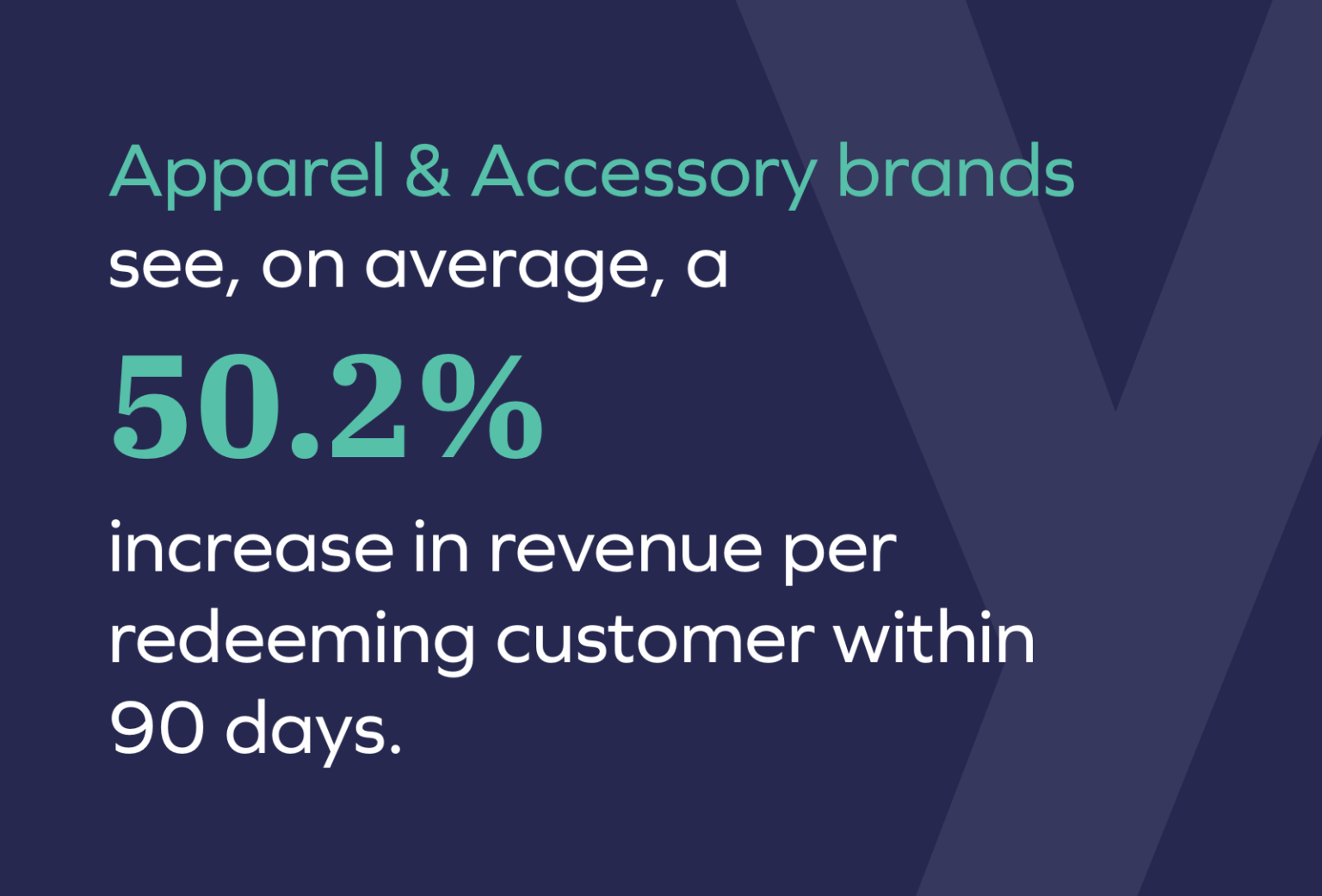 Fashion brands face a unique challenge when it comes to the consumer lifecycle. Shoppers tend to purchase clothes seasonally, with the average time between purchases being 3+ months. A loyalty program keeps consumers engaged outside of those typical purchase windows.
💡 Our Recommendations
Offering limited-time loyalty promotions, like offering bonus points for hitting a specific amount of spend or purchasing a set number of times not only increases revenue, repeat purchase rate (RPR) and average order value (AOV) but also increased overall participation measuring at 7.2% on average.
Punch card campaigns keep customers engaged and on track to make a certain number of purchases or buy a certain number of items. Segmented SMS and email campaigns based on behavior, VIP tier, and point balance also ensure customers received impactful messages beyond their typical purchase cycle.
---
Health 💚
Health brands see, on average, a 56.7% increase in revenue per redeeming customer within 90 days.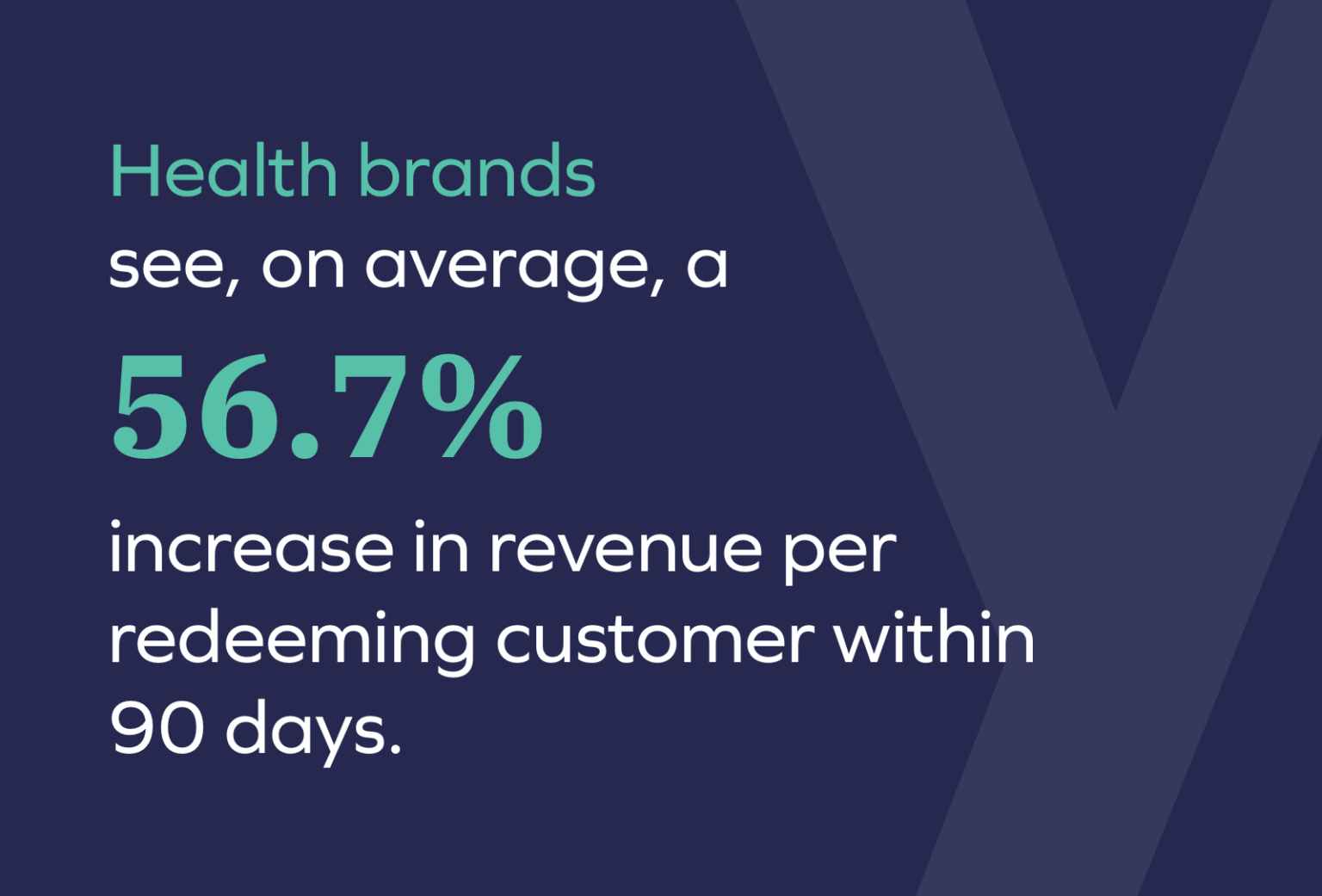 Many brands in the space struggle with educating their customer about their products: their uses, application, and effectiveness. This challenge becomes only more pertinent as a price point increases. Customers also don't expect loyalty programs from their health and wellness brands. They anticipate that these businesses are much more focused on transactions than overall customer experience, so program adoption is also a challenge.
💡 Our Recommendations
Reward shoppers for engaging with your educational content, like reading blog posts and recipes. With their points or perks in tow, shoppers are happy to learn more about your health products: how they can benefit their day-to-day, applications, ingredients, and more.
Boosting program adoption starts with program promotion. Pre-launch and ongoing promotion is a huge part of a loyalty program's success and one that brands can overlook. Before you launch your program, think about all the places you could be promoting it. This could include:
On-site teasers
On-site countdown
Organic social campaigns
Banners on-site linking to the rewards page
Email campaigns
SMS campaigns