What's going to drive retention for your brand in 2023? What strategies will you have in place? What tools and tactics will you activate? And don't forget about all of those new customers you acquired over the holiday season.
The year is getting shorter and the to-do list is getting longer. But don't worry, we've got a few new tricks up our sleeves, did someone say better experiences that will make customers want to continue to shop again and again? We've got solutions for that, and more!
Let's get ready to nail down that 2023 retention strategy.
Turn those deal-hunters into long-time shoppers
First things first, we know the holidays come with a lot of new customers. Most of them are deal-hunters, but that doesn't mean they can't be long-time shoppers. How you ask? It really revolves around creating the right experiences that bring shoppers back to purchase over and over.
Sounds pretty great, right? So how can you build better experiences in a buyer's journey that encourage loyal behavior and drive retention? We're so glad you asked!
Introducing 5 New Ways to Boost Retention
47% of brands say their biggest challenge in retaining customers is driving engagement between purchases. What if that process were easier?
We're so excited to introduce five new features that are going to boost your retention game, streamline your customer journey, increase engagement, and reduce friction.
1. Engage customers at the right time with personalized messages
We all know creating personalized experiences is going to be key when it comes to crafting the perfect retention strategy. Using Yotpo SMSBump to automate touch points with your customers throughout their loyalty journey will ensure you're sending the right message at the right time. These messages are powerful, brands see 81x ROI on loyalty flows triggered through SMS.
In addition, don't make your customers hunt for information like point balance, VIP tier benefits, or available rewards, show that you know your customer by delivering these personalization elements directly to them in your communication.
More than 47% of consumers have said that receiving a text about their loyalty points or rewards would encourage them to make a purchase.
It's no longer just about automating loyalty milestones! Using Loyalty Conditions in existing flows like Win-back and Welcome Series messages allows you to personalize the entire customer journey for your loyalty audience. Show your customers that you know (and love!) them.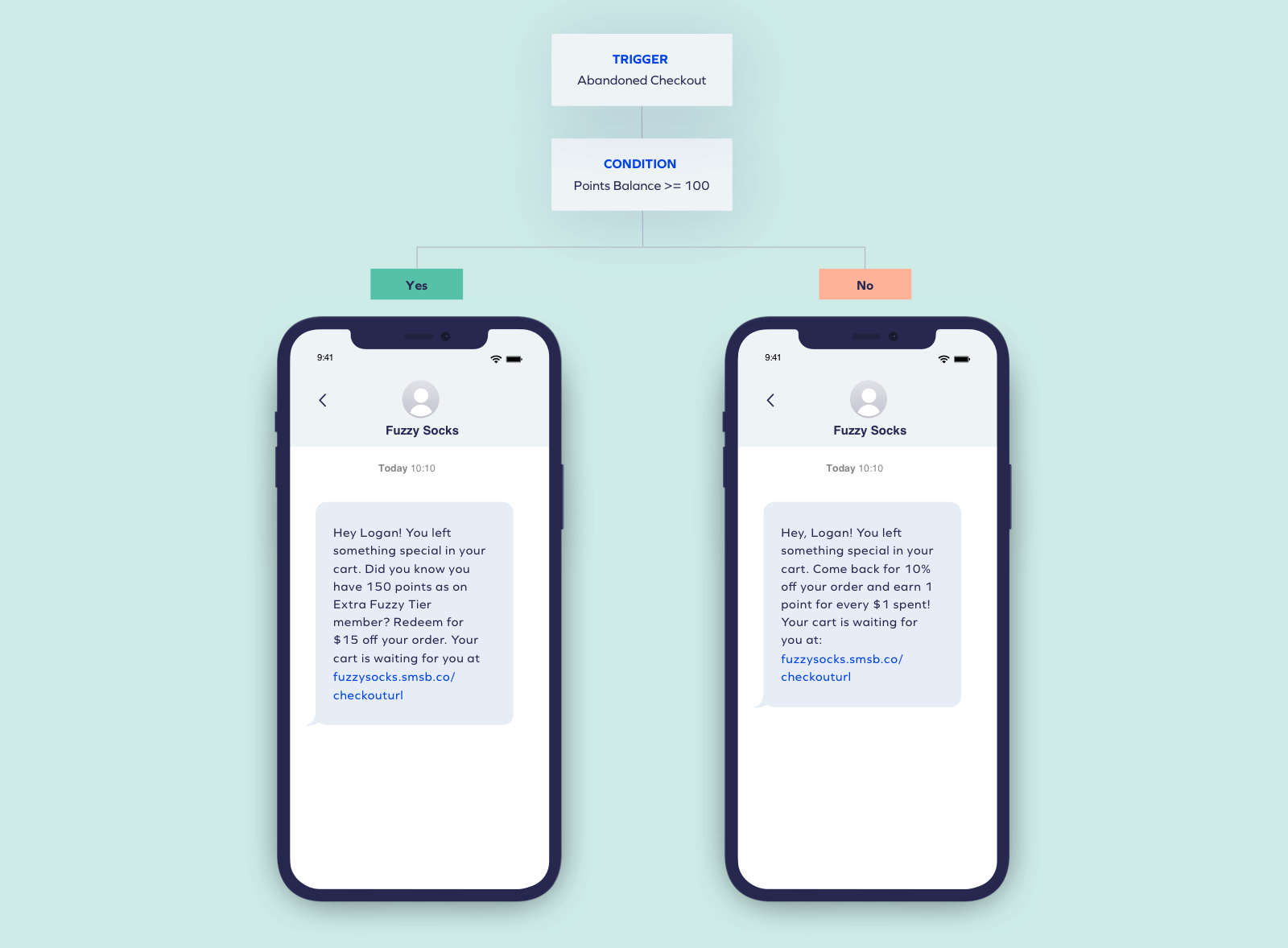 2. Utilize SMS review requests as a frictionless way to collect feedback
Make it easy for customers to share their feedback and kick-off conversations by sending post-purchase review requests through SMS. Create a value exchange during this feedback request and incentivize customers with loyalty points or discounts for their opinions on your products and purchase experience.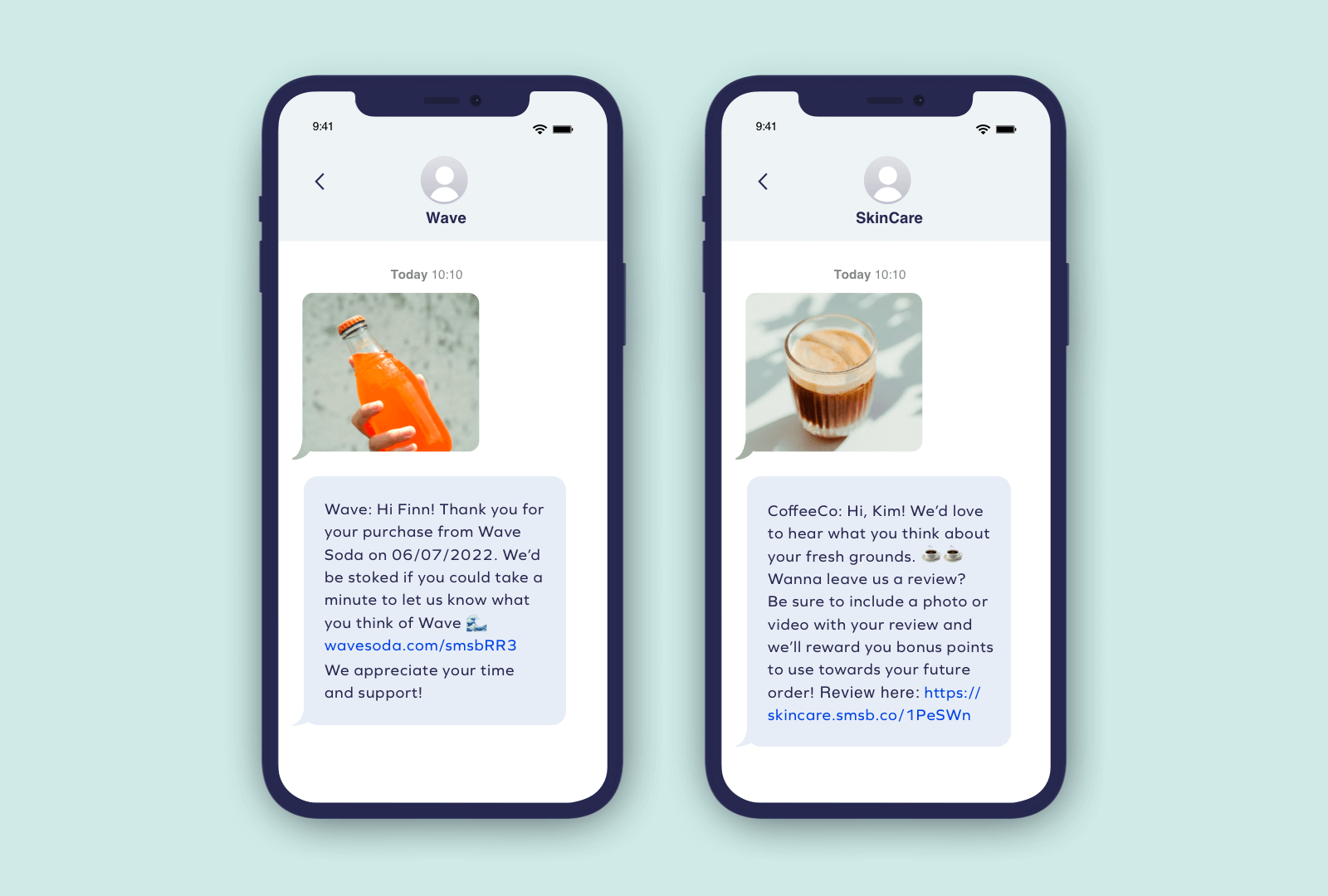 Yotpo brand, Dossier, has seen great success since enabling Yotpo SMSBump's synergistic flows. The brand has been able to generate more reviews, seeing a 2x higher conversion rate on SMS review requests compared to email requests.
3. Give your customers control and make subscriptions a no-brainer
One of the best ways to reduce friction and increase recurring revenue is through a subscription channel.
Simplify your subscription communications with Yotpo's transactional subscription messages. Connecting with your subscribers via SMS is a great way to engage with them between their subscription purchases. Fellow Yotpo brand, Tenderly Rooted has seen 50x ROI on their subscription renewal reminder flow that was sent via SMS.
Consumers will now be able to modify their subscriptions directly via SMS, streamlining the process, further reducing any existing friction, and increasing the likelihood your customers stay subscribed.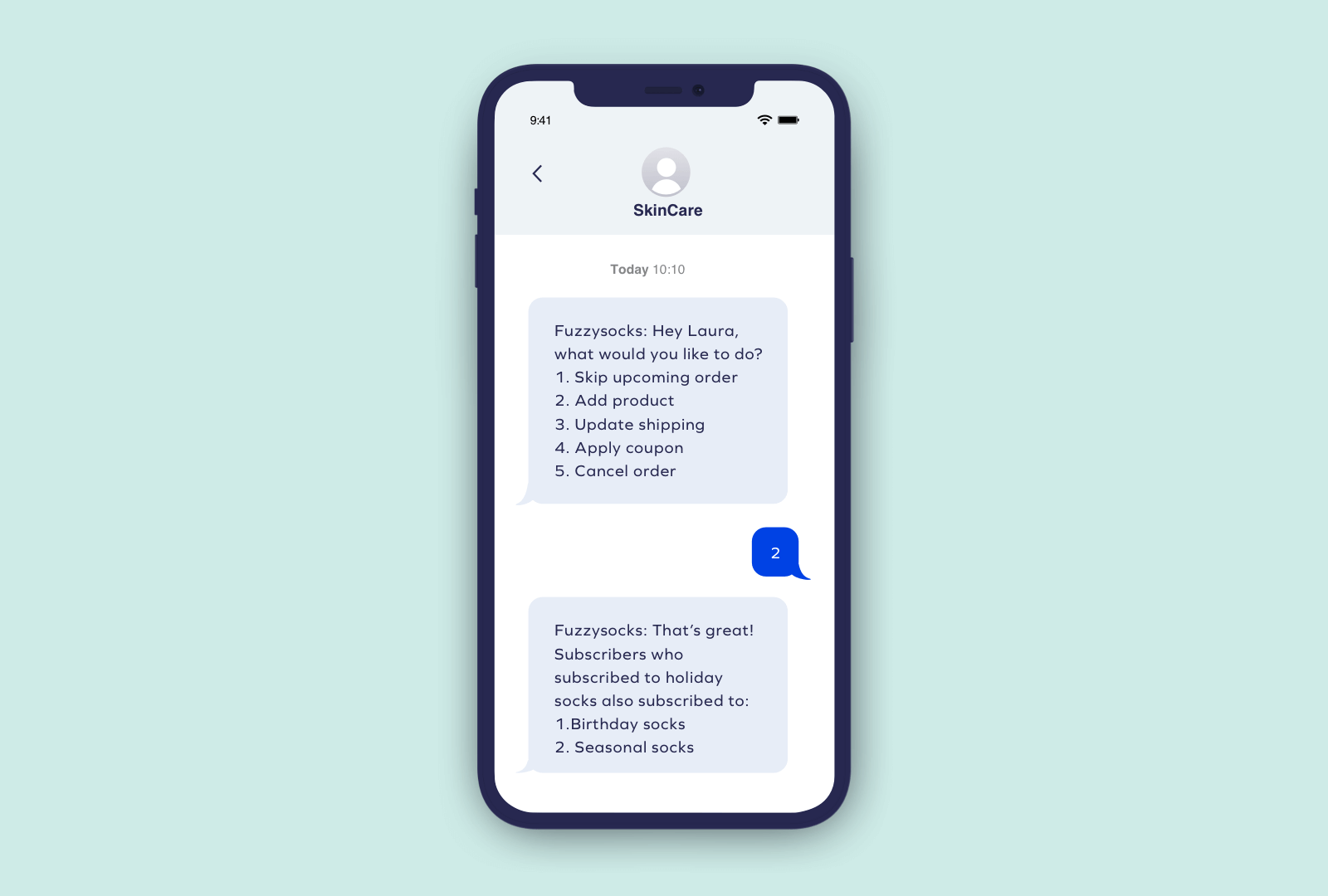 Another benefit of subscription management capabilities with SMS is that when subscribers can adjust their deliveries, swap out products, and yes, even cancel, it makes them feel like they have more control, and aids in reducing that friction. In fact, 98% of shoppers would consider staying subscribed for longer if they had the option to push back their delivery.
4. You get a reward! You get a reward! Empower customers to use their rewards at the right time
With Yotpo's newest click-to-redeem functionality, we make redemptions easy! Brands have seen up to 74x the ROI when using click-to-redeem.
Now it's easier than ever to enable customers, through an SMS message, to redeem their loyalty reward. By leveraging our latest capability, you can text customers to let customers know they have a redemption waiting for them at checkout on their favorite, or soon-to-be favorite, products.
All customers need to do is click the link and confirm payment at checkout; this seamless experience will reduce the customer's time and improve your repeat purchase rate.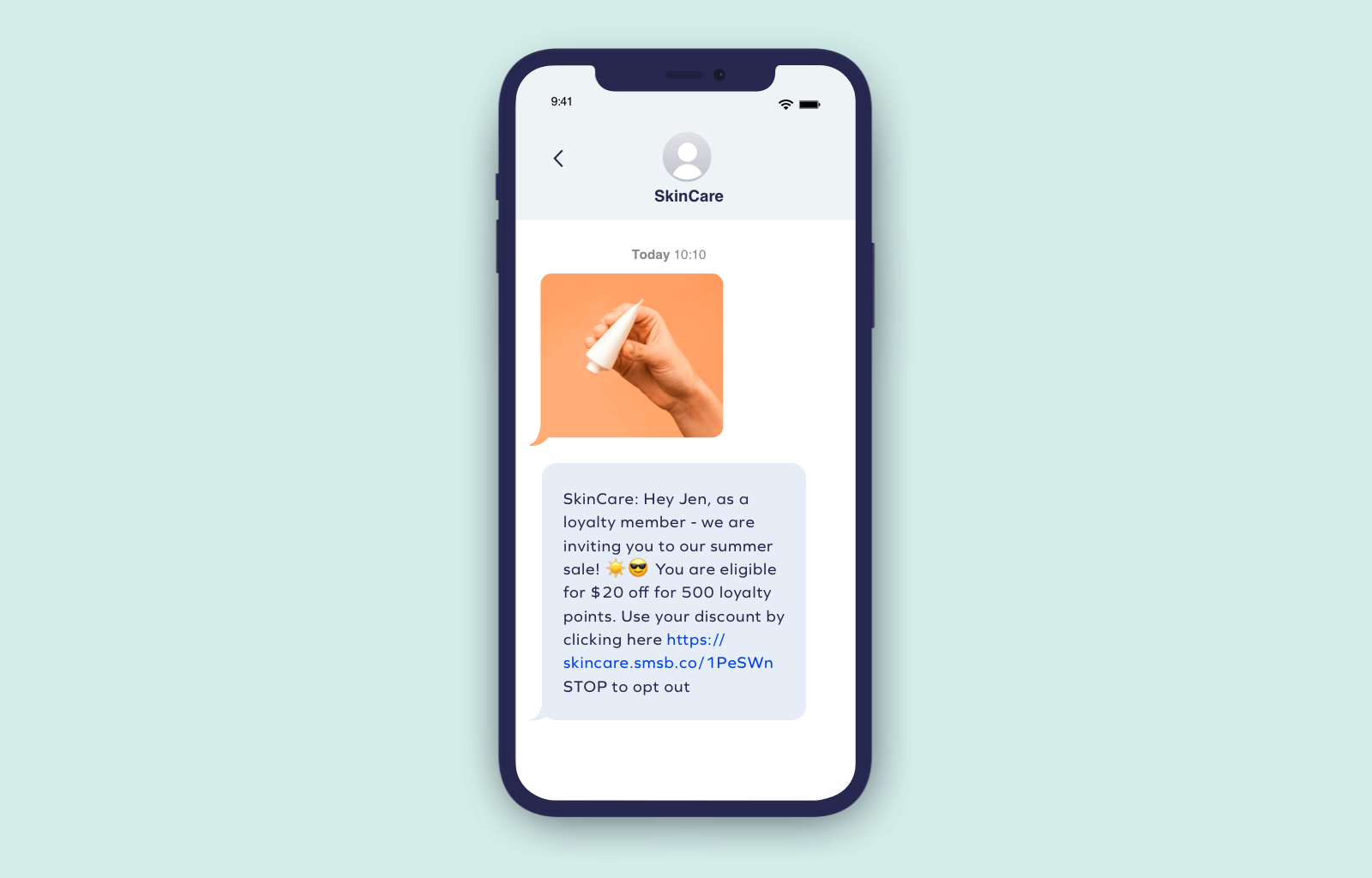 If there's one thing we know it's that the mobile customer wants immediacy and everything at their fingertips. Why not engage with them where you know they'll see it and drive a repeat purchase in the process?
Not to mention, with thousands of things competing for your customer's attention, the ease of real-time interaction makes it quicker and easier for your customers to repurchase their favorite products.
With more shared data from integrated solutions like Yotpo SMSBump and Yotpo Loyalty, brands can treat their loyal customers differently with personalized experiences that drive retention and revenue.
5. Make your brand the obvious choice – let customers redeem rewards on upcoming subscriptions
Yotpo has made it easier than ever for customers to earn and redeem loyalty points on subscription orders! This new feature not only helps with improving retention and increasing lifetime value, but it also adds more value to loyalty members than ever before.
By being able to reward your most loyal customers, you increase the likelihood they'll stay subscribed for longer.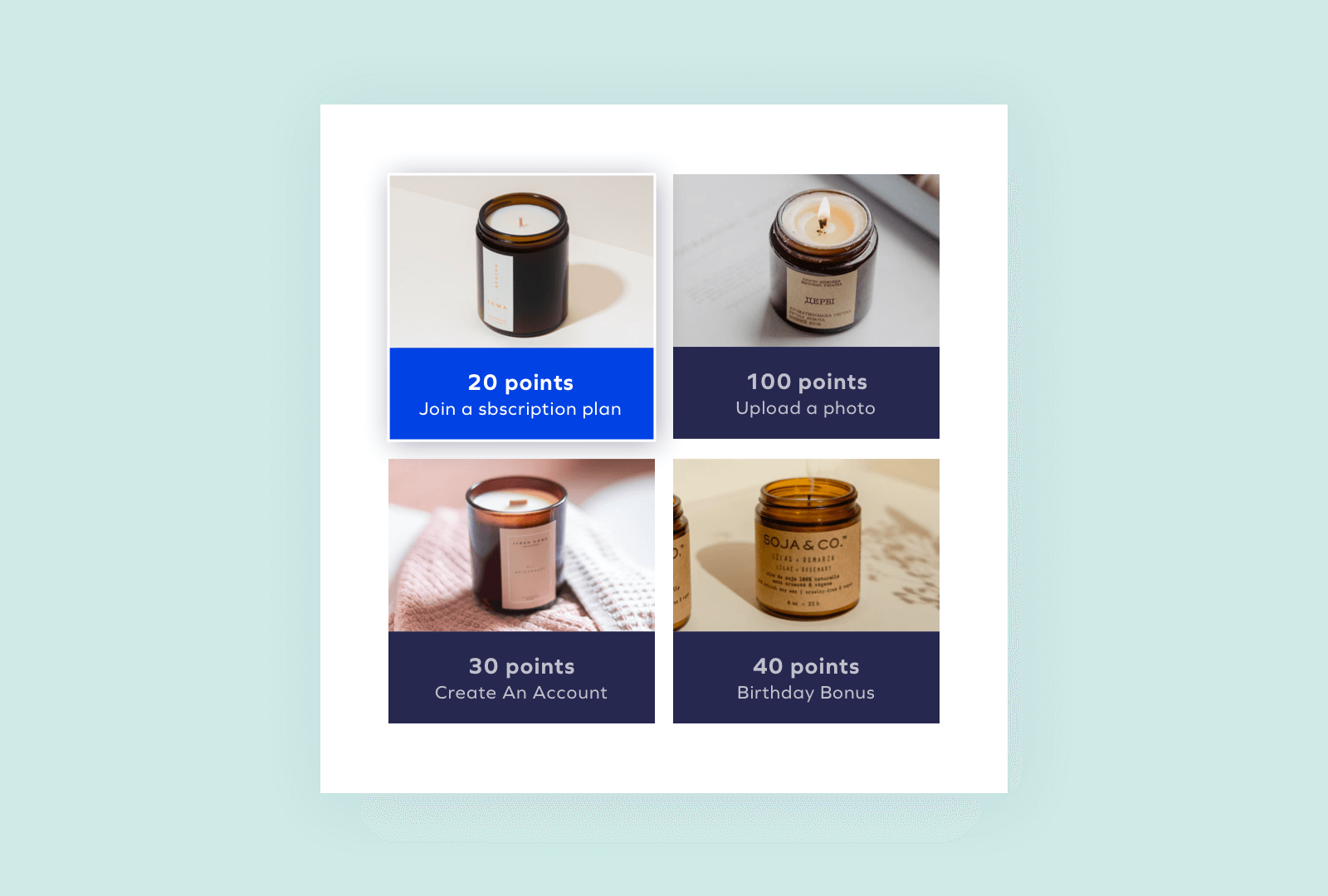 Combining your subscription channel with your loyalty program is a great way to drive subscription adoption and increase subscription visibility within your loyalty program.
These five new features from Yotpo highlight the importance of building experiences that make it easy for your customers to engage with your brand, repurchase, and redeem rewards – creating a value exchange and relationship for the long run.