As we enter an era of increased social commerce, savvy brands are taking advantage of social channels like shops on Facebook and Instagram. With over 300 million monthly Shops visitors, it's no surprise that brands with a robust social commerce strategy see increased revenue and conversions. 
In fact, a Facebook survey reported that 81% of consumers use social media to research products and services before making a purchase. Even more noteworthy, 80% of consumers use Facebook and Instagram to decide whether or not to make a purchase. This leaves marketers with a pressing question: How can brands drive conversion in such a competitive online landscape? The solution — social proof. 
---
Review syndication strengthens social proof and drives conversion
With review syndication to shops on Facebook and Instagram, brands can easily leverage the reviews they've already collected, instantly enhancing their social proof on their shop. Review syndication to social helps brands maximize the reach of customer reviews and gives customers key information at the right time during their shopping experience. 
With social proof, brands can turn discovery into conversion, trust into brand loyalty, and engagement into retention. 
Specifically, Yotpo's Review Syndication to shops on Facebook and Instagram syncs your existing customer reviews to products displayed on your shops on Facebook and Instagram. Instead of building your review collection from scratch, review syndication pulls your existing on-site reviews to your Facebook or Instagram shop. 
---
3 brands winning with Facebook and Instagram Syndication
To explore this further, let's look at how Review Syndication works and how three leading eCommerce brands are elevating their social commerce strategy with Facebook and Instagram Syndication.
1. Mario Badescu boosts CVR by 46% with social proof 
Mario Badescu's skincare journey started over 50 years ago. But the brand's continued success isn't just about the quality of their products. It's their ability to adapt on social that has helped Mario Badescu create a winning social commerce strategy. We spoke with May Chui, Head of E-commerce and Digital Marketing at Mario Badescu, who pointed out three tips that helped them win on social — even in a saturated market: 
Be fearless on social. Testing different assets, social channels, and campaigns can make all the difference in driving engagement. For instance, not being afraid to test educational posts alongside promotional posts.
Experiment regularly. Understanding what is working and what isn't is key. For example, how many products should be included in a post, what themes shoppers are responding to, etc. 
Optimize accordingly. Once you know which assets are performing well on social, it's all about optimization. For Mario Badescu, they found that a mix between educational posts and promotional posts keeps people coming back for more. Posts with rich contextual backgrounds also tended to drive more clickthroughs than simple product photos.
"Social commerce is becoming a bigger focus for our brand — we have to be where our consumers are. We rely on social media to understand what products are out there and what piques our customer's interest. As more people move towards social commerce and live streaming, we want to dive in head first to understand what to improve and how to continuously communicate with our community and translate that into sales." – May Chiu, Head of Ecommerce & Digital Marketing | Mario Badescu
As part of their approach to optimizing their social commerce strategy, specifically finding out what drives engagement on social channels, the Mario Badescu team added Yotpo's Facebook and Instagram Review Syndication. The team knew that with an optimal engagement strategy on social, review syndication is the next step to help shoppers feel more confident at checkout so they can drive conversions.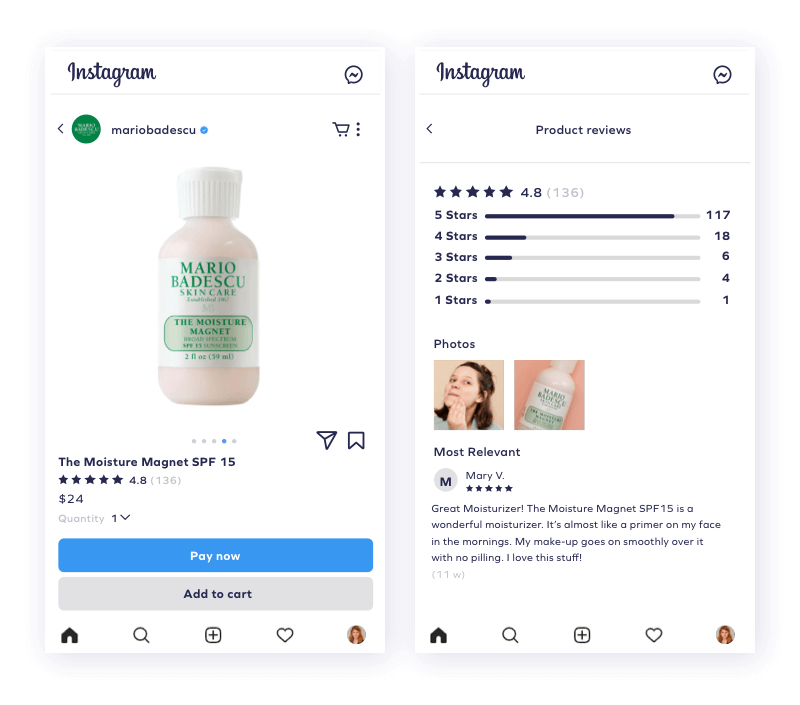 The brand has seen the power of reviews and their positive impact on conversion rate firsthand. Chiu noted, "Last year, we noticed a lot of customers liking products and initiating checkout, but not following through with it. This year, we see more people completing checkouts. I think a lot of that has to do with reviews — when shoppers see 4.7 to 4.8-star reviews, people feel more confident in their decision and this gets them closer to actual conversion."
Essentially, the brand found that optimizing their social content strategy drives engagement with their shop, and review syndication builds buyer confidence, ultimately encouraging conversions. 
"When we compare the first half of this year versus the first half of last year, for shops on Instagram, we noticed a 50% increase in revenue overall. A lot of that is actually due to a 46% increase in conversion rates. So, a majority of it was actually driven by the fact that people felt confident in what they were reading and seeing and led them to convert." – May Chiu, Head of Ecommerce & Digital Marketing | Mario Badescu
As a bonus, Chiu noted that implementing the syndication was quick and easy. "Our Yotpo rep helped turn it on, so it was minimal work on our end."
2. ShortyLOVE uses Facebook Syndication to create winning shopping experiences
ShortyLOVE, a self-funded purse brand created by former Marc Jacobs design director Sloane Gibney Grossberg, is all about creating captivating shopping experiences. The brand knew social media would play a huge role in strengthening brand trust with first-time shoppers and creating winning shopping experiences more efficiently. 
With a lean team, ShortyLOVE knew review syndication would help them be more efficient. Syndication pushes their enthusiastic on-site customer reviews — from already loyal customers — to casual shoppers on social, providing them with all the information they need to feel confident about trying out a new brand. 
"For us as a business, it's all about efficiency. I know that people love seeing what other people are liking and saying about a bag. We see that in a lot of the questions that come in on Facebook and Instagram. Having a review that says, 'This is great, why did I wait to purchase,' is hugely helpful. Because we don't have a team of in-house creatives that can manually pull social proof, the automation of the integration that Yotpo has to syndicate those reviews is huge and would be helpful for all small merchants like us who don't have big agencies supporting us." – Rob Grossberg, Marketing and Operations Lead | ShortyLOVE
Building confidence and brand trust with shoppers is crucial for growing businesses when making a purchase sight unseen. Building trust via social proof, specifically through Facebook and Instagram syndication, is a driving force in transforming brand trust into buyer confidence. Displaying reviews on their shops on Facebook and Instagram gave the brand the social proof they needed to create those winning experiences on social. Additionally, with reviews and star ratings pushed to social, ShortyLOVE noticed their customers had more confidence at checkout. 
"I know that people love seeing what other people are liking and saying about a bag. From a customer perspective, you're getting added feedback that's critical in terms of making purchases sight unseen. Having those reviews right there mimics the live shopping experience, which is a key element to the online D2C shopping experience." – Rob Grossberg, Marketing and Operations Lead | ShortyLOVE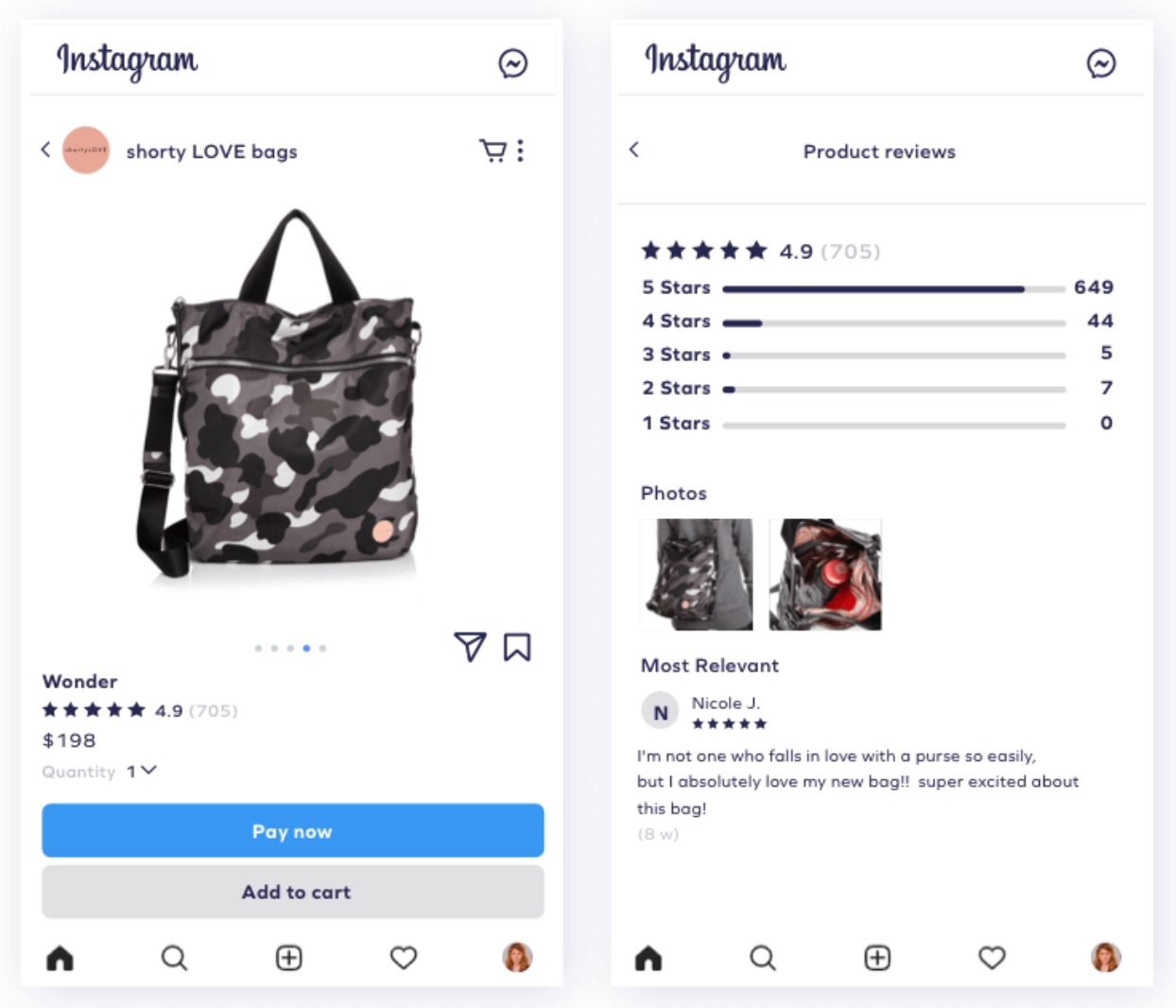 3. Hero Cosmetics drives conversion on social by building brand trust
Founded in 2017, Hero Cosmetics is on a mission to revolutionize skincare by providing effective products for issue-prone skin of all ages. Since the beginning of their journey, Hero has catapulted their way into skincare stardom by proving that their products actually work and effectively building brand trust. Social proof, specifically ratings and reviews pushed to their shops on Facebook and Instagram, have been paramount in building trust online. 
For Hero, displaying reviews on social media was a no-brainer because  "Reviews are a best practice, as being able to see how a product is used and what they use it for is a natural part of the decision-making process," says Alan Kwok, Growth Lead at Hero Cosmetics. Moreso, Hero Cosmetics noticed that once trust was formed, with the help of Facebook syndication, driving conversion across social channels became easier. 
"Once we enabled the Facebook syndication, we started to see bumps in orders with a monthly growth rate of 20%. But then over the last few months, we've seen 56% then 150% growth which is wild, which just shows that social commerce is definitely growing." – Alan Kwok, Growth Lead at Hero Cosmetics
Even more, the team at Hero Cosmetics noticed that treating their social channels like a full product detail page (PDP) encourages customers to convert on social. This is because page speed affects conversions. According to Portent, sites with less than a one-second load speed convert 2.5X higher than sites with a five-second load speed. 
Kwok pointed out that they noticed a faster load speed on social than on-site, meaning that the potential for conversion on social, where the load speed is optimal, is very high. Kwok stated, "Having a PDP-esque page on our Instagram shop complete with reviews can be an edge in that it's a channel with faster load speed." 
---
Facebook Syndication — the secret sauce to winning on social
With shoppers spending over 150 minutes a day on social media, it's no surprise that social proof is a necessary tool for brands looking to compete on social. Facebook Syndication allows brands to display trust-building social proof, like product reviews, photos, and star ratings, on high-converting channels such as shops on Facebook and Instagram. Ultimately, review syndication to Facebook and Instagram is the secret sauce brands are looking for to help them increase discovery, build brand trust, and drive conversion.