Adobe's annual holiday shopping report revealed that almost half (47%) of online sales came from smartphones during the 2022 holiday season, with Christmas Day setting a new record for mobile shopping: the majority of online sales (61%) came from mobile devices.
Vivek Pandya, lead analyst at Adobe Digital Insights, said in a statement, "The big deals drew in consumers and drove volume, helping retailers who were challenged with oversupply issues, particularly in categories such as apparel, electronics, and toys."
Retailers will continue to face challenges in the year ahead, but this past holiday season's performance is a welcome indication that such challenges can be overcome. Consumers have embraced mobile shopping and communication all over the world, and with a mobile-first channel like SMS, it's now easier than ever for you to reach them there.
Here are eight common eCommerce challenges that Adobe Commerce stores can combat with SMS marketing today to power business success well into the future.
1. Consumers' rising expectations
Consumer expectations have completely transformed. In this digital age, they are overloaded with information, products, and services on more devices and at more touchpoints, forcing brands to provide truly exceptional experiences to stand out, connect in a meaningful way, and ultimately earn their business. This is especially true of the emerging Gen Z consumer, who is accustomed to having instant access to just about everything, often in the palm of their hand.
SMS is your solution to meeting them where they are in the moments that matter most. Boasting a 98% open rate and click-through rates as high as 36%, it easily satisfies consumers' cravings for real-time updates they can act on immediately. Nearly half of consumers in the US, UK, and Australia say they prefer SMS to other channels because it's immediate, convenient, and allows them to quickly get updates.
2. Customer data loss
Consumers' elevated expectations aren't the only change eCommerce brands are contending with these days — with new privacy features limiting access to consumer data, marketers have had to entirely rethink how they reach, target, and engage audiences.
As a channel built on zero- and first-party data, SMS enables you to capture those private consumers you might otherwise miss and discover who they are (their demographics, engagement and purchasing behaviors, product preferences, and more), then leverage those insights for more effective marketing. How?
Multichannel subscriber collection:
As an opt-in channel, SMS puts customer privacy first, and with creative signup tools available for every touchpoint, it helps to bridge the gap between online and offline too. Turn shoppers into subscribers with a QR code in your retail location, a keyword in your email campaigns, an on-brand pop-up on your website, and so much more — Adobe Commerce stores get access to more than six fully customizable subscriber collection experiences with Yotpo SMSBump, so you can capture the most essential customer data.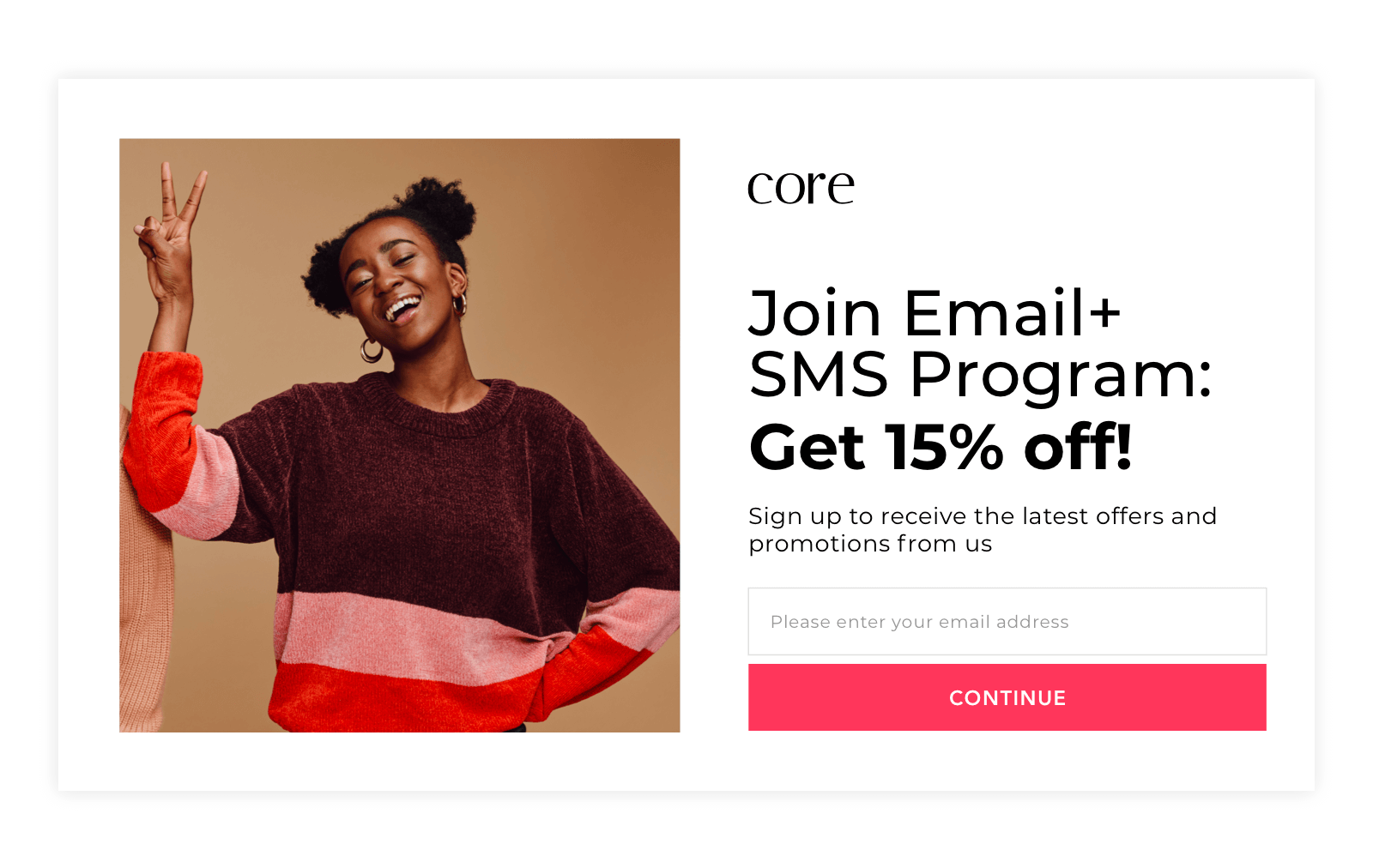 1:1 conversations:
SMS sees response rates as high as 45%, making it the ideal channel for two-way conversions. Interactive SMS experiences like conversational flows prompt customers to share even more about themselves willingly and proactively, so they can receive a more personalized experience and you can drive the highest conversion rate.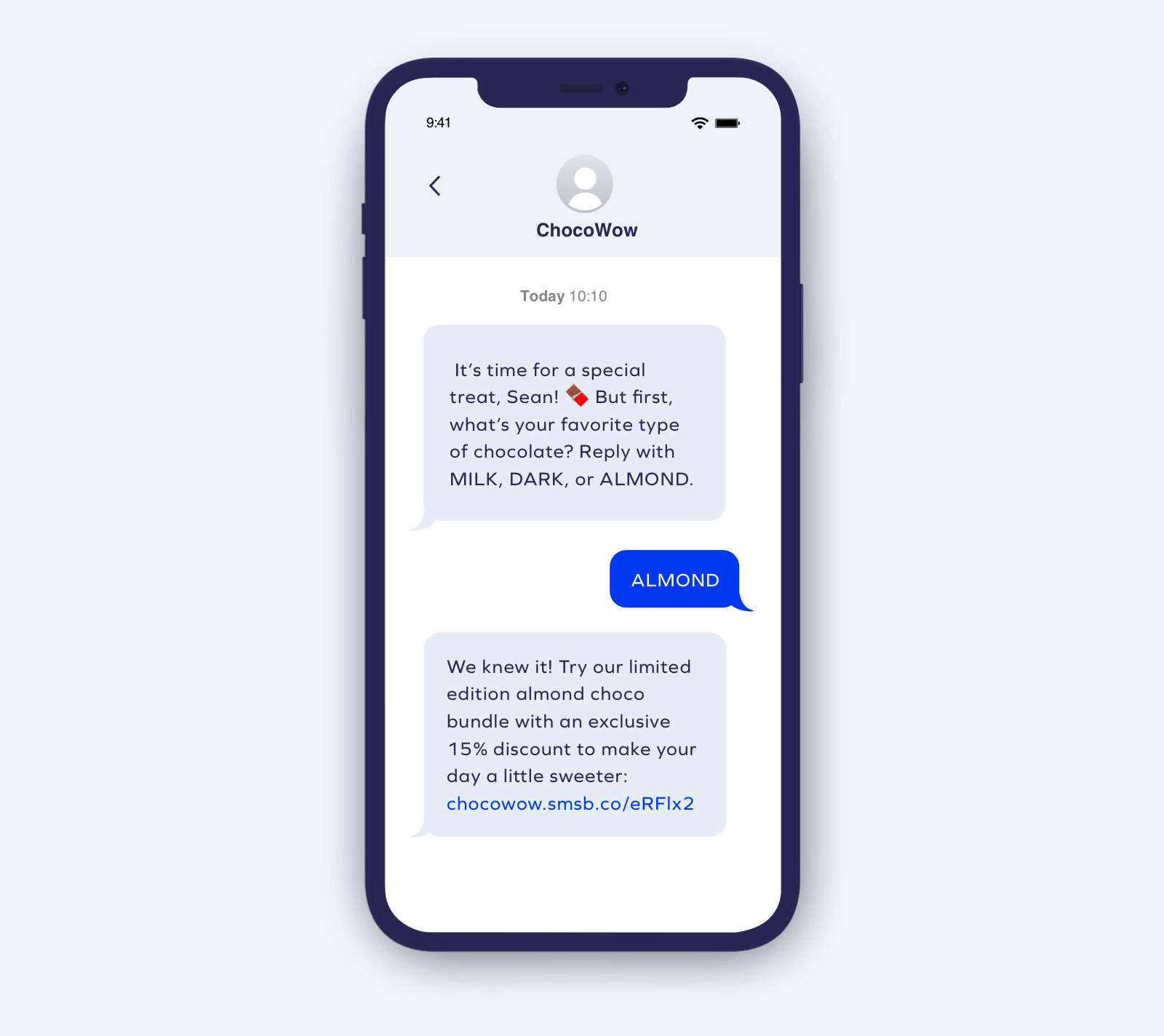 3. Relevant, real-time engagement
The immediacy of a channel like SMS has the potential to become intrusive if misused. But with messaging flows triggered according to real-time customer actions (or inactions), you are guaranteed to reach them at the right time with relevant content that captures their attention.
Implement a welcome flow to hook subscribers from the get-go; increase customer lifetime value with a win-back flow sent to those that haven't purchased in a while; recommend similar products to a customer's recent purchase in a cross-sell or up-sell flow. These SMS marketing flows can drive more revenue for your Adobe Commerce store without extra work or resources, and when paired with seasonal campaigns, they will keep your customers engaged at key moments.
Yotpo SMSBump has all the messaging features brands need to effectively target, including:
An industry-leading flow builder that makes the process of building automations simple
Over 20 different flows to engage customers throughout the entire buyer journey
An SMS campaign planner that gives you the inspiration you need to make other engagements timely too, like Valentine's Day treats or other seasonal promotions
Predictive segmentation, product recommendations, and smart scheduling features all powered by Artificial Intelligence to make every text relevant
4. Abandoned carts
Did you know that, while mobile shopping has become the preference of many consumers, up to 86% of mobile shopping carts are abandoned? SMS marketing flows can also be highly successful at recovering these abandoned carts and even browsing sessions for your Adobe Commerce store.
Set them up to run in the background to do the work for you. That way, when a customer leaves without completing checkout, they will receive a timely reminder where they are most likely to read it (their phones) and are encouraged to come back. Condition these flows with data or add an exclusive offer to incentivize the purchase. Yotpo SMSBump brands see as much as 21% of carts recovered using this strategy, while also having the ability to incorporate social proof like star rating within the flow to make it even more impactful.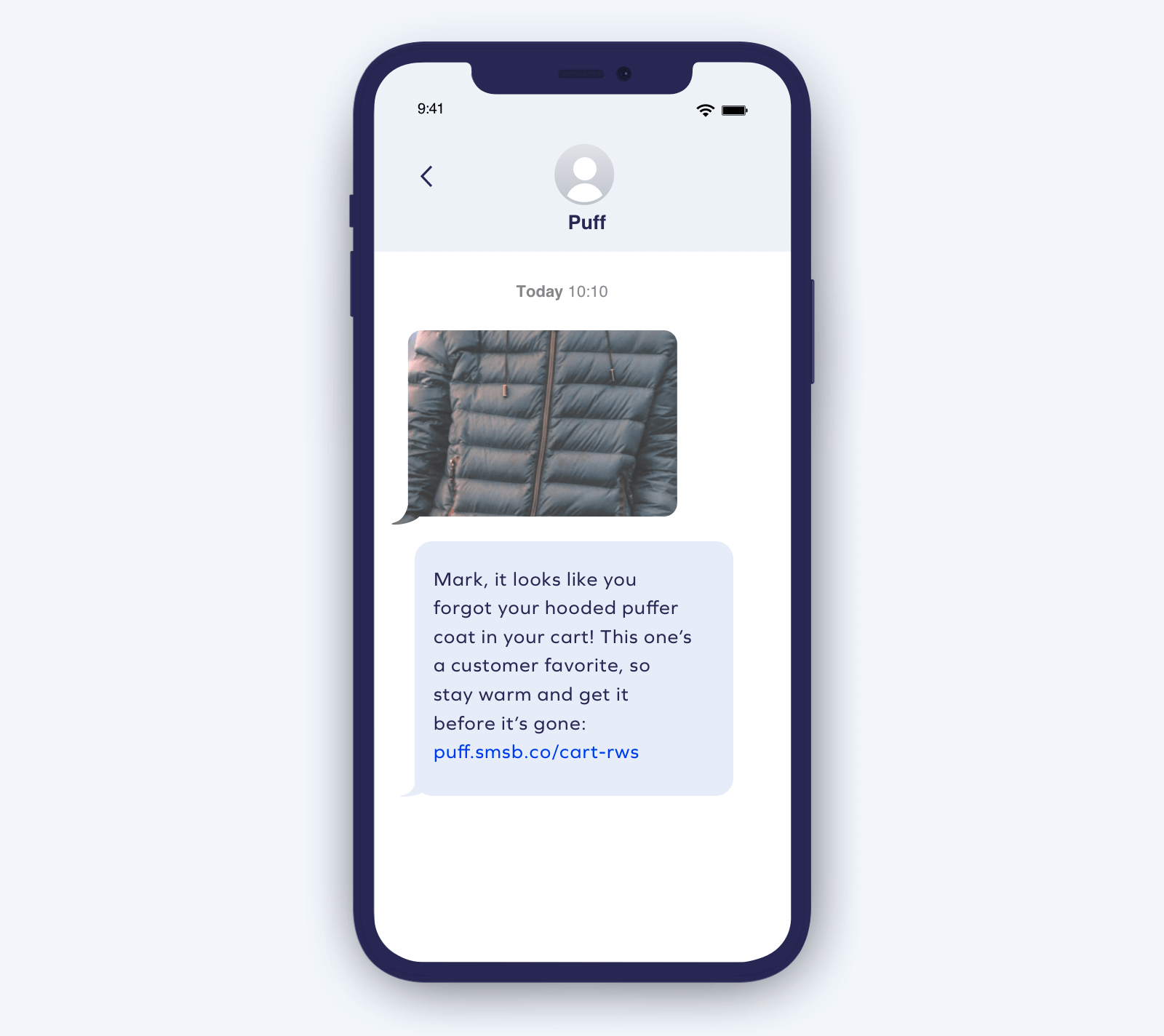 5. Order fulfillment
Transactional text messages keep customers informed at every stage of their order while building excitement and anticipation for what's to come, and more than half of consumers would sign up for SMS to receive them. Adobe Commerce stores can leverage these transactional flows to notify customers when their order is confirmed, shipped, out for delivery, and has been delivered to facilitate a positive purchase experience.
Experiencing supply chain issues? Brands that use Yotpo SMSBump and Reviews together are able to send SMS review requests based on delivery, ensuring that the customer has received the item before they are asked for feedback, which you can then use as social proof to influence future purchases.
And if anything else goes awry, SMS is the ultimate channel to provide fast, conversational support to customers who need it. Help desk integrations and SMS live chat features enable support teams to deliver thoughtful responses to customer inquiries and resolve issues quickly, while encouraging mobile consumers' native communication behavior (texting).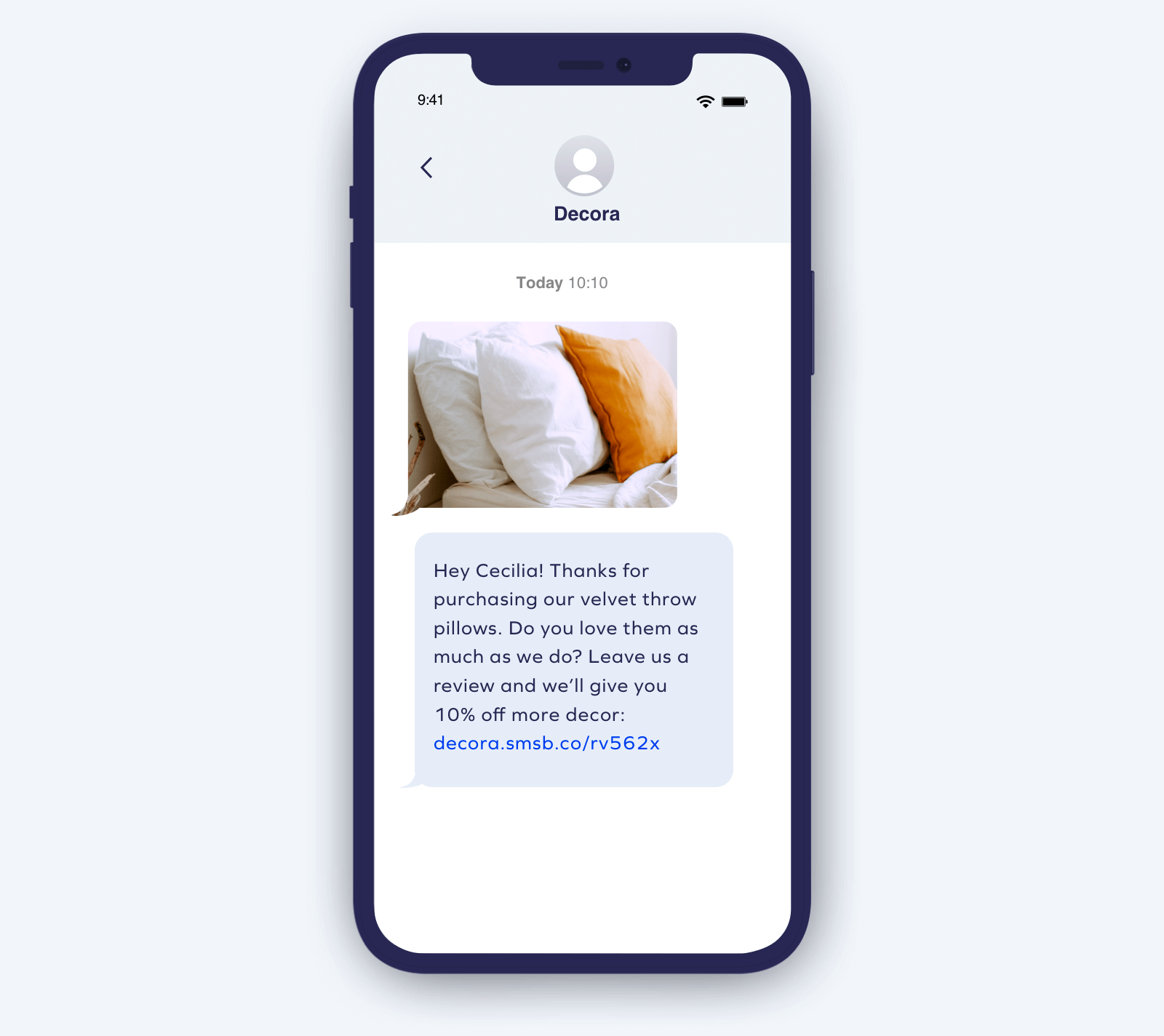 6. Customer acquisition costs
With customer acquisition costs on the rise, it's never been more important to focus efforts on increasing loyalty and retention. Relevant text updates and reminders can keep your customers from going cold after they buy from you, helping to provide real value and put your brand top of mind so that they choose you instead of the competition when they are ready to purchase again. This is especially true for loyalty members, 70% of whom prefer to engage with brand loyalty programs on mobile devices.
What's the key to building this brand loyalty? Personalization. According to McKinsey, 71% of consumers expect companies to deliver personalized interactions, and 76% get frustrated when this doesn't happen.
Adobe Commerce stores would do well to greet customers by name, incorporate personal details like how many rewards points they've earned, celebrate milestones like birthdays or entry to a new VIP tier, or promote products that complement their shopping behavior. By applying what you already know about your customers, you can better segment and target them with messages that feel unique to strengthen connections and increase conversion rates.
Brands that trust Yotpo's SMS marketing and loyalty solutions can more easily foster customer loyalty via text in several key ways:
Define specific loyalty audiences (e.g. members who have an active point balance but have never made a redemption) that you want to target with exclusive perks or offers
Launch loyalty flows (e.g. point balance reminders) and condition them with over 45 data points to keep members up-to-date on their status and drive program behavior
Access pre-built loyalty templates to easily create top-converting campaigns
Insert loyalty shortcodes (e.g. VIP tier name, point balance, or expiration date) to transform generic messages into personal ones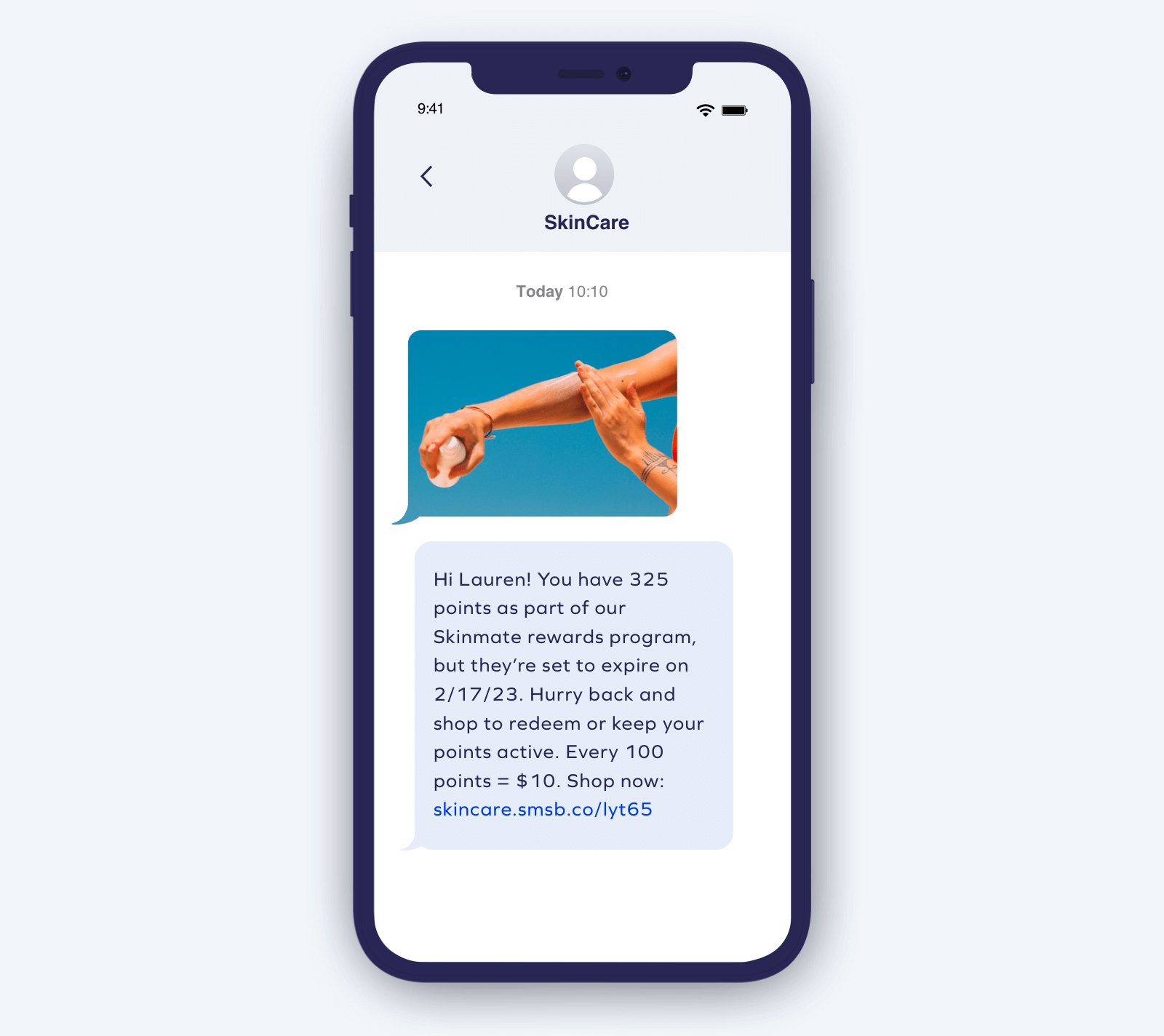 7. Budget and performance tracking
With record inflation, a looming recession, and increased marketing costs, we know budgets are tight — and when you're using so many different channels to engage customers, it can be difficult to understand how you're spending and performing across the board. With the right SMS marketing platform, you can easily measure the effectiveness of your spending so you can keep your finances on track and your ROI high.
Yotpo SMSBump's analytics dashboards give you a bird's-eye-view of your entire program, with real-time performance results for every tool you launch and every text you send, so you know instantly what's resonating with customers and driving revenue versus what needs further optimization. Plus, customizable attribution windows for SMS allow you to track your performance in the way that you prefer, so that it's in line with your other marketing programs.
8. The omnichannel customer journey
Mobile consumers are mobile in every sense of the word. Not only are they predominantly shopping on their smartphones, they are also jumping between devices, apps, channels, and from online to in-store. When these experiences are disconnected, it creates friction in the path to purchase.
Consumers are becoming more discerning with the economy, with their wallets. So they're going to go to brands that they build a relationship with and they trust… A brand where you come back and it doesn't know anything and it's recommending you a skincare product that will give you an allergic reaction when you already told him what you're allergic to is a horrible experience." — Ben Parr, President & Co-Founder, Octane Ai