ALT Fragrances is disrupting the fragrance world with high-quality, but accessible-to-all, D2C perfumes. Founded in 2019 by Michael Saba, the brand cuts through the typical expenses that often cause perfume prices to skyrocket, like celebrity endorsements and packaging. They also strive to be more transparent than existing designer perfume and cologne companies, using clean, vegan, and cruelty-free ingredients that resonate with today's consumers. Saba's ultimate goal was to create better products, ones that everyone could enjoy — and with ALT Fragrances, he has brought those products to life.
Challenge
ALT Fragrances was using SMS marketing, but as a background tool rather than as a primary revenue-driver.
When major iOS changes went into effect, the brand's email marketing and Facebook ads performance weakened.
ALT Fragrances needed a dependable channel to make up for lost revenue and keep new revenue growing.
ALT Fragrances wasn't new to SMS marketing — they had been Yotpo SMSBump customers for some time, but relied primarily on other marketing channels like email and Facebook ads to engage customers and generate revenue. While they did use certain SMS marketing tools, they did so infrequently, letting them run in the background.
However, when major iOS updates disrupted marketing initiatives by strengthening consumer privacy, their team knew they had to make a change fast, especially since they depended so heavily on email attribution and Facebook ads tracking data.
"What prompted us to make better use [of SMS] were the iOS changes, which made those two channels really poor and hard to track, hurting performance," says Michael Saba, Founder and CEO of ALT Fragrances. "When that happens you look to new channels to make up for the loss, and SMS has honestly done that and more."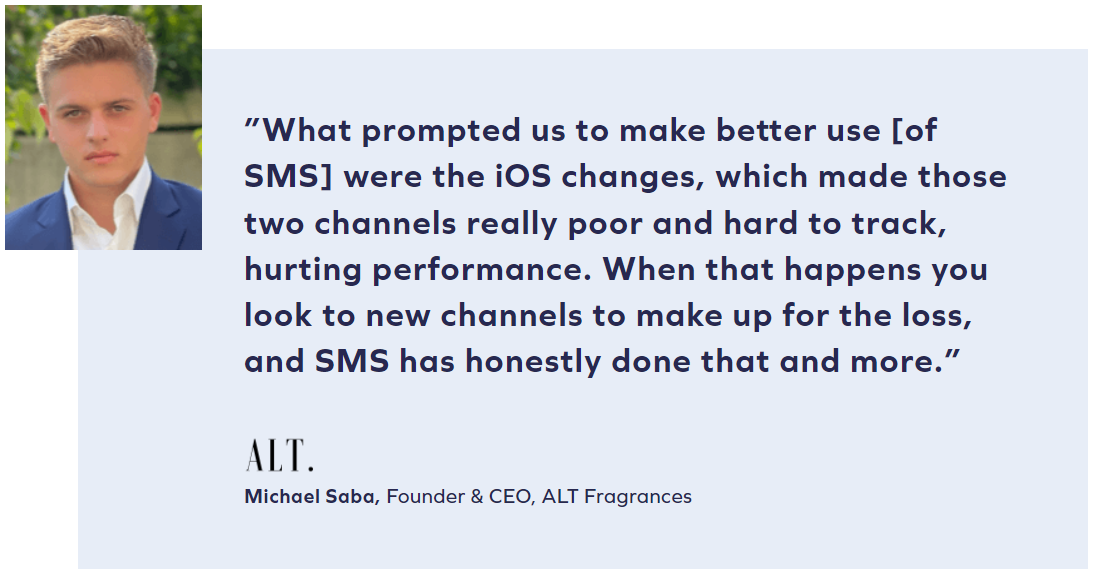 Solution
As previous Yotpo users, ALT Fragrances knew they could depend on Yotpo SMSBump for their SMS marketing.
Yotpo SMSBump's team of dedicated experts and top-tier support gave ALT Fragrances confidence in their SMS strategy.
ALT Fragrances was able to reach customers on their phones instantly with SMS.
ALT Fragrances chose to continue working with Yotpo SMSBump for all their SMS marketing needs. Since they were already impressed by the incredible support offered to them, it was a no-brainer to grow the relationship and let Yotpo SMSBump guide them through maximizing results with this newer marketing channel. "It's the top-tier support and handling of the account that is the one-up on competitors," says Saba.
From early onboarding to present day, ALT Fragrances has had a wonderful experience working with the Yotpo SMSBump team. The brand speaks with the Yotpo team on a bi-weekly basis, discussing the latest and greatest in SMS marketing tools and tactics to improve their strategy. They appreciate how thoughtful Yotpo is when navigating these conversations, especially when it comes to keeping ALT Fragrances' customers happy. "The team helped us set up key flows and create a cadence for campaigns to make sure we're sending enough without overwhelming our customers," says Saba.
Since committing to their new, SMS-heavy marketing strategy, ALT Fragrances has been able to reach customers more effectively, even amidst continued privacy changes. "You have this instant reachability with all your customers," says Saba. "As opposed to email, with SMS it doesn't matter the day of the week you send a message since everyone is on their phones."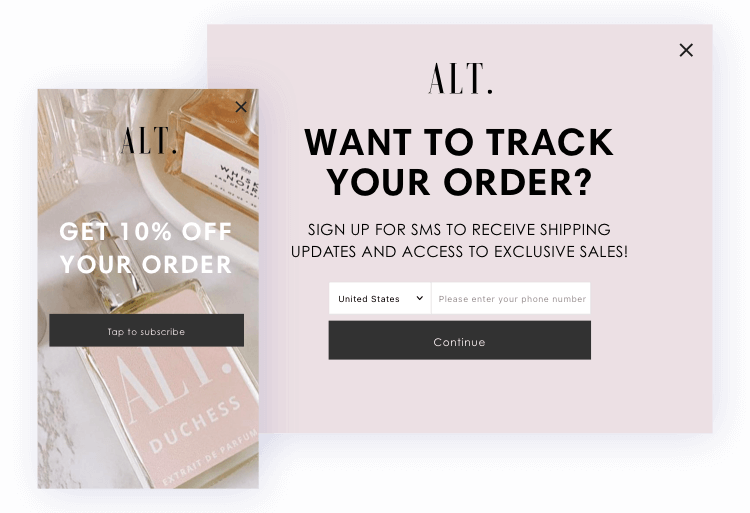 Results
ALT Fragrances has driven 150% list growth month over month with Yotpo SMSBump.
The brand has leveraged their growing list to send out messages, resulting in 48x+ program ROI.
Their SMS flows have seen 225x ROI, with sales announcements bringing in the most revenue.
Elevating SMS to the forefront of their marketing strategy has already had a major impact on ALT Fragrances' revenue and ROI. The channel has provided the brand with direct, one-on-one access to their mobile audience, which they've grown exponentially using Yotpo SMSBump's suite of top-converting subscriber collection tools. In fact, ALT Fragrances has seen an astonishing 150% list growth month over month. This is largely attributable to their consistent use of pop-ups, particularly Yotpo's Dynamic Pop-Up — the highest converting subscriber collection tool available. They even use a post-purchase pop-up to remind customers to sign up for shipping updates and exclusive sales, so they can capture subscribers at every step in their journey.
ALT Fragrances has leveraged their growing list to send out messages, resulting in over 48x program ROI with SMS. "Any day we're sending out a campaign, whether it's a new product or a sale, we see a huge jump in overall traffic to the site and overall revenue. It definitely moves the needle for us," Saba affirms. So far, sales announcements have been the most successful campaigns for ALT Fragrances.
Their campaigns get customers excited and eager to purchase, and ALT Fragrances is now exploring new ways to further excite and engage customers — starting with a simplified path to purchase. "With Click-to-Buy campaigns, we can now accelerate checkout for customers by sending personalized links that take each shopper straight to a pre-populated cart," says Saba. "Text campaigns instantly get customers excited to purchase, and now that's easier than ever with one click checkout." The results of their SMS strategy speak for themselves, with 225x ROI on SMS flows. For eCommerce brands trying to better understand which campaigns work best for their audiences, Saba has some sound advice: "Go in and experiment! Test different campaigns and see what works for your brand. For us the biggest thing is sales, others might find it's new releases."
Despite all of this success, ALT Fragrances isn't slowing down. The brand is taking their own advice about experimentation to heart and has signed up for several Yotpo SMSBump beta tests in order to be on the cutting edge of innovation in the SMS marketing space. They are excited about the future and are looking forward to achieving even greater revenue growth and subscriber engagement with Yotpo SMSBump.
Register to be the first to use Text-to-Buy, Yotpo SMSBump's latest innovation that expedites the path to purchase by letting customers reply to buy.