SMS marketing is a staple in today's direct-to-consumer toolkit, opening new opportunities for customer engagement, retention, and revenue growth. The channel's reach and popularity has extended to all corners of the world, including in Australia, where more brands and consumers are going mobile to not only communicate, but shop.
Over 74% of Australian shoppers are already signed up to receive SMS marketing messages from brands, while more than half (51%) say they would sign up for texts so they can know immediately about promotions, offers, and updates. As SMS continues to evolve, offering consumers even more convenient, fast, and personalized ways to purchase products from seemingly anywhere, we can only expect these numbers to grow.
These Australian brands have taken notice. They told us exactly what prompted them to add SMS to their marketing strategy, along with which texting tactics have worked best for them so far, so that other eCommerce brands can achieve similar success with SMS.
VRG GRL
Founded in the late 2000s by Australian sisters Daniella and Natalia, VRG GRL is an international leader in the eCommerce fashion space, representing freedom and individuality through style. Beyond selling clothing, VRG GRL inspires women everywhere to have the confidence to be their most creative, happy selves and celebrate their individuality.
What inspired them to get started with SMS marketing:
"Adding SMS to our marketing mix has allowed us to reach our audience on a personal and convenient level," says Hannah Wood, Email Marketing & CRM Specialist at VRG GRL.
"We were looking for a platform where we could engage our customers directly without the distraction of other content and messages interfering. It's allowed us to deliver messages through a more direct, to-the-point medium and has expanded our overall communication strategy. By using SMS, we were hoping to reduce the time to purchase and increase the conversion rate, which we've been able to achieve through Yotpo SMSBump's functionality."
A top SMS marketing strategy they recommend to other brands:
"Driving our product and collection launches via SMS campaigns has been a very successful strategy for our brand," Wood says. "By generating a sense of urgency and reaching customers directly, we've seen a significant increase in the initial sell-through rate of our products. Segmentation has also given us major flexibility to send campaign content more frequently and to the right audiences, whilst maintaining a healthy, non-aggressive send strategy."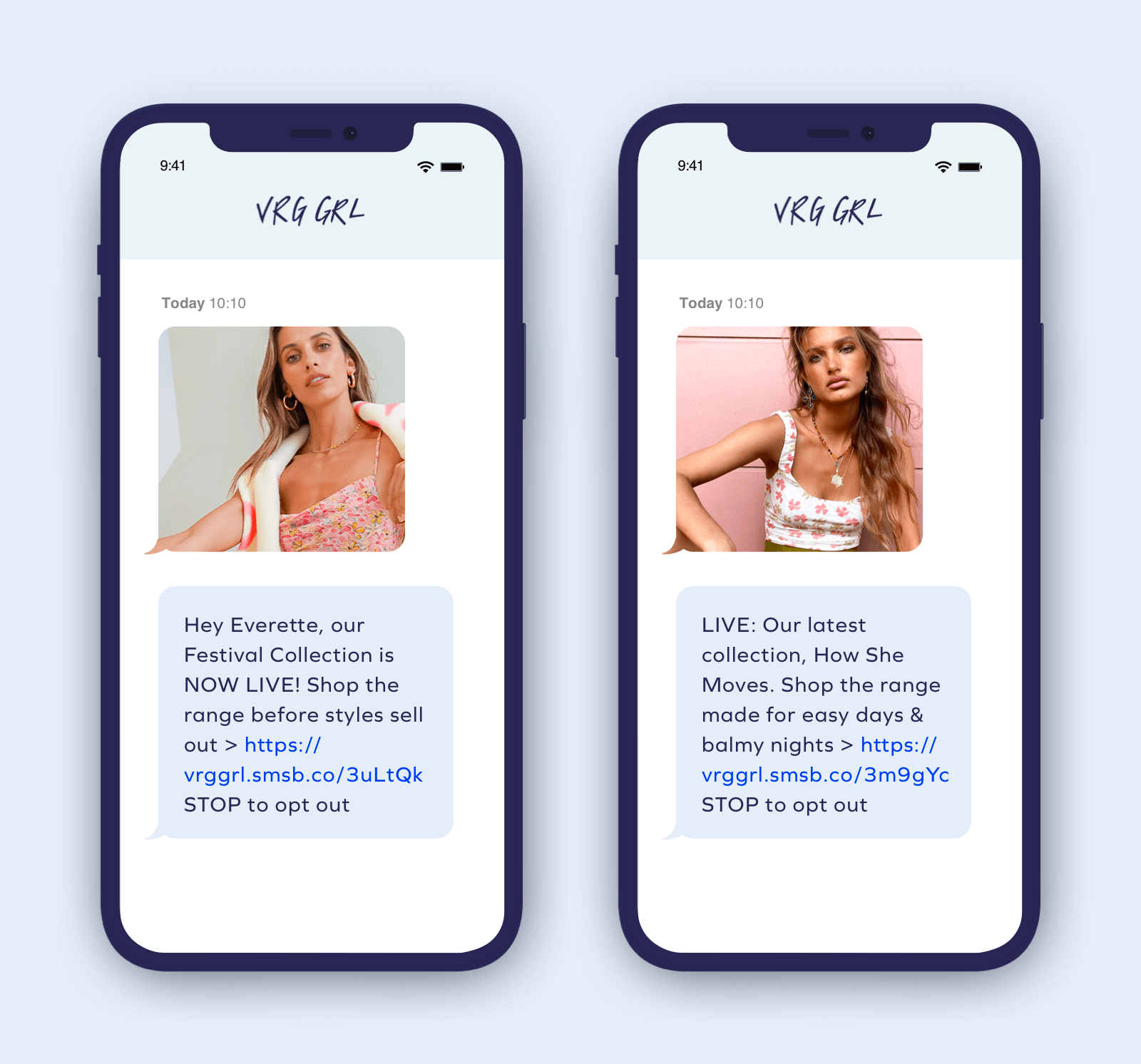 JSHealth Vitamins
JSHealth is a leading wellness and lifestyle brand, founded in 2012 by Jessica Sepel, 3x best-selling health author. Born as a natural extension of this philosophy, JSHealth Vitamins provides unique supplements and vitamin-infused skincare, based on ingredients backed by traditional use and scientific evidence, in order to help people feel their best. Having her own formulations has allowed Sepel to use carefully chosen ingredients in specific doses, created with the intention to nourish wellbeing and confidence from the inside out.
What inspired them to get started with SMS marketing:
"We wanted to reach and engage with our customers in a way that is easiest for them," says Megan Wearing, Digital Marketing Manager at JSHealth. "SMS has enabled us to quickly communicate new product launches, promotions, and any exciting events to our customers. It also enables us to nourish our relationships with our loyalty members."
A top SMS marketing strategy they recommend to other brands:
"Personalization through segmentation has been a key strategy of ours," says Wearing.
"Using Yotpo SMSBump segments, we have been able to further enhance our SMS campaigns. For example, we can send a campaign to all customers. Then, as the promotion is coming to an end, we can send a reminder to a smaller segment of engaged customers. Loyalty flows, specifically 'points reminders,' have also been very successful for us."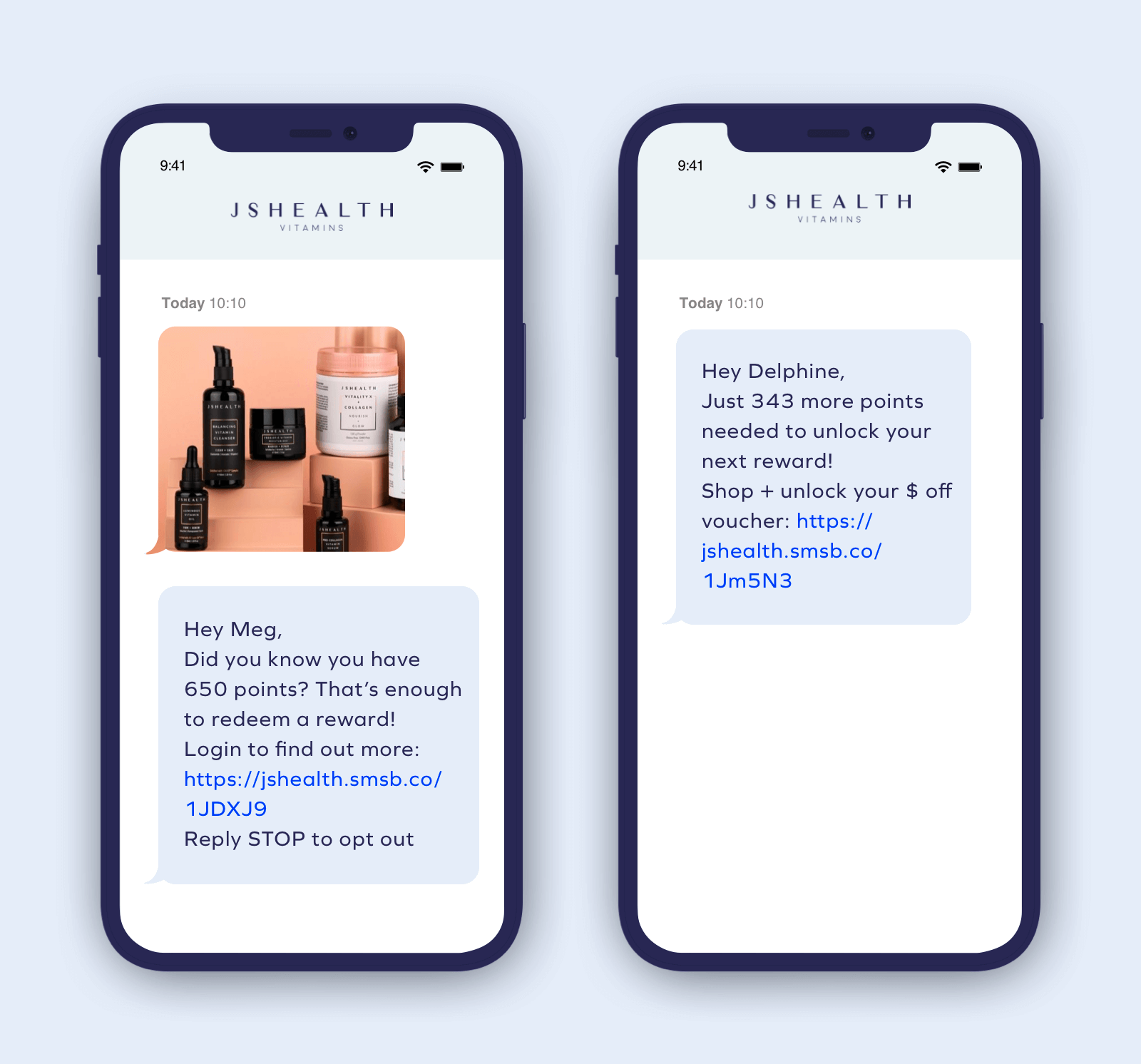 Bangn Body
Bangn Body is the leader in firming, multi-purpose, and anti-aging skincare. A clean and conscious skincare brand, they focus on Australian sourced, natural active ingredients that deliver proven benefits and visible results.
What inspired them to get started with SMS marketing:
"The world of eCommerce has become more personalized. The way you interact with your customers needs to be measured and well strategized on how they will receive a touch point from your brand," says Priscilla Hajiantoni, CEO & Founder of Bangn Body.
"We decided SMS marketing was the perfect opportunity to provide customers with a more personalized service, as well as make them feel like a true VIP. Customers can subscribe to our SMS marketing list to receive VIP offers, access to new product launches before anyone else, and also be reminded that they have left something in their cart, which in turn prompts them to make a purchasing decision. It's important that SMS marketing is treated very differently from any other platform, as it's super intimate and personable to the customer."
A top SMS marketing strategy they recommend to other brands:
"Integrating our SMS marketing into our Klaviyo email flows has worked wonders," says Hajiantoni.
"If someone receives an email but doesn't purchase, a few hours later they will receive a text which reminds them, prompts them, and encourages them to make a purchasing decision. We have also found sending SMS's to our VIP customers about any new offerings, products, or promotions works extremely well, as they feel they are getting the VIP treatment. Our SMS lists are segmented and strategically positioned based on our monthly promotional campaigns, new product launches, and exclusive offers."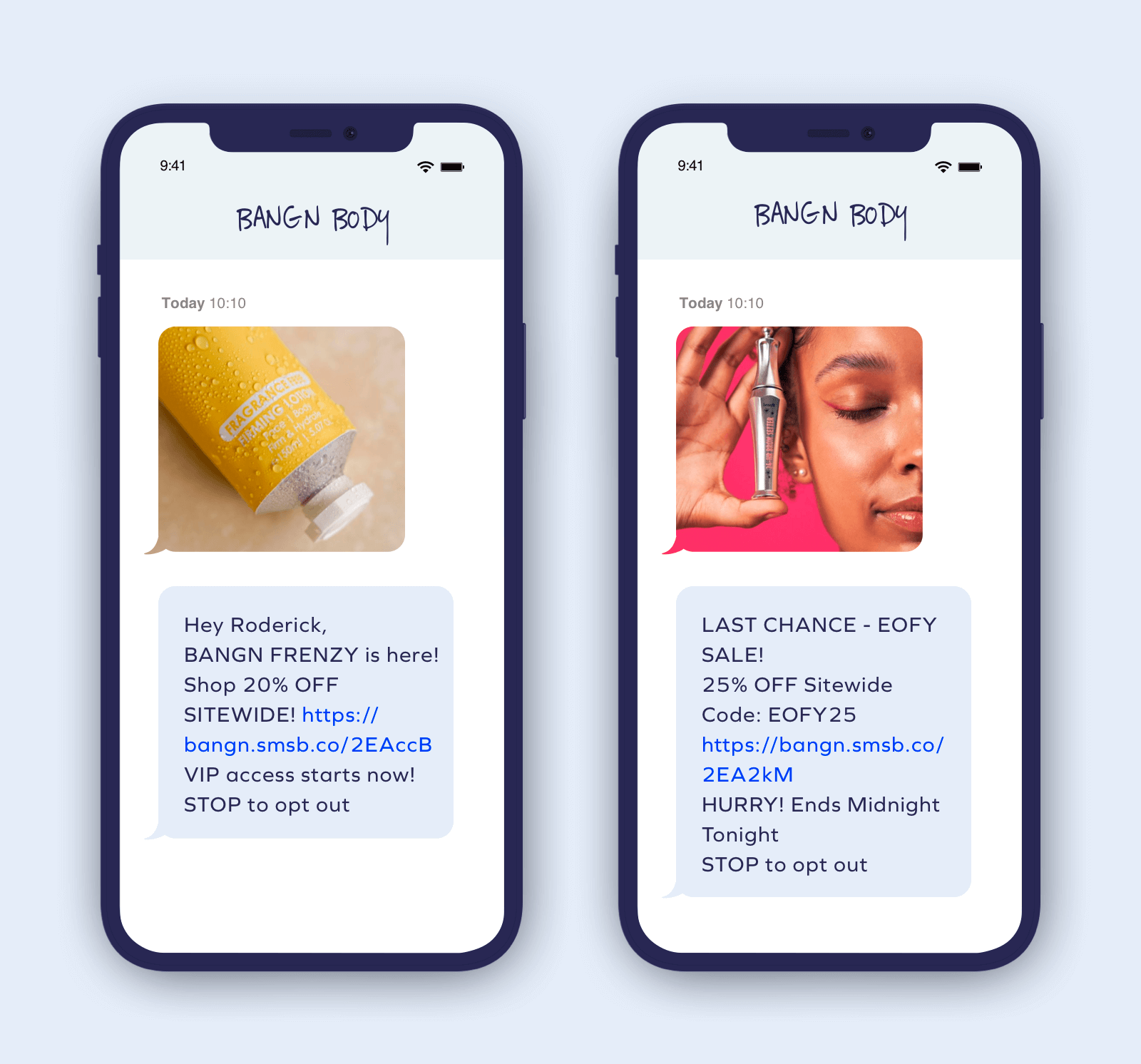 Feeling inspired yet? Schedule a call with one of our experts and find out how you can get the most out of SMS marketing, wherever you are.