The festive season is already upon us, which can only mean one thing – it's time for presents! Santa came early this year, and guess what came out of his gift bag... 
Meet the ultimate holiday SMS & Email Playbook – built to maximize your success through the rest of 2022 and beyond. Learn how to successfully engage with your customers, gain new ones, and keep the sales rolling throughout December. 
You've got eight proven strategies and 13 inspirational templates to take your holiday marketing to the next level in the busy weeks ahead. And, as with every solid action plan, we've outlined the most important time periods and pointed out the best dates to launch campaigns.
Ho-ho-let's go!
December 1 – December 15
The beginning of December is when merchants must step up their game and show the world what they're made of. Even if the BFCM craze is already behind us, you need to continue the momentum and make sure your SMS & email strategy is on point.
You want to provide excellent post-purchase care for the people who trusted your store around Black Friday/Cyber Monday and send follow-up offers. You want to re-engage with inactive shoppers and lure them back with attractive holiday deals. And all this while making sure your audience keeps growing. 
But don't stress, we got you covered! There is a campaign for everything, and we will now show you how to use both channels in the best way possible, make sure Santa fulfills your wishlist and all your marketing goals are accomplished.
Holiday strategy #1: Approach BFCM purchasers and non-purchasers with timely and personalized campaigns
Kick off December by reaching out to the people who have placed orders around Black Friday/Cyber Monday. This will help you show some extra care, keep your brand top of mind, and, while we're at it – drive more sales.
Activate a Post-purchase Cross-sell flow to recommend shoppers a product that will complement their previous order. Leverage Yotpo SMSBump's new AI-driven product recommendations that suggest what customers are truly most likely to buy next. Don't forget to send follow-up offers or introduce them to your hot December deals.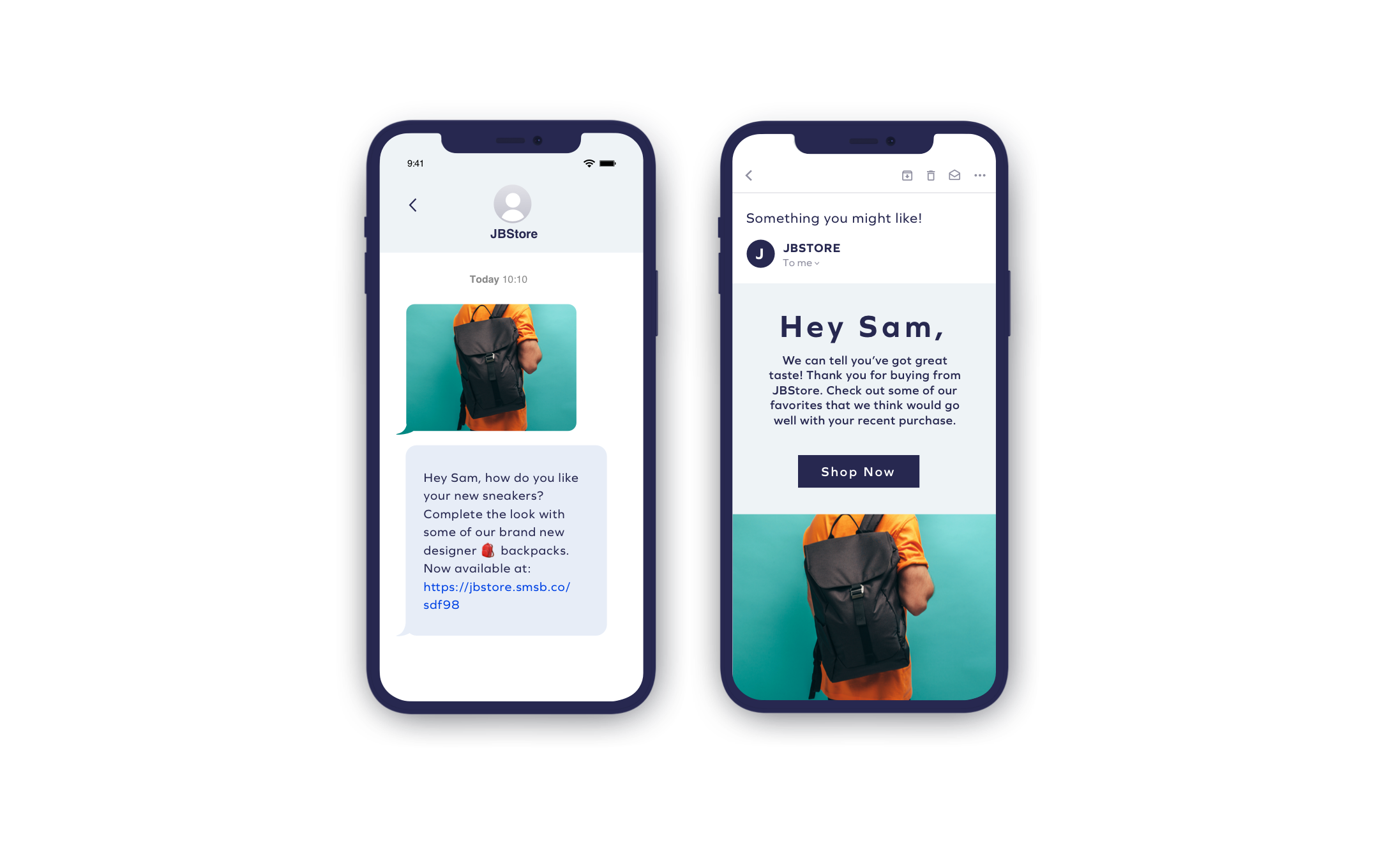 You can also use SMS Review Request flows to collect valuable product reviews and boost social proof. Customers will appreciate your interest in their opinion, which will additionally help you create deeper connections and nurture loyalty. 
Even if someone skipped on your BFCM deals, it doesn't mean they won't appreciate a jolly Christmas treat. Approach inactive customers via SMS or email with daily or weekly deal drops, or send your gorgeous holiday gift guide to help them make the best choice. Combine this with a small incentive such as a discount, gift voucher, or free shipping to make them hit the Purchase button. 
Another great way to interact with shoppers is to use advanced conversational flows to ask for their preferences or who they are shopping for. This will help you get to know your customers better, create lists of subscribers based on that information and use it later on to offer ultra-personalized customer experiences.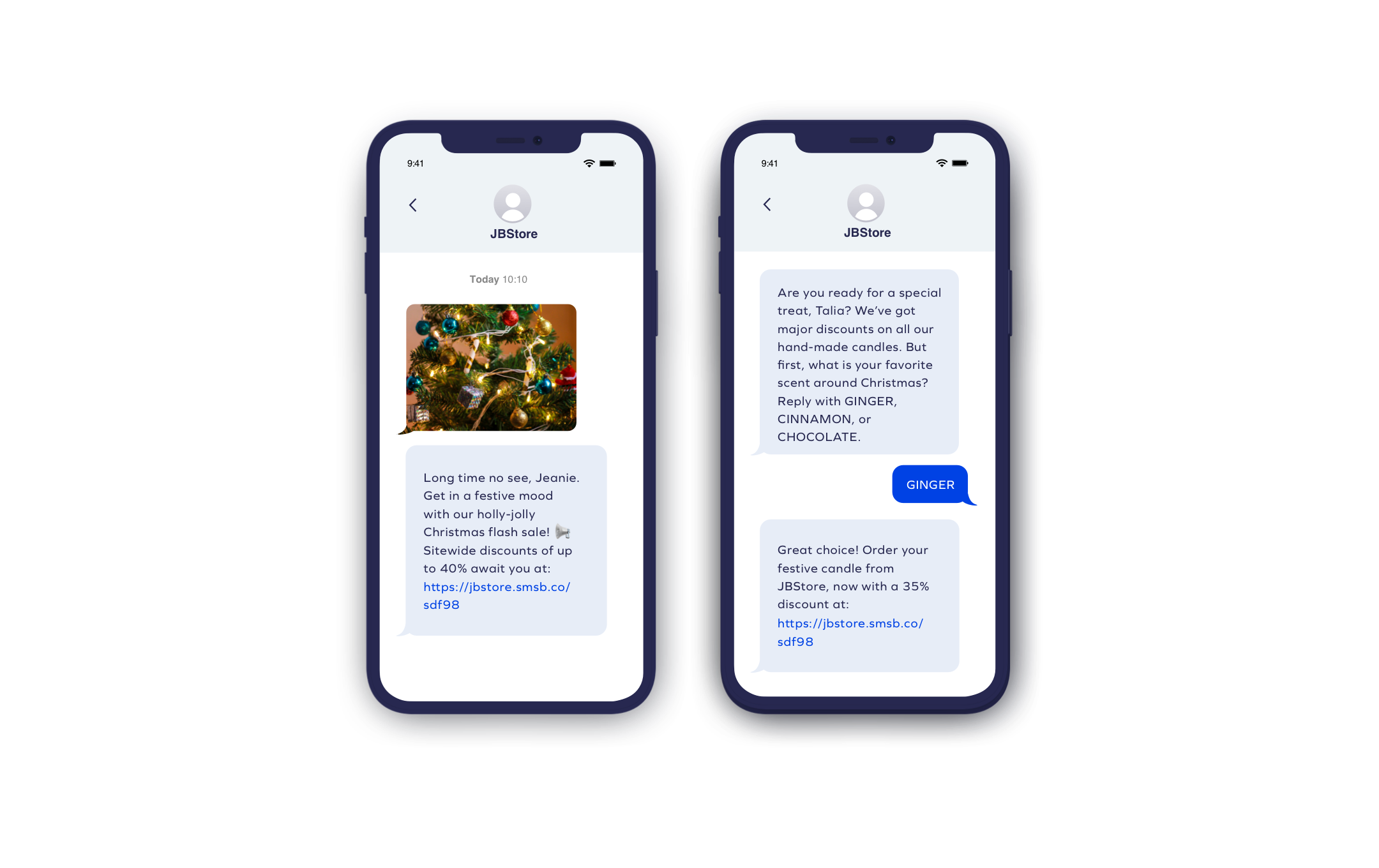 Holiday strategy #2: Capture on-site visitors and grow your SMS & email audience
Traditionally, around major holidays, stores get an influx of new visitors lurking around for good deals. Use this opportunity to massively grow your audience with our powerful and engaging subscriber collection tools. 
Whether it will be an appealing pop-up that collects both phone numbers and email addresses, a cheerful footer form, or a floating button on your product page – your goal this December is to provide mobile-optimized subscriber collection experiences and use the busy shopping period to acquire valuable first-party data. Entice your potential SMS and email subscribers with a small incentive with their next purchase, a promise to keep them up-to-date on all your hot deals and exclusive offers, or keep track of their orders.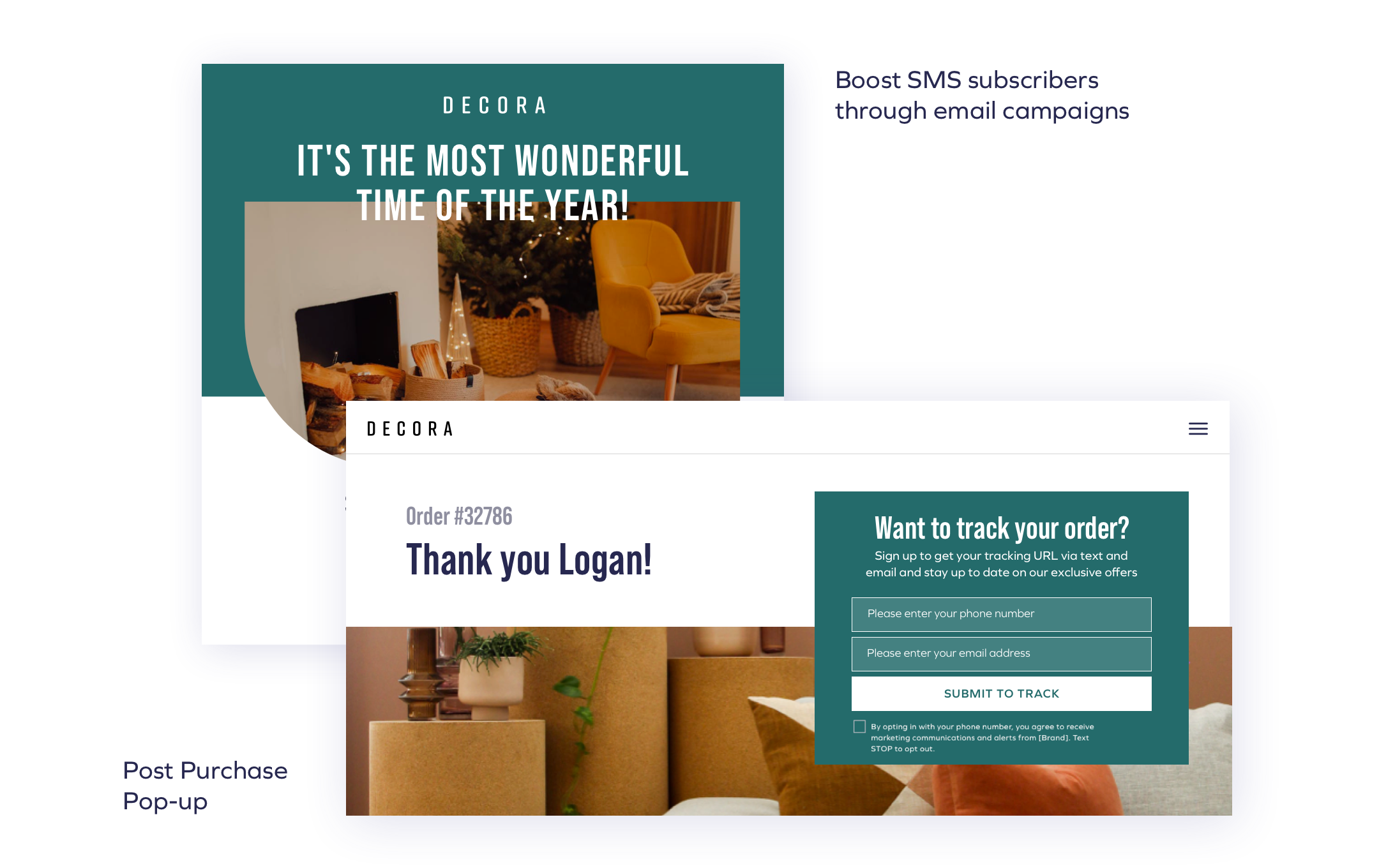 Still, one of the most effective ways to collect both SMS and email subscribers is via the checkout section of your store. Our data shows that 47% of customers will sign up for texts during checkout. Activate a welcome flow to automatically greet new opt-ins from checkout with personalized and engaging messages that convert. And a bonus idea: leverage the checkout subscription source for customized offers, such as an additional welcome discount for signing up during checkout.
On-site experiences are important, but you don't need to stop there. Brands that utilize omnichannel subscriber collection strategies enjoy 2x more subscribers. Leverage your social media channels to reach customers where they are and launch festive holiday giveaways shoppers can opt-in to via QR codes, keywords, or a social opt-in.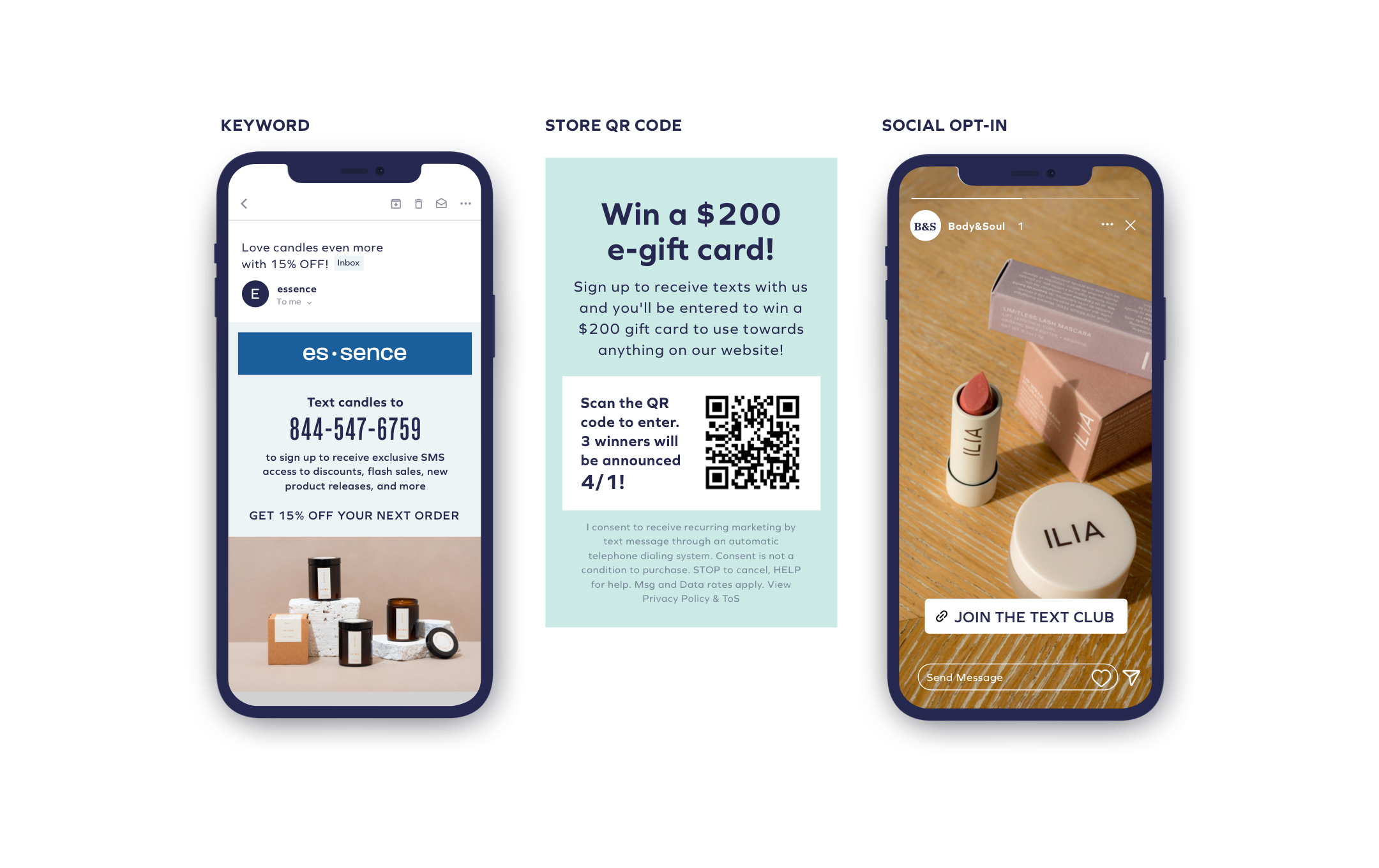 Use Smart Capture to maximize your collection strategy by allowing new and existing subscribers to sign up on different occasions and better understand what messages they want to receive from you. Leverage this data to learn their intent and retarget them in the future with ultra-tailored offers. 
And while we're on the subject of capturing onsite visitors… 
 
Holiday strategy #3: Optimize Abandoned Checkout & Browse Abandonment Flows to never miss out on a sales opportunity
Every merchant hopes that once a person visits their online store, they will browse through the products, find what they are looking for, and make a purchase right away. In reality, a soul-crushing 97% of first-time visitors will leave your store without buying anything, and 4 out of 5 people will abandon their shopping cart. 
As more and more people rely heavily on online shopping, converting high holiday traffic into revenue should be at the top of your wishlist this year. With the help of our abandoned checkout and browse abandonment flows, brands can engage with shoppers at the most impactful points of their journey and use SMS and email to recover sales more effectively than ever before.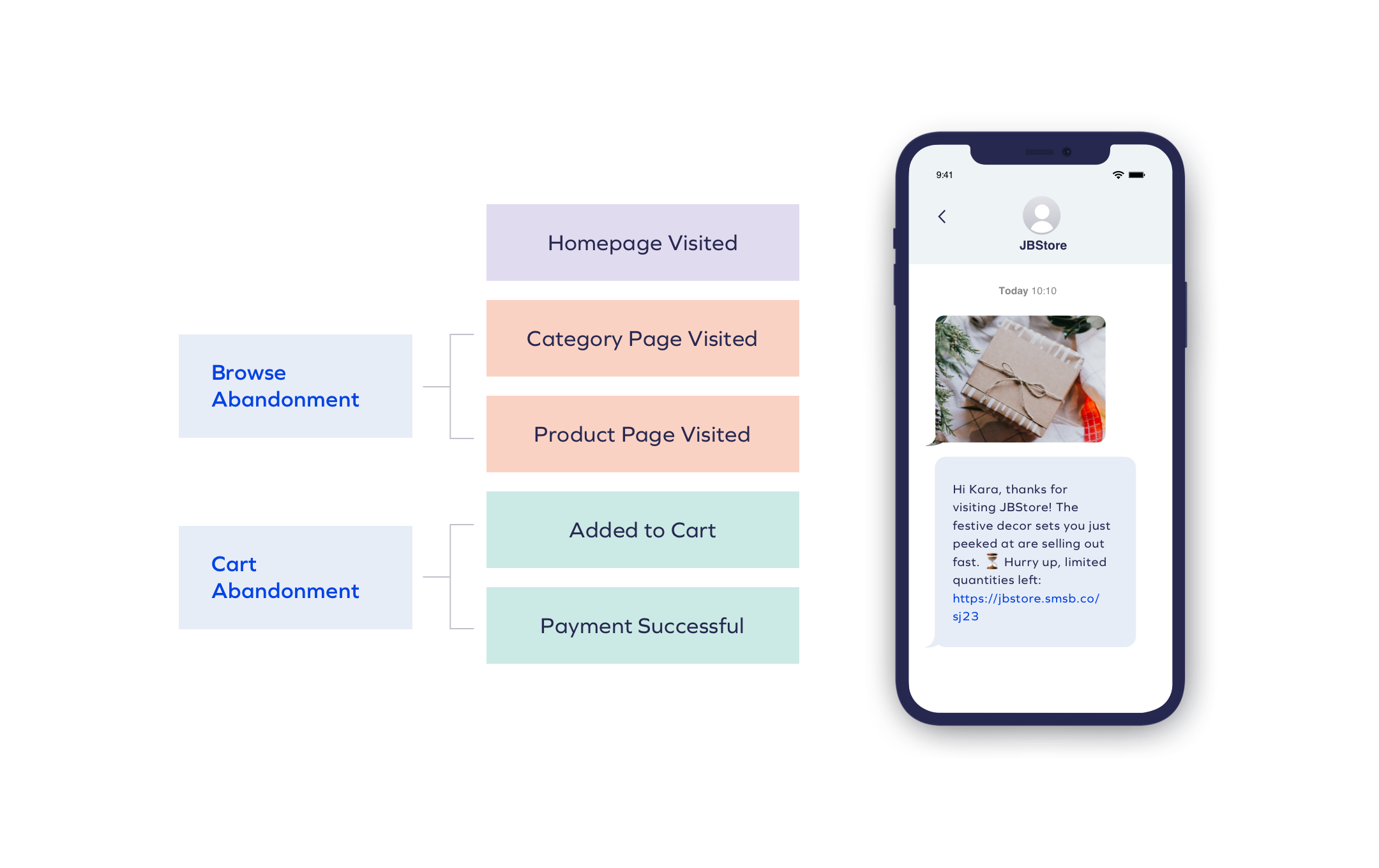 You can segment visitors via specific products or collections they showed interest in or depending on their previous purchase behavior. Offer big spenders VIP deals or early access to your holiday specials, and leave lower-spending customers with smaller incentives like free shipping or a gift card. 
This time of year, shoppers are bombarded with promotional messages and can easily be distracted from finishing their online purchases. Cut through the noise with cart-and-browse abandonment messages via SMS and email to drive urgency and ensure they won't miss out on your amazing holiday offers.

Holiday strategy #4: Encourage sales and gift shopping before shipping deadlines 
Did you know that according to the NRF, consumers plan to spend $832.84 on average on gifts? Surely – not a surprise, but it shows how crucial timely delivery is, especially around Christmas. Disappointing your customers by leaving their friends, family, or co-workers without presents is not something you want to risk this year, so it's vital to invest extra time and effort to ensure that everything will go smoothly and all orders will be processed on time. 
But instead of just keeping your fingers crossed – set your store up for success with a solid communication strategy.  Make sure to send most of your Christmas campaigns before shipment deadlines. SMS is the perfect channel to communicate important information such as dates to order by, expected delays, or return policies. Add these deadlines to the copy of your text message, which, as an additional bonus, will create a sense of urgency and nudge shoppers to act fast and not miss out on your deals.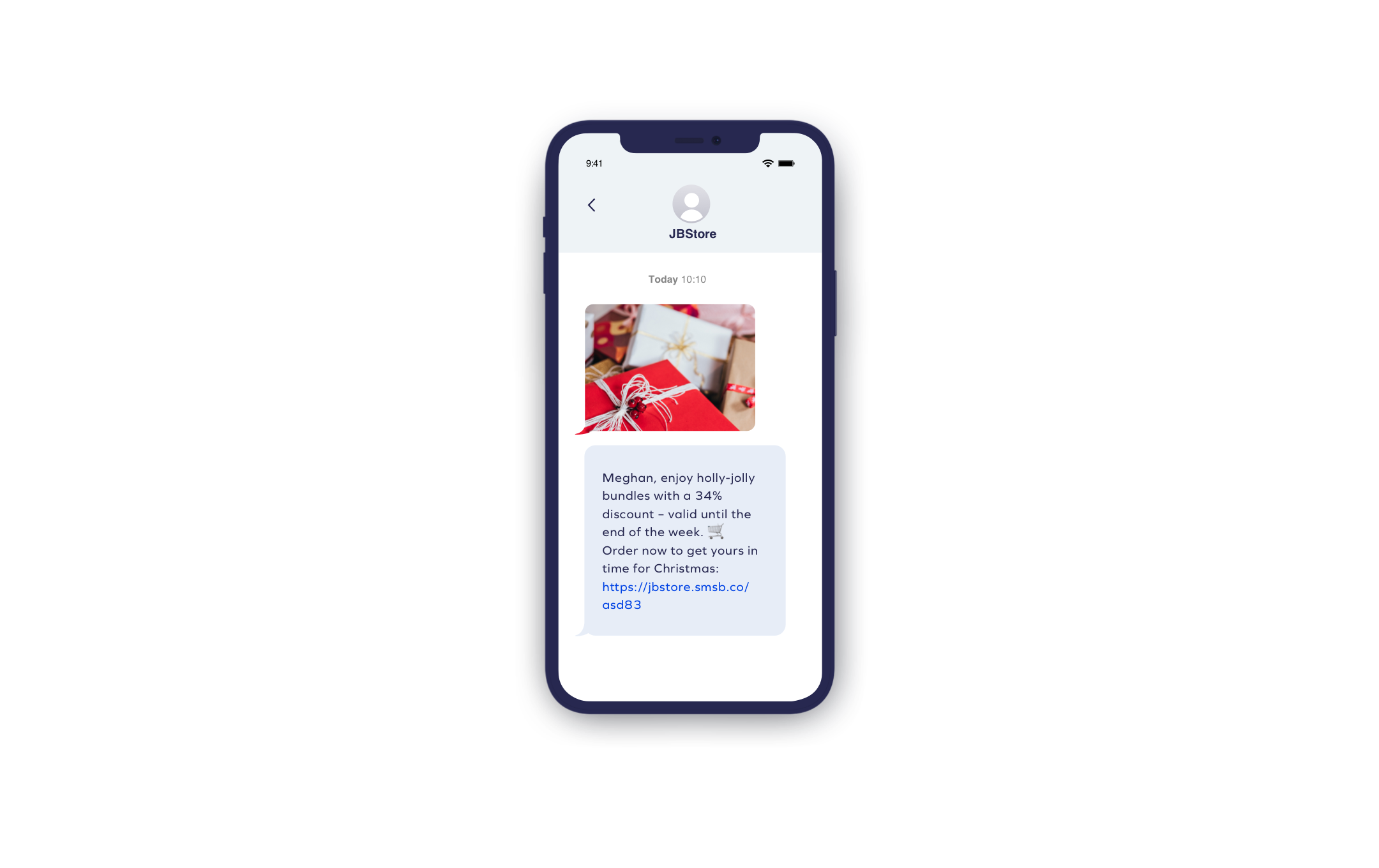 A timely, straightforward and personalized communication will give your customers peace of mind and nurture trust and loyalty between them and your brand. Urge shoppers to check everything off their gift list as early as possible so everyone gets what they wished for under the Christmas tree.
And a bonus idea: expedite the path to purchase with our powerful Click-to-Buy feature. Use it to offer quick and frictionless shopping experiences by directing customers to predefined, Christmas-themed product bundles.
Here are the key dates to launch a campaign in the first half of December. Use our built-in Campaign Planner with pre-set actionable templates for:
December 1: Holiday Deals Launch
December 3: Gift Guides
December 4: Santa's List Day 
December 7: SMS Flash Sale
December 11: National App Day
December 12: Green Monday
December 15: National Free Shipping Day
 
December 16 – December 31
Now that we are halfway through December, you might think you've done all the heavy lifting, and it's finally time for a well-deserved rest, don't you? Well… you can, but keep reading if you still need tips on how to finish the year strong and drive some last-minute revenue to your store. 
The second half of the month is perfect for focusing on procrastinators or enticing your SMS and email subscribers to indulge in some me-shopping. Spread the love with give-back campaigns, make sure to work on brand awareness and social impact, and last but not least – take time to appreciate your most loyal customers. 
Holiday strategy #5: Approach last-minute shoppers
Shipping deadlines might be tighter than Santa's gift bag, but this doesn't mean there is no room for one final sale. And despite all your campaigns and reach-outs in the past few weeks, there'll always be shoppers who'll wait for the eleventh hour to make their purchases. They even have a special day – on December 17, we mark Panic Saturday. 
Whether you truly believe that "procrastination is a sign of a perfectionist," or you find them lazy, know that this type of Christmas shopper represents a whopping 50% of your customers. If you want them to consider your brand for their holiday shopping lists, you'll need a solid strategy to win them over. 
Entice procrastinators with free expedited shipping, same-day delivery, or a curbside pick-up that will help them get their packages on time. Include a free greeting card and the option to include a personal message. Consider e-gift card promotions the holy grail of deals for last-minute shoppers. Remember, there is no need to make them feel guilty for being late to the party. Instead, be considerate and empathetic in your messaging.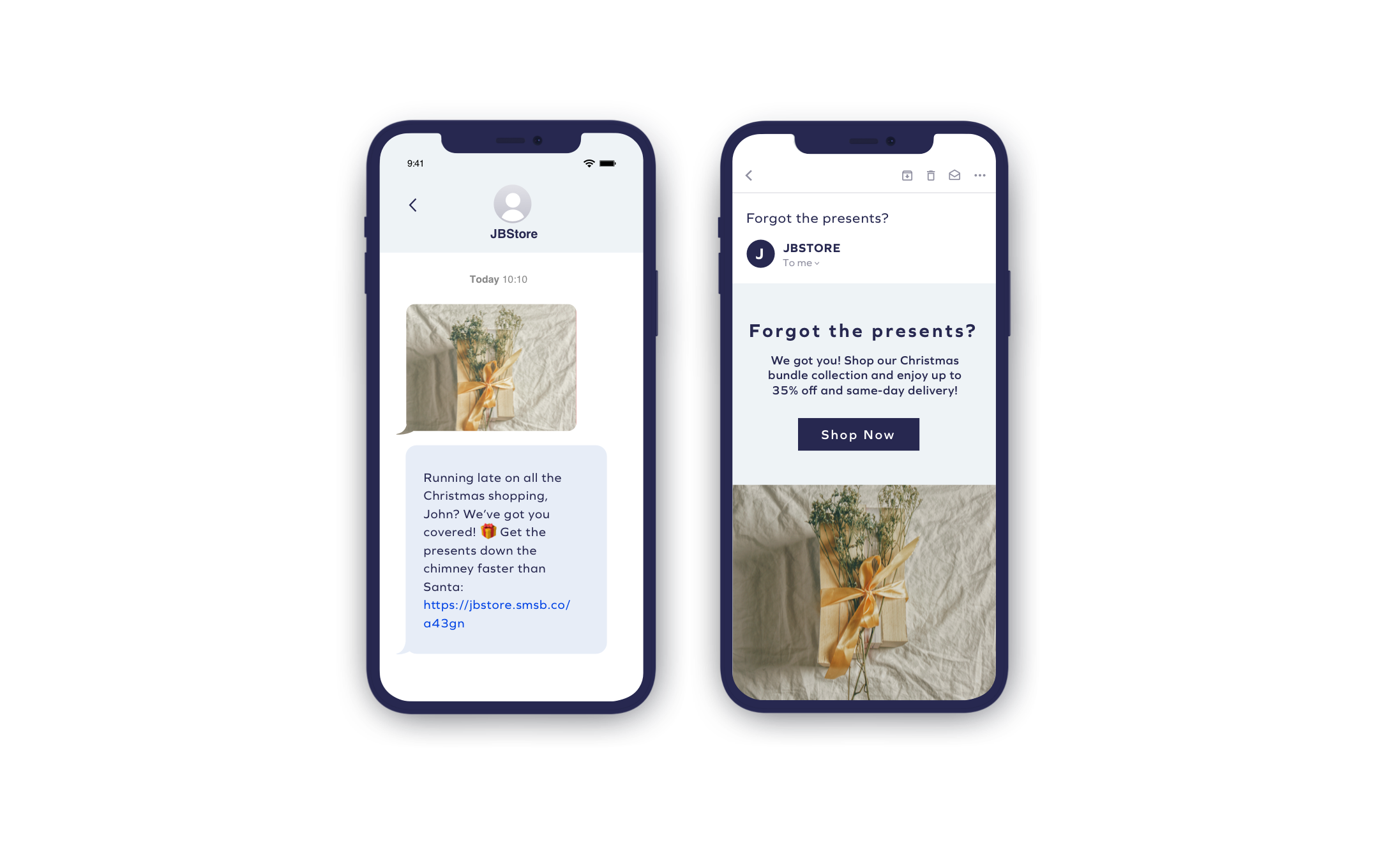 Holiday strategy #6: Encourage self-purchases
'Tis the season to treat yourself. You've probably heard it before, but there really is NO better time than the Christmas holidays to promote self-care. As Jeremy Horowitz from the Messenger Mastermind said: "Self-gifting has always been a trend, but this year is taking it to new heights." 
This December, give your customers the gift of self-care and urge them to finally spend some time (and $$$) on themselves. 
Not sure how? Soak your messaging in love, empathy, and self-centeredness. Nudge shoppers to splurge on their own needs. If Boxing Day is not your thing, launch a "Santa didn't get me what I wanted" flash sale right after Christmas or a special "Buy One Gift One" deal.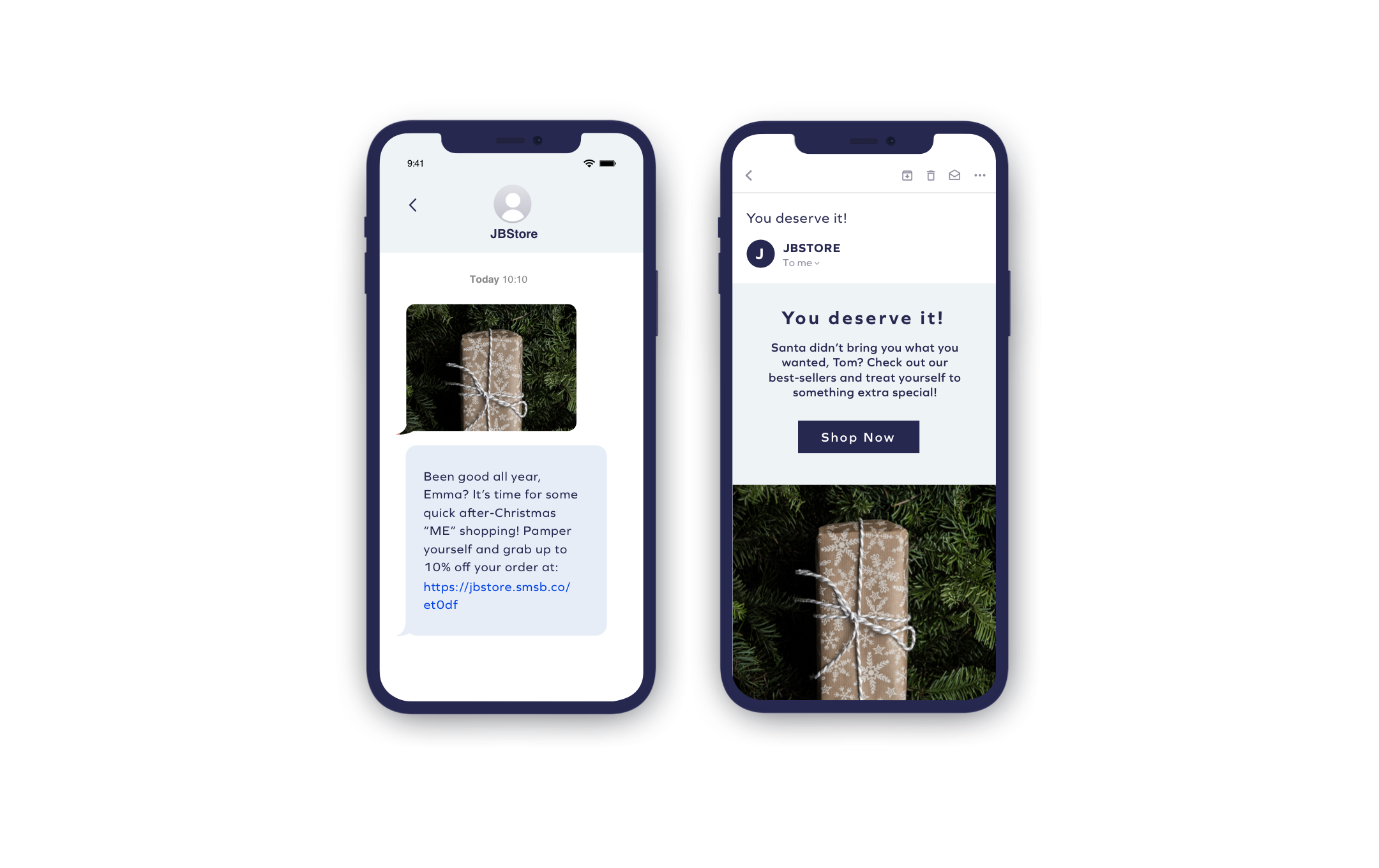 Such last-minute self-care sales campaigns will help you drive additional revenue before the New Year, clear off the shelves, and get your store ready for 2023 products and collections.

Holiday strategy #7: Spread the love
Did you know that December is also known as the Month of Giving? With almost 31% of all donations happening in this period, it's the perfect time to launch a campaign focused on giving back to the people and the community.
Share your brand's purpose and how you plan to contribute, and encourage your customers to do the same. Announce your support for an important cause or a local charity organization and pledge a percentage of your sales as a donation.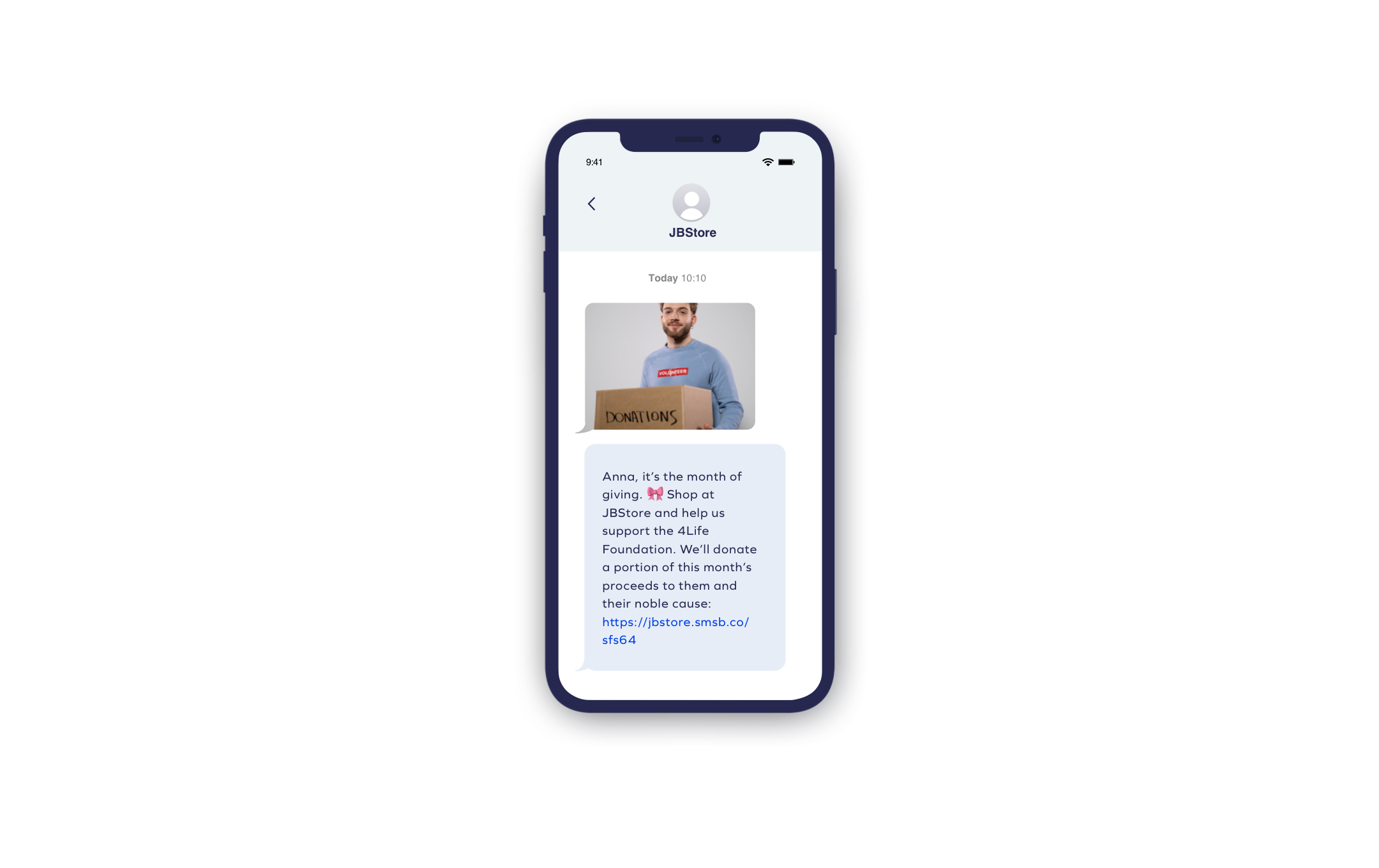 Such campaigns will help you give back to the community we are all part of, boost the spirit of your team and employees, and show your customers the real faces and values that represent the core of your organization.
 
Holiday strategy #8: Plant and nurture loyalty
It's safe to say that the final part of our holiday strategy playbook might as well be the most important one. Use the merriest of seasons to give thanks and show appreciation to your most loyal customers. The ones who spend the most, those who buy most often, those who have supported your brand and business throughout the years, and those who are always there for you. 
Reach out with a dedicated SMS or email campaign offering a sneak peek at a new collection, early access to your hottest deals, exclusive loyalty perks, or extended free shipping and return. This will help you deepen relationships and increase customer lifetime value.
Holidays are also a great time to introduce first-time new subscribers to your Loyalty Program and convert them into brand loyalists. Explain what they can expect from it and how to reach the next loyalty tier. Don't forget to share the valuation of loyalty points (i.e., "Every 100 points = $10" and the different ways to earn them).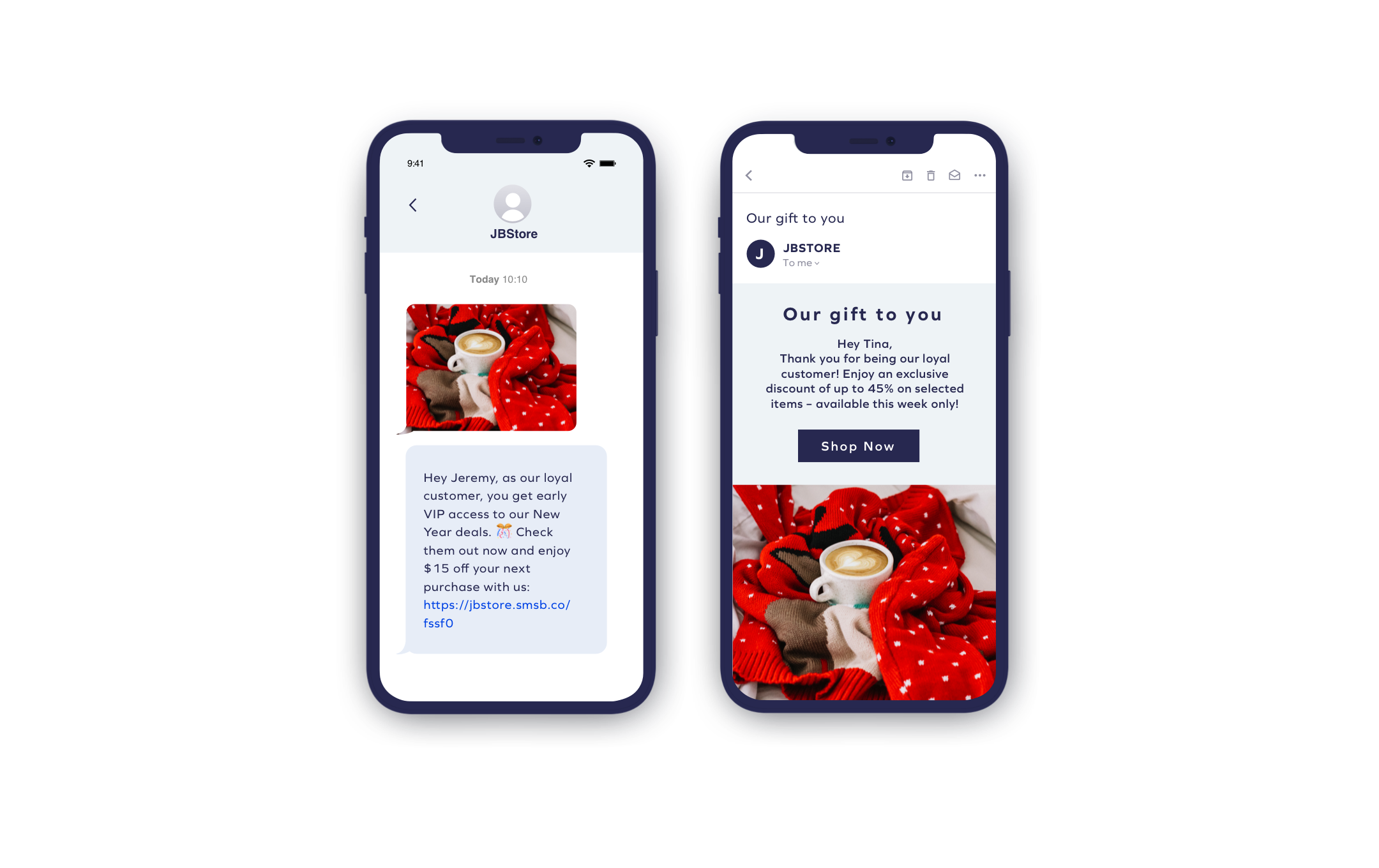 Loyalty is a two-way street. To receive, you must give first. To enjoy the benefits of having a deep relationship with a customer, you must first spend time and effort to get to know them, their interests, and preferences. We are here to help you with that. 
Here are the key dates to launch a campaign in the second half of December. Use our built-in Campaign Planner with pre-set actionable templates for:
December 17: Panic Saturday 
December 18: Hanukkah Begins
December 21: Winter Solstice
December 23: Christmas Promos
December 24: Christmas Eve
December 25: Christmas
December 26: Boxing Day
December 28: End-of-year Sale
December 29: Tick Tock Day
December 31: New Year
Bring in the Holiday Cheer
This was our winning 8-step plan for a successful holiday season.
Hungry for more? Check out the five types of holiday shoppers and the strategies to win them over, and learn how to leverage these powerful SMS & email flows to make this December your most successful yet.