Meet Tropic Skincare, a UK-based beauty brand founded by Susie Ma
Her grandma, a medicinal chemist, and toxicologist, taught her that the skin needs feeding with nourishing, healthy ingredients just as much as the body. The second source of inspiration came from her upbringing in Cairns, tropical North Queensland, Australia, where fresh aloe vera plants and exotic fruit trees pretty much grew on her doorstep! 
After moving to London as a teenager, Susie decided to start selling homemade body scrubs (inspired by her grandma's recipe) to help her mum with the household bills. Tropical Skincare has come a long way since Susie first started out and now is one of the UK's fastest-growing skincare brands, with over 275 award-winning products across a bountiful range of skincare, sun care, makeup, body, mama, and baby care. 
---
Challenge
Tropic Skincare was looking for a new, engaging channel to interact with their customers.
SMS sparked their interest, but they needed a way to test if this personal channel would be effective for marketing to an audience of British shoppers.
Tropic Skincare sought out a partner with the expertise and guidance to help them get SMS marketing right.
Tropic Skincare had been using email and social media marketing to connect with their customers, but noticed that a new channel was gaining momentum in the UK that they hadn't yet considered: SMS marketing.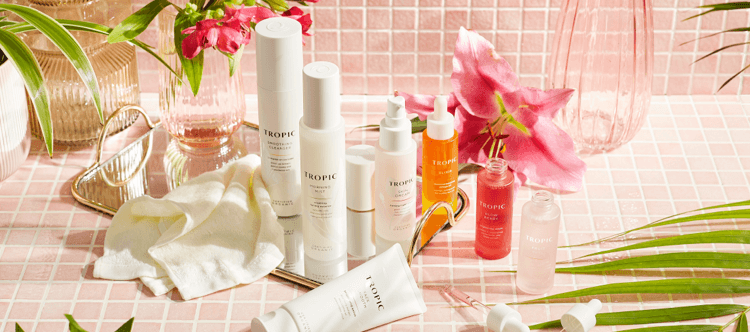 SMS marketing seemed like an exciting opportunity for Tropic Skincare to both stand out from other brands, as well as better engage with their customers using more intimate, personal messaging. However, it was still fairly new, and customers in the UK were selective about which brands they chose to text with. The Tropic Skincare team understood that to succeed with SMS, they had to do it right from the very start. They needed to find a qualified partner to help them craft the optimal SMS marketing strategy — one that would engage without being intrusive, while customers warmed up to the idea of texting with their favorite brands.
Solution
Tropic Skincare chose Yotpo SMSBump for their SMS marketing needs after experiencing high-quality, hands-on support with Yotpo Reviews.
Under the expert direction of their Customer Success Manager and Strategist, the brand was able to get started with ease and develop a successful SMS marketing strategy.
Tropic Skincare's positive experience with Yotpo SMSBump validated that SMS would not just work for their customers, it would be an essential engagement tool.
As a Yotpo Reviews user, Tropic Skincare was familiar with Yotpo's thorough, 1:1 guidance that would make getting started and driving success with a new channel simple. So when they learned about Yotpo SMSBump, the brand knew they would be a strong partner for SMS marketing too.
From day one with Yotpo SMSBump, Tropic Skincare was supported by a Customer Success Manager, who got them fully onboarded and comfortable with the new channel, as well as an SMS Strategist, who advised them on campaign ideas and helped them navigate results. "The team goes out of their way to help us with best practices, which has been really helpful starting with a new channel like this," says Abi Rousell, Senior Email Marketing Executive at Tropic Skincare. "We've taken their advice and it's worked so well for us."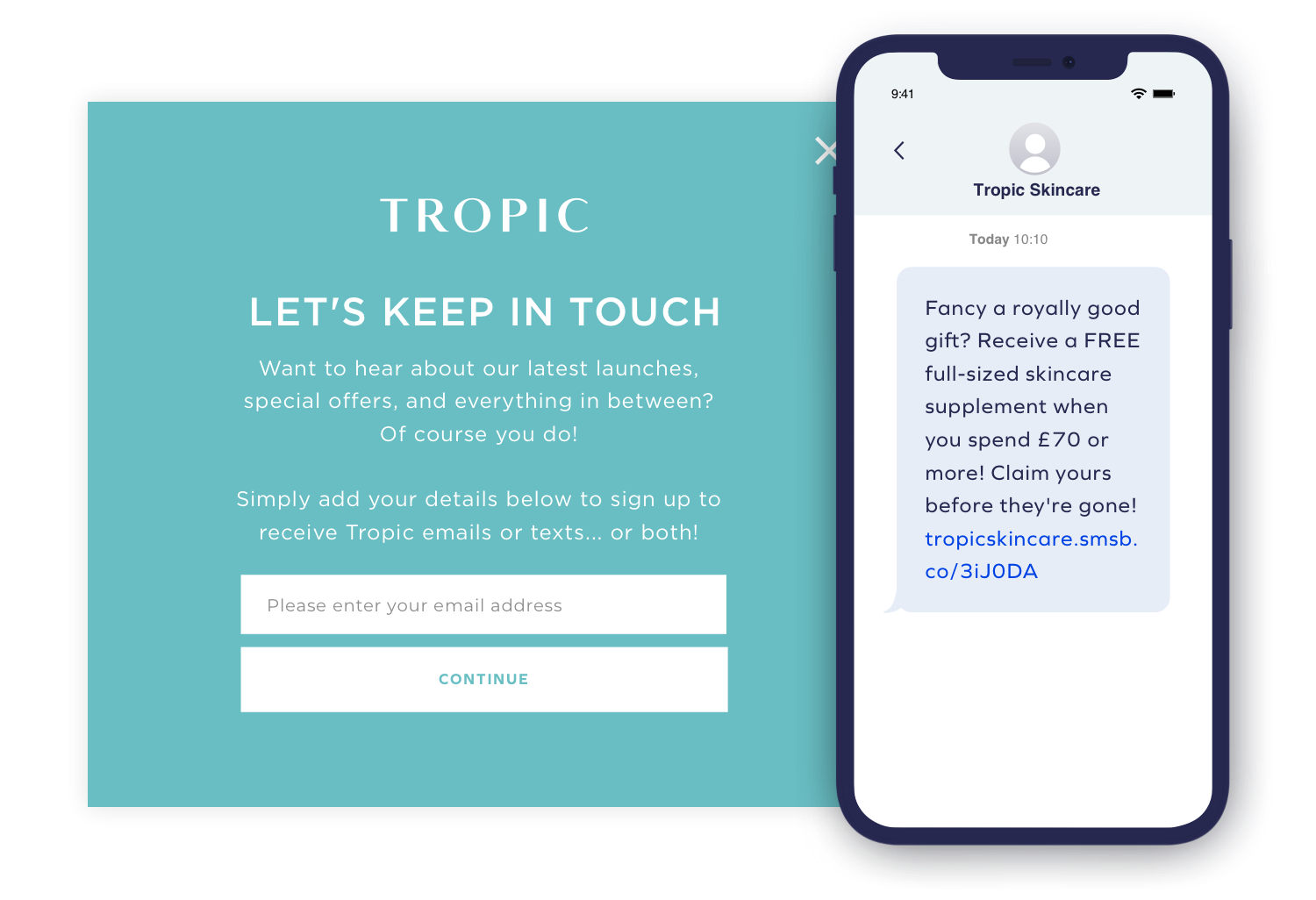 The Yotpo SMSBump team began by introducing Tropic Skincare to the foundations of SMS marketing, including how to collect subscribers and set up essential triggered flows. The brand learned how to leverage a variety of subscriber collection tools, like checkout opt-in and embedded landing pages, to quickly attract an SMS audience. With their list growing, Tropic Skincare then tested a few messaging strategies with caution to see how they performed: welcoming new subscribers, recovering abandoned carts with SMS reminders, and more.
"We said, 'Let's just give it a try. If it works, it works, and if it doesn't, we tried.' And it absolutely has worked," says Rousell. "From now on, we will be channeling even more time and focus into SMS to reap the rewards that we can now see there is such potential for."
The brand's early success with SMS proved to them that British shoppers do want to text with their favorite brands. In fact, a recent Yotpo survey showed that over 72% already do, and another 67% would be likely to sign up for SMS messages in the course of their buying journey. Tropic Skincare is now capitalizing on this consumer interest, using SMS and email together to amplify messages and investing in more ways to add segmentation to communications to make them even more tailored.
No matter their customers' communication channel of choice, Tropic Skincare aims to create real connections through their marketing to bring those customers back time and time again. "We bring our knowledge of our customers, alongside Yotpo's professional SMS expertise," says Rousell, "and when that comes together, it's really powerful for engagement."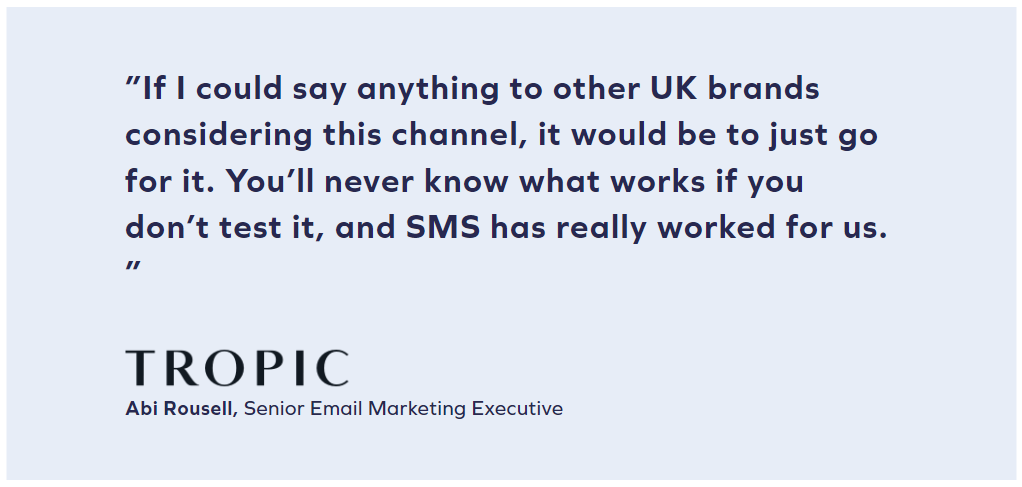 Results
Tropic Skincare collected 37,000 SMS subscribers in just nine months with Yotpo SMSBump's opt-in tools.
The brand offered subscribers a free product with purchase and saw 68x ROI as a result of the SMS campaign.
Click-to-Buy from Yotpo SMSBump enabled them to shorten the customer journey, while advanced A/B testing allowed them to learn more about their customers and their preferences.
SMS marketing has been a huge value add for Tropic Skincare, with 185x ROI on triggered flows and an overall 41x program ROI.
In just nine months since joining Yotpo SMSBump, Tropic Skincare has amassed 37,000 SMS subscribers, using several top collection opportunities: at checkout and through dedicated sign-up forms on their website. Tropic Skincare has also seen great results from encouraging existing email subscribers to sign up for SMS, sending targeted email campaigns to those customers who have not yet subscribed and adding an SMS banner to email footers to encourage signups.
Tropic Skincare has seen great success with their SMS marketing campaigns as well, offering customers free sample sizes of products with their purchase as an incentive to shop. It's been an extremely successful approach, as their customers love the bonus of getting to try the most popular skincare products without the added cost. Recently, Tropic Skincare went beyond their usual strategy, offering a free full size product with purchase during the Queen's Jubilee Central Weekend, which resulted in 68x ROI. "We knew that brands would be coming out with exciting offers for the Jubilee weekend, so we wanted to do something bigger than we ever have before," says Rousell. "This was the first time we've ever given away a full size gift with purchase, one of our best sellers too!"
Besides promoting free samples, Tropic Skincare also uses SMS marketing campaigns to promote their newest products. For example, the brand leveraged SMS on World Sleep Day to inspire interest in their So Sleepy Pillow Spray, which can help customers improve sleep in just four weeks. The more campaigns they send, the more Tropic Skincare learns about SMS as a channel, and thanks to A/B testing, the more they discover about their SMS audience as well. "A/B testing teaches me more about our customer base and what they respond to with SMS," says Rousell. "It's a great way to make sure you're sending the right messages to the right people."
To take their messaging to the next level and make it even easier for customers to shop for the products they love, Tropic Skincare turned to Yotpo SMSBump's exclusive Click-to-Buy feature. With Click-to-Buy, their customers can click a link to access a shopping cart that has been curated just for them and instantly begin checkout. Rousell says, "It's really nice to have a feature that cuts the customer journey down and makes life easier for the customer, because that also makes our jobs as marketers easier."
Tropic Skincare's triggered flows have had the most impact so far with 185x ROI, engaging customers in real time to encourage them to purchase. "The timing with SMS is much quicker than with email; it's more direct. You're already shopping on your phone, so you get the message and it brings you right back to finish your purchase," says Rousell. After just nine months with Yotpo, Tropic Skincare has already seen huge wins, with over 41x ROI from SMS so far.