Founded in 2013, Til You Collapse is a family-owned fitness apparel brand focused on delivering high-quality exercise leggings, shorts, and tops. In order to compete in the competitive and saturated retail industry, Til You Collapse has doubled down on delivering the best products and value to every customer in order to fulfill their mission of supporting and empowering people — and creating an environment of fun.
Challenge
Til You Collapse wanted a platform that would improve their customers' experience, allowing them to manage their own subscriptions, reducing churn and time spent on customer service.
The brand was looking for a way to build out deep personalization strategies for both new shoppers and existing, loyal customers.
Increasing customer retention, revenue, and lifetime value over time in a saturated and competitive market was at the top of their to-do list.
To differentiate themselves in a saturated market, Til You Collapse spent a lot of time creating the best product, comparable to well-known brands, but they needed to drive awareness. After implementing reviews to generate brand consistency and awareness, they adopted SMS to deliver a personalized experience.
Now, Anthony Ridley, a Marketing Manager at Til You Collapse, and his team wanted to work on retention, increasing customer return rate, and finding a way to build customer loyalty all while trying to increase profitability.
In a difficult market, Ridley's team was tasked with engaging new users, driving brand loyalty, and encouraging repeat purchases, all while maintaining the family-owned business feel that they've always had.
The last provider that Til you Collapse used lacked flexibility in options, mandating a 3-month subscription minimum which actually led to an increase in dissatisfaction and churn after 3 months. The customer experience wasn't enjoyable — leading to an influx of support tickets and cancellation requests.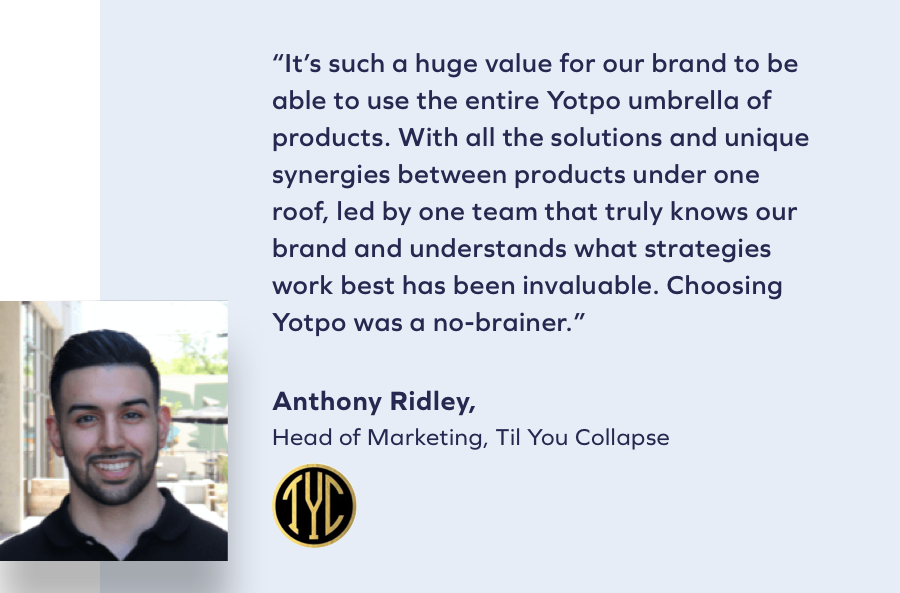 Solution
Flexibility = retention. Migrating from another subscriptions provider was quick and seamless. When the process was done customers had complete control over their subscriptions, needing less support.
Integrated campaigns drove immediate results. The brand created SMS messaging, tailored to different audiences to ensure each interaction had a personalized touch.
Yotpo's synergies leveraged user-generated content, including reviews and customer photos, as social proof to highlight the value customers find in their products.
"The idea of migrating onto another provider was scary but the Yotpo team tackled it head-on. The onboarding process was completely seamless for the Til You Collapse team," says Ridley.
After migrating from Bold, the brand was able to launch two subscription clubs, they now offer more options to their customers, are able to leverage unified checkout, they're decreasing customer tickets with passwordless login, and improving their website speed.
They found that the increase in flexibility increased customer return rate and made the club one of their most popular items.
Results
In just one quarter, Til You Collapse has increased the number of subscribers by 27%.
By leveraging SMS and Subscriptions together, they gathered 65 new subscription sign-ups from one text, increasing their overall subscriber count by 20%.
The team is now driving over 2x ROI with SMS and subscriptions working together.
After migrating to a subscription platform that specifically aligns with their goals, Til You Collapse is able to focus on growing their subscribers over managing their subscriptions.
By implementing Yotpo's seamless checkout integration with Shopify and intuitive passwordless customer portal, Ridley's team is decreasing the time and resources needed to support subscriptions.
After addressing their primary pain points, the team can focus on incentivizing new subscribers with personalized messaging through Yotpo SMS. Using Yotpo SMS with Yotpo Subscriptions allows Til You Collapse to grow their subscriber base in a way Bold was not able to.

✨ Ready to start your Subscriptions program? Click here to add Yotpo Subscriptions to your store.
If you have any questions or need more information, don't be shy! Tag or message @Savina from Yotpo, @Ruthie Berber, @Hannah B or the @brandteam.